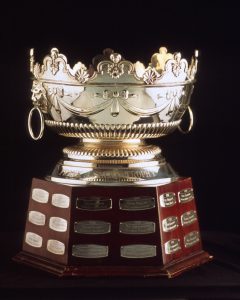 Centers Anze Kopitar of the Los Angeles Kings, Patrice Bergeron of the Boston Bruins and Jonathan Toews of the Chicago Blackhawks were announced as finalists for the 2015 Frank J. Selke Memorial Trophy, awarded annually "to the forward who best excels in the defensive aspects of the game."
The trophy, which will be presented to the winner on June 24 at the 2015 NHL Awards in Las Vegas, is determined by a vote amongst members of the Professional Hockey Writers' Association. Kopitar, Bergeron and Toews were finalists last year, with Bergeron (1,283 points / 112-21-2-2-0) defeating Kopitar (840 / 20-66-26-15-3) and Toews (624 / 2-36-57-20-7) in 10-7-5-3-1-tiered voting. Kopitar finished in fourth place for the trophy in 2013 and was announced on Tuesday as one of three finalists for the Lady Byng Memorial Trophy.
When we get closer to the NHL Awards I'll have a much more detailed analysis of who deserves to win this trophy amongst the three finalists, but in a cursory glance at Anze Kopitar's credentials, there's this: his +359 differential in five-on-five shot attempts led all forwards. Amongst forwards, his +177 five-on-five shot on goal differential was tied for the league lead with Bergeron. He was the most likely King who earned regular minutes to open a shift away from the offensive zone, logging a -3.13% offensive zone start rate relative to his teammates. He took five minor penalties (see: Lady Byng finalist) and finished with a +10 penalty plus/minus, which ranked second on the Kings and tied for 26th in the NHL. His five-on-five Corsi-for rate was 59.22%, which ranked fourth amongst league forwards.
In more basic statistics, Kopitar (52.6%) ranked behind Bergeron (60.2% / league leader) and Toews (56.5%) in faceoff percentage and logged a minus-two rating to Toews' +30 and Bergeron's +2. Also working against Kopitar is that he plays on a west coast team; since the trophy was first presented to Bob Gainey in 1978 (and won by Gainey in the three successive seasons), the Selke has been won by a player for an Eastern Time Zone team 28 times, a Central Time Zone team 7 times, and a Mountain or Pacific Time Zone team once (Ryan Kesler/Vancouver, 2011). The only player to have won a Selke and also play for Los Angeles in his career was Steve Kasper, who was awarded the trophy in 1982 and played for the Kings from 1988-91.
Begeron won the Selke in 2012 and 2014, while Toews won the Selke in 2013.
Finalists for NHL trophies will be announced by NBCSN (United States) and Sportsnet/TVA (Canada) during pre-game programming of Stanley Cup Playoff games through May 5. The three finalists for the Calder Trophy will be revealed on Thursday, April 23.