Los Angeles Kings (34-22-13) at New Jersey Devils (31-30-11)
Monday, March 23, 2015, 4:00 p.m. PT
Prudential Center, Newark, NJ
Referees: #29 Ian Walsh, #38 Francois St. Laurent
Linesmen: #50 Scott Cherrey, #70 Derek Nansen
Fox Sports West, NHL Network, KABC 790 AM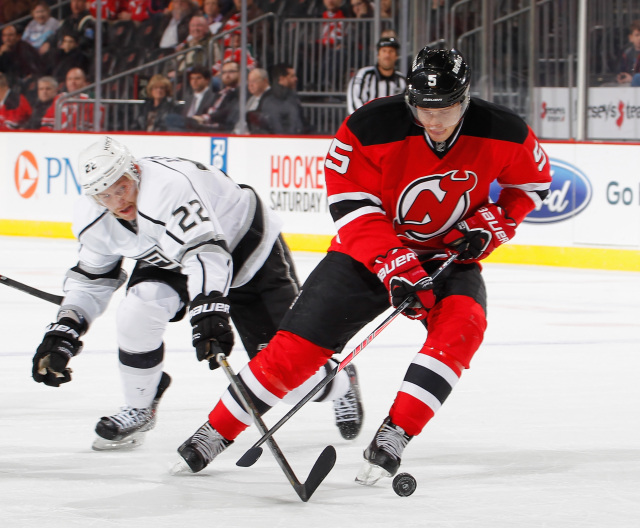 Los Angeles Projected Starting Goaltender – Jonathan Quick
2014-15: 62 GP (61 GS) / 30-19-12 record / 2.29 GAA / .916 Sv% / 6 SHO
Career vs New Jersey: 6 (5) / 3-2-1 / 2.28 / .928 / 0
Last Game vs New Jersey: 1/14/15 / 11 MP / 5-7 shots / 3-5 L
2014-15, Away: 27 (27) / 10-11-6 / 2.64 / .906 / 1
New Jersey Projected Starting Goaltender – Cory Schneider
2014-15: 62 GP (61 GS) / 26-26-7 record / 2.16 GAA / .929 Sv% / 5 SHO
Career vs Los Angeles: 5 (5) / 4-1-0 / 1.39 / .947/ 1
Last Game vs Los Angeles: 1/14/15 / 60 MP / 23-26 shots / 5-3 W
2014-15, Home: 31 (30) / 14-10-6 / 1.79 / .936 / 2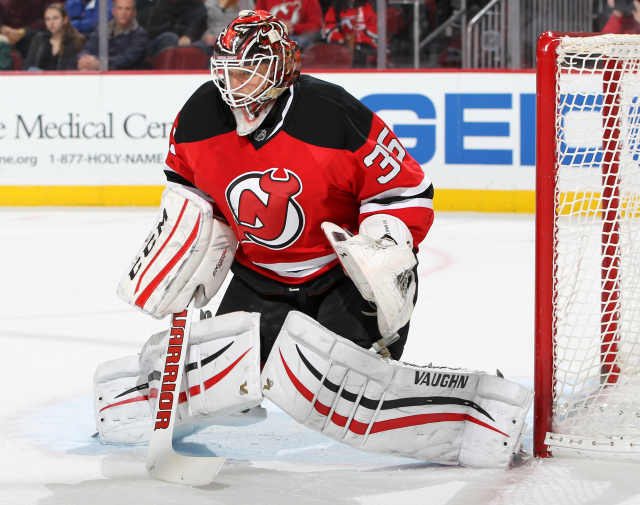 2014-15 Los Angeles Leaders
Total Points: Anze Kopitar (14-40=54)
Goals: Jeff Carter (25-28=53)
Assists: Anze Kopitar (14-40=54)
Plus/Minus: Tyler Toffoli (+20; 20-21=41)
Penalty Minutes: Kyle Clifford (83; 6-7=13)
Time On Ice: Drew Doughty (29:17; 5-36=41)
Corsi-For Percentage: Marian Gaborik (58.6%; 22-17=39)
2014-15 New Jersey Leaders
Total Points: Adam Henrique (16-24=40)
Goals: Mike Cammalleri (25-11=36)
Assists: Adam Henrique (16-24=40)
Plus/Minus: Stephen Gionta (+7; 5-7=12)
Penalty Minutes: Jordin Tootoo (70; 9-5=14)
Time On Ice: Andy Greene (23:27; 3-17=20)
Corsi-For Percentage: Damon Severson (51.1%; 4-11=15)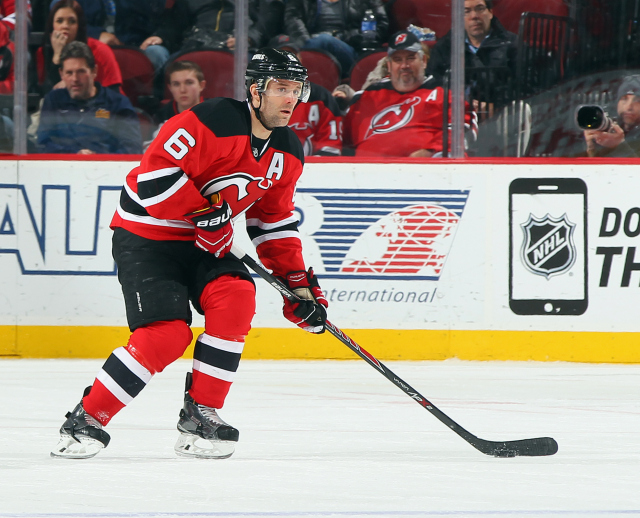 Rankings and Statistics
Goals/Game: LAK – 18 / 2.63; NJD – 28 / 2.21
Goals Against/Game: LAK – 8 / 2.42; NJD – 9 / 2.44
Power Play: LAK – 12 / 18.9%; NJD – 11 / 19.1%
Penalty Kill: LAK – t-13/ 81.5%; NJD – t-17 / 81.0%
Shots/Game: LAK – 13 / 30.6; NJD – 29 / 24.3
Shots Against/Game: LAK – 1 / 27.1; NJD – t-23 / 30.7
Faceoffs: LAK – 12 / 51.3%; NJD – 27 / 47.5%
Save Percentage: LAK – t-13 / .911; NJD – 5 / .920
Corsi-For Percentage: LAK – 1 / 54.8%; NJD – 26 / 46.9%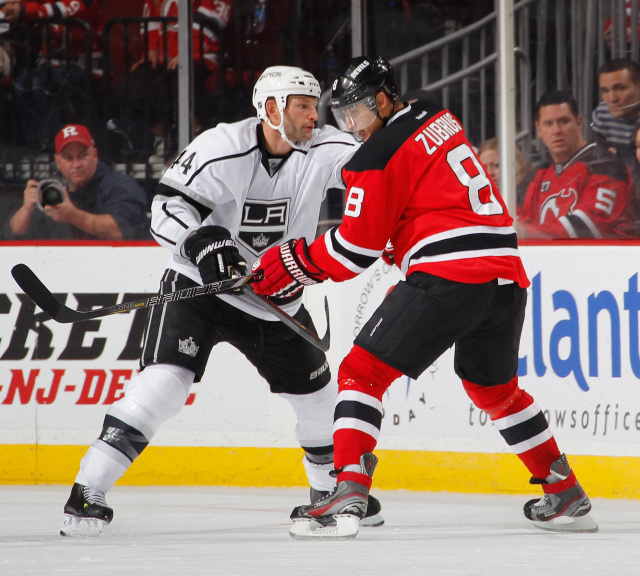 Los Angeles Projected Lineup
Marian Gaborik – Anze Kopitar – Dustin Brown
Dwight King – Jeff Carter – Tyler Toffoli
Kyle Clifford – Mike Richards – Justin Williams
Trevor Lewis – Nick Shore – Jordan Nolan
Robyn Regehr – Drew Doughty
Jake Muzzin – Matt Greene
Brayden McNabb – Andrej Sekera
Jonathan Quick
Martin Jones
Level of confidence in projected lines: C-. There are several significant questions: Will Alec Martinez play? If he plays, who would he replace in the lineup? Is Jonathan Quick tonight's starter? Because today's morning skate was optional and Martin Jones was the only goalie who participated, those questions weren't answered. During line rushes yesterday, both Dustin Brown and Trevor Lewis skated alongside Marian Gaborik and Anze Kopitar, so it's possible that the two versatile forwards could be used interchangeably between the first line right wing slot and the fourth line left wing slot. Mike Richards is likely to enter the lineup as the third line center between Kyle Clifford and Justin Williams, as shown during yesterday's line rushes.
Notes and milestones: Los Angeles is 52-30-14 against the New Jersey franchise, a record that includes a road mark of 22-19-7. The Kings are 6-2-2 in their last 10 road games in the series. … Los Angeles is 13-12-4 against the Eastern Conference this season and 4-6-3 against the Metropolitan Division. … The Kings are 19-7-5 when scoring on the power play and 24-5-8 when scoring the first goal of the game. … Los Angeles has registered a power play goal in five of their last six games. … The Kings have killed off 46 of the last 49 penalties dating back to David Jones' second period goal in the 5-3 win over Calgary on February 12. … Dating back to February 7, Jonathan Quick is 13-4-2 with a 1.76 GAA, .932 Sv% and three shutouts (1122:37 min / 482 shots against / 449 saves). … Anze Kopitar (384 assists) needs one assist to surpass Butch Goring for sixth place on the Kings' all-time list. … With 198 career assists, Drew Doughty needs two assists for 200 in his career.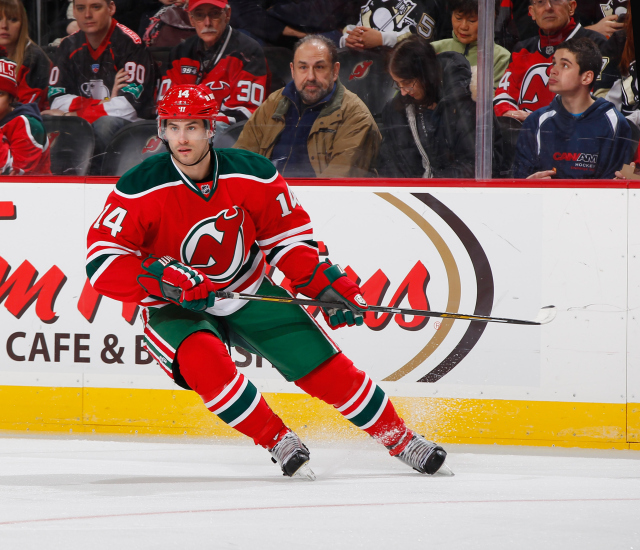 New Jersey Projected Lines
Adam Henrique – Scott Gomez – Steve Bernier
Mike Cammalleri – Travis Zajac – Jordin Tootoo
Dainius Zubrus – Patrik Elias – Stephen Gionta
Tuomo Ruutu – Jacob Josefson – Peter Harrold
Andy Greene – Adam Larsson
Jon Merrill – Damon Severson
Mark Fraser – Eric Gelinas
Cory Schneider
Keith Kinkaid
Notes and milestones: Lines via NHL.com senior writer Dan Rosen … Mike Cammalleri is expected to play after missing two games with flu-like symptoms. … New Jersey is 10-4-2 over its last 16 games and is 10-4-1 over the previous 15 home games. … The Devils have killed 37 of 40 penalties over its last 16 games. … Andy Greene has played 219 consecutive games dating back to March 6, 2012. The stretch is the second-longest consecutive games played streak by a New Jersey defenseman, trailing Ken Daneyko (388 games). Travis Zajac (401 games) holds the longest consecutive games streak overall in club history. … Mike Cammalleri has 16 points (10-6=16) in 19 career games against Los Angeles. Cammalleri, selected in the second round by the Kings in 2001, totaled 205 points (93-112=205) in 278 games with Los Angeles between 2002-08. … Defenseman Peter Harrold, signed by the Kings as a non-drafted free agent out of Boston College in 2006, totaled 26 points (8-18=26) in 164 games with Los Angeles between 2006-11.