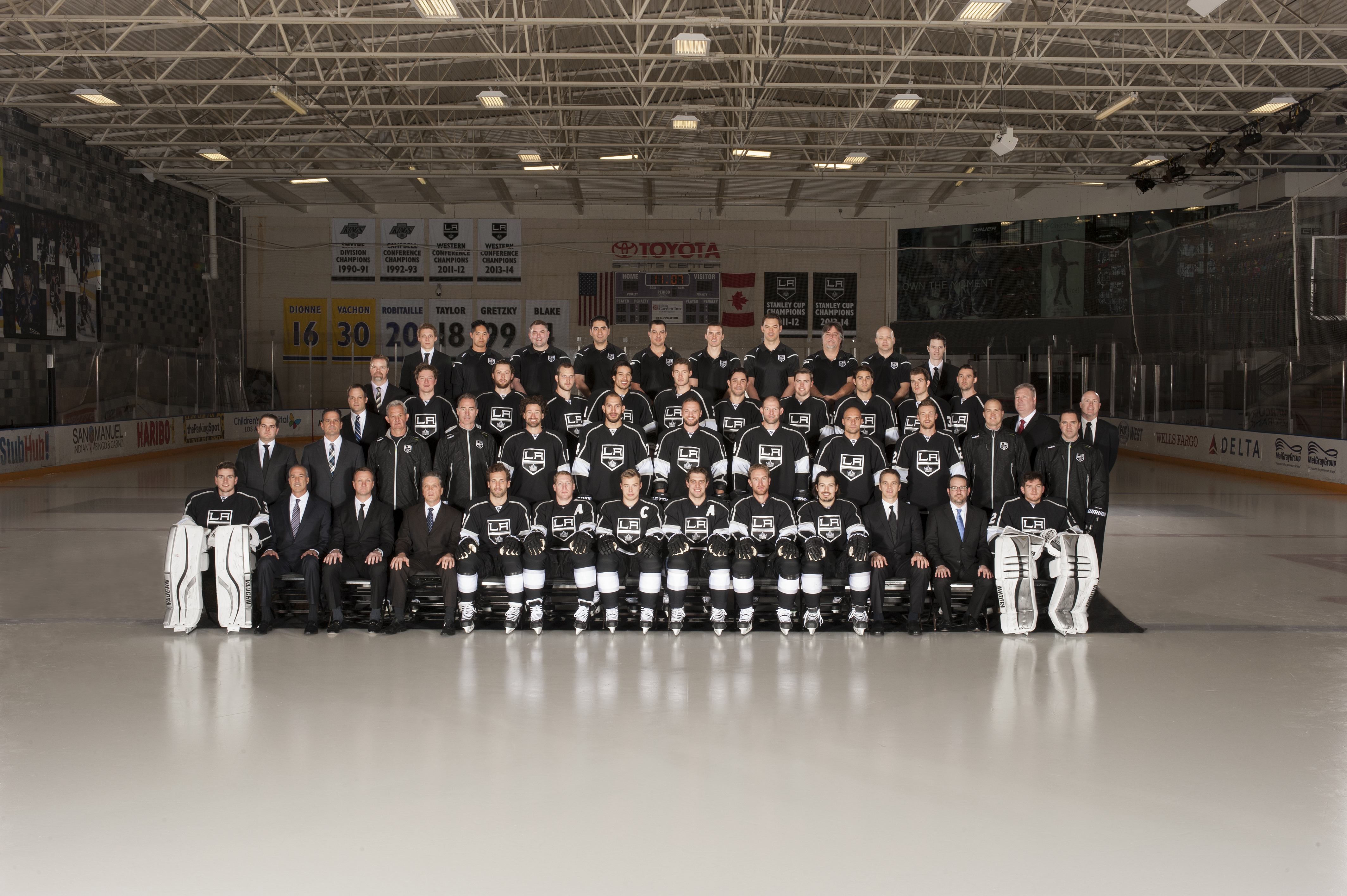 Front Row, left to right: Martin Jones, Jeff Solomon (Senior Vice President/Hockey Operations and Legal Affairs), Rob Blake (Vice President, Assistant General Manager), Dean Lombardi (President/General Manager), Jarret Stoll, Matt Greene, Dustin Brown, Anze Kopitar, Jeff Carter, Drew Doughty, Luc Robitaille (President, Business Operations), Dan Beckerman (Alternate Governor), Jonathan Quick.
Second Row: Eddie Fischermann (Supervisor, Communications), Michael Altieri (Vice President, Communications and Broadcasting), Darryl Sutter (Head Coach), John Stevens (Associate Head Coach), Justin Williams, Dwight King, Marian Gaborik, Robyn Regehr, Andrej Sekera, Trevor Lewis, Davis Payne (Assistant Coach), Bill Ranford (Goaltending Coach).
Third Row: Lee Callans (Scouting Operations Coordinator/Assistant to the GM), Tyler Toffoli, Jake Muzzin, Kyle Clifford, Jordan Nolan, Brayden McNabb, Alec Martinez, Tanner Pearson, Andy Andreoff, Nick Shore, Jamie McBain, Marshall Dickerson (Director of Team Operations), Jeff Moeller (Senior Director, Communications and Content).
Top Row: Mike Kalinowski (Director, Communications and Media Services), Ethan Fink (Assistant Video), Myles Hirayama (Assistant Athletic Trainer), Dana Bryson (Assistant Equipment Manager), Richard Lomeli (Massage Therapist), Chris Kingsley (Head Athletic Trainer), Joe Alexander (Assistant Equipment Manager), Matt Price (Strength and Conditioning Coach), Bobby Halfacre (Equipment), Darren Granger (Head Equipment Manager), Zach Ziegler (Video Coordinator).
2014-15 Los Angeles Kings Team & Staff Photo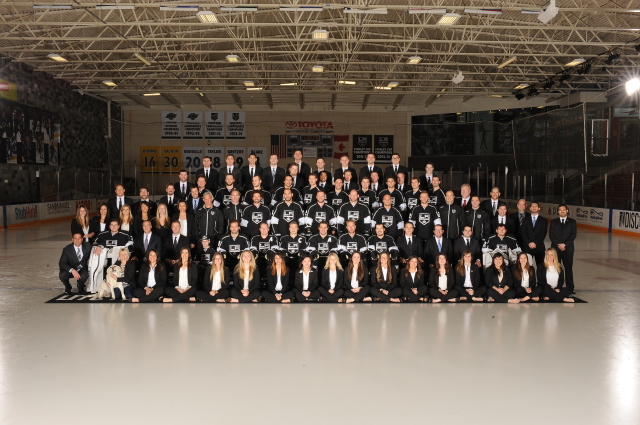 -Click on the photos to enlarge them.
-That's Dean Lombardi's dog, Sunny.
-Between Rob Blake and Jarret Stoll is Joshua Breeze.