Earlier today, 11-year-old Joshua Breeze skated with two of his favorite Kings, forward Dustin Brown and goaltender Jonathan Quick. The Calgary native was in town on behalf of the Children's Wish Foundation, a non-profit organization in Canada that is similar to the Make-A-Wish Foundation in the United States.
"Be thankful in our profession that we are able to do it and should do it," Darryl Sutter said. "I think that speaks [of the] hockey world, how they connect with families and children in unique situations. Obviously it matters to me a lot because of our family and special needs, but it's pretty cool to see – those kids are triplets."
Breeze was diagnosed in 2007 with cystic fibrosis, a potentially life threatening genetic disorder that affects the lungs, pancreas, kidneys and intestines. The Kings learned about Joshua's plight last season, and after consultation with Children's Wish, welcomed him and his family to Southern California, where he took a tour of the team's training facility on Friday. He'll also visit Disneyland, Universal Studios and Magic Mountain while in town.
Quick, Brown and Sutter all took their time to welcome the Breeze family to the team's areas at the Toyota Sports Center, with the Kings coach spending half an hour with the family while Joshua showed off an impressive wristshot.
"He's a good little novice player," Sutter said. "It's what I told his sisters. It's too bad they didn't bring their skates. They'll all have a great week. They'll get the game tomorrow, they're going to go to Disneyland, they'll go to Universal Studios. They'll have a great week, and the weather's supposed to be good. The girls want to go to the beach. It's awesome."
The family will again be welcomed by the team during tomorrow's game against Pittsburgh at Staples Center.
"Players thoroughly enjoy it," Sutter said. "It's heartwarming to see, and it's special. I say it lots, our game is just a game at the end of the day, but when you can make it special for somebody else – Josh lives hockey. When you talk to him about it, he knows a lot about it."
"It's awesome. It makes you feel good."
Story, video from Laura Booth of the Calgary Sun:
If he could have one wish granted, 11-year-old Joshua Breeze would want to meet his favourite NHL hockey team, the Los Angeles Kings.

On Thursday morning his wish was granted when he boarded a flight at the Calgary International Airport to the City of Angels with his parents and two sisters — Joshua is a triplet.

Joshua, who was diagnosed with cystic fibrosis (CF) when he was just four-months-old, is living his dream thanks to the L.A. Kings and the Calgary Children's Wish Foundation.

"Sports is such a big thing for him and with cystic fibrosis it's important to keep him active and hockey has done that, " said Joshua's mother, Joanne Breeze.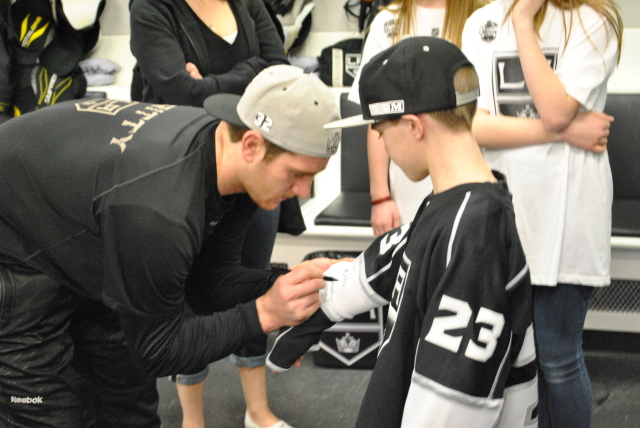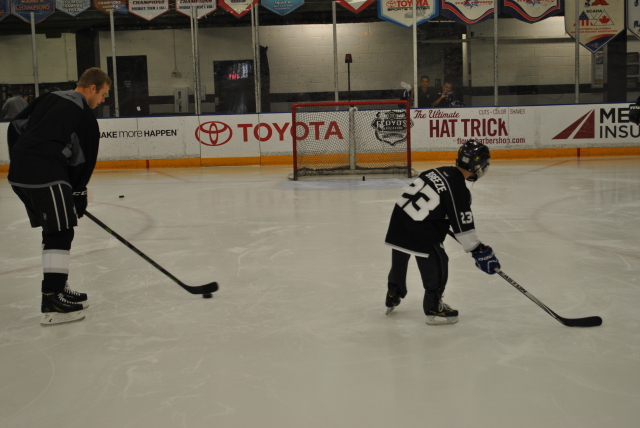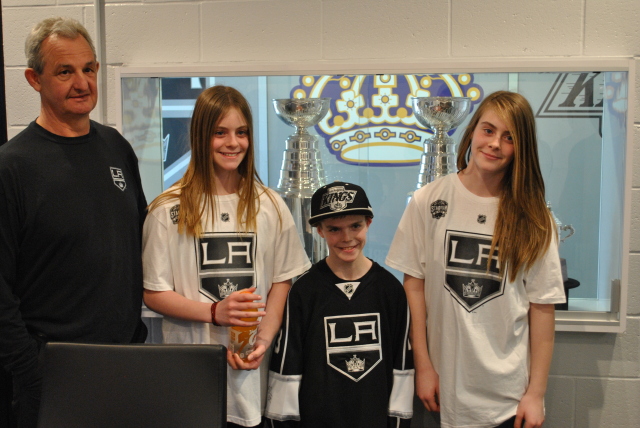 Photos courtesy of Kings Care Foundation
To learn more about cystic fibrosis, click here.
To learn more about the Children's Wish Foundation, click here.