The usual disclaimer of "Yes, but it was the (depleted) Oilers" applies, but on Tuesday night the Kings attacked the opposing net, generated traffic and second opportunities, and created more odd-man rushes than would normally be seen over a two or three-game stretch in their 5-2 win at Rexall Place. Kyle Clifford's goal was emblematic of the team's efforts: after Brayden McNabb's hit disrupted a Matt Hendricks zone entry, Jordan Nolan picked up a loose puck and quickly advanced it in the neutral zone to Nick Shore, who threw it towards the net from the right wing with a soft touch. After a brief scramble in front of the net, Clifford, while falling to his knees, snapped an un-cleared rebound past Ben Scrivens to re-establish a three-goal Los Angeles lead. In that play, the Kings used speed in transition, got bodies and pucks to the net and generated multiple opportunities as the fourth line cashed in on an opportunity three and a half minutes after it had been scored on. Scrivens had an off-night – and was also hung out to dry quite a bit – but the play offered a strong representation of the team's ability to advance the puck quickly without much of a challenge in its transition efforts.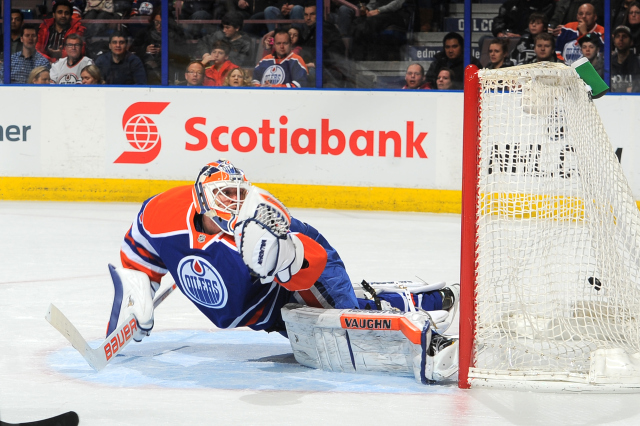 Trevor Lewis had a career night, and while matchups and the opposition influence the decision to place him alongside Anze Kopitar and Marian Gaborik, it's beginning to emerge that his hustle, puck retrieval and speed makes him well suited to play alongside the two (if only temporarily), even if his skill isn't on the same level. He has now opened five games alongside Gaborik and Kopitar over the last month – though on February 18 in Colorado he eventually saw most of his time alongside Jarret Stoll and Justin Williams – and has compiled two goals, six points and a plus-six rating in those games. Of those six points, Kopitar also recorded points in five of the goals; Gaborik two. Kopitar's little stickhandle to draw Oscar Klefbom in and open up a seam was a slick play that was finished off by the net-bound Lewis during the first period two-on-one.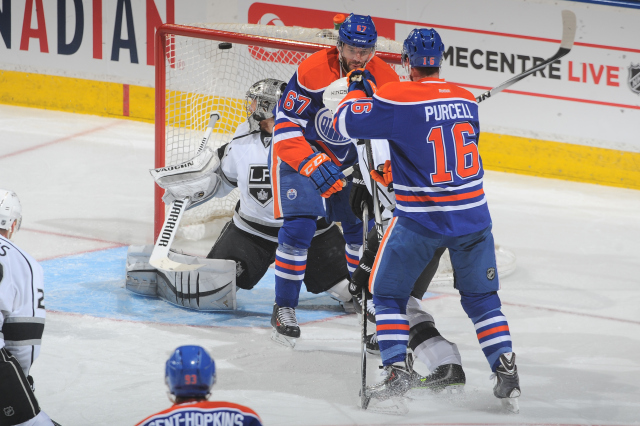 Of note: unless these teams meet in the playoffs over the next two years (hear me out), there are only three Kings-Oilers games remaining at Rexall Place – one on April 7 and two next season as Rogers Place in downtown Edmonton is expected to open in time for the 2016-17 season. To get between the press box and the event level at the vintage if outdated arena, it's necessary to walk through the upper concourse before catching an elevator ride downstairs. During a walk upstairs to the press box after my first intermission television hit, I heard two Oilers fans discussing their plans for the night. "So, should we just leave in the second period once this game becomes five-nothing?" one fan said to the other. They weren't the only ones with that idea.
Literally half the building (of the 3/4 full) left after the 50/50 was called #HereComeTheOilers

— Jeanshorts (@JSBMjeanshorts) March 4, 2015
These are difficult days for fans of the proud franchise.