An outstanding goaltending duel ended in defeat for the Los Angeles Kings as the Ottawa Senators relied on a big Mike Hoffman goal during an early third period two-on-two rush with Mika Zibanejad in which Ottawa's forwards gained a half step on Los Angeles' defenders. Thursday's game was a demonstration of superb goaltending in a game that featured a collection of quality chances by both sides. Darryl Sutter said that the game probably should have been a two-one Ottawa lead after two periods; I'm not sure if he was referencing the posts hit by Curtis Lazar and Jean-Gabriel Pageau – he was almost certainly referencing Justin Williams' put-back on a play that was whistled dead before the puck crossed the goal line – but throughout 60 minutes of play, the two goaltenders deservedly earned the top two stars of the game. Credit 27-year-old rookie Andrew Hammond, a goalie with a .905 career AHL save percentage, for keeping the game scoreless while the Kings poured on pressure during stretches of the first period. His pad save on Jeff Carter's hard wristshot from the mid-slot may have been his finest stop of the night and kept Los Angeles from playing with an early lead. Despite the low score, neither teams' defensive efforts represented their best work of the season. Both teams had rush chances, and as Sutter noted, there should have been a small-to-moderate handful of pucks that found the back of the net before the third period. A stick tap to you, goalies.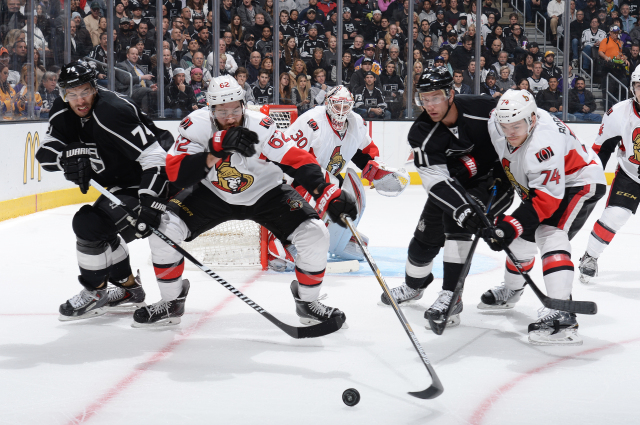 So you're probably aware that a quick Ian Walsh whistle ended a play that would have resulted in a Justin Williams goal off a live rebound in the second period. Walsh lost sight of the puck – he said so in explaining his no-goal call to an angry Staples Center that later had its point of view articulated by crowd spokesman Chuck Lidell – on a play that should not have been blown dead. For the newcomers, this is not a reviewable play. The whistle blew, so whatever happened after the whistle is moot and Toronto can't intervene. I don't know enough about referee positioning to know whether or not he was late to get into position to make a flash judgment on a bang-bang net-front play, though Walsh was skating from the right corner to the right post as the play developed. I'm led to believe that Walsh wasn't out of position, and this was just a stroke of bad luck against the home team. It happens from time to time, and you'd expect over 82 games and the playoffs that these types of errors even themselves out. We've seen this before. A referee losing sight of the puck cost Dustin Penner and Los Angeles a big goal in Game 4 against San Jose in the 2013 Western Conference semi-finals; the Kings lost the game but ultimately won the series. These plays are frustrating, but when the season is over and done with, nobody's going to be pointing back to the game against the Senators on February 26 in which what should have been a good goal was blown dead.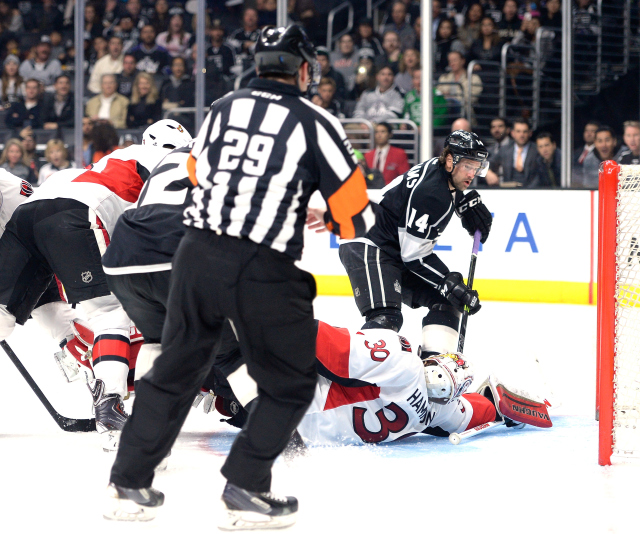 Speaking of the grander scheme of things, the Kings weren't particularly stung by events around the league last night. Vancouver joined Los Angeles, San Jose and Calgary in the group of Teams That Lost In Buffalo, while San Jose allowed two goals in the final seven minutes to Detroit to drop its seventh straight home game. While Minnesota won and Winnipeg gained a point at home against St. Louis, the Kings' future is more likely to align with the Pacific Division playoffs rather than a wild card spot should they qualify for postseason play. Calgary, which did not play on Thursday, was the biggest winner out of the Pacific Division group despite learning that they may be without Norris Trophy candidate Mark Giordano for some time. Los Angeles still has 22 games remaining, so it's a bit premature to start thinking about where teams stack up for the postseason, but last night's events weren't particularly damning from a Kings standpoint.