The Los Angeles Kings held a Wednesday press conference to reveal the logo and jerseys that will be worn beginning next season by the Ontario Reign, who will make the leap to the American Hockey League as the club's top affiliate.
"As an organization, when we switched [jerseys] for the Kings, we asked our players, and they wanted to go that route," Kings President of Business Operations Luc Robitaille said. "So we always felt that if the players love something, then the fans will love it, because then they love to play in their jersey. So when we recreated this, we knew it was important for us to keep the same kind of coloring because we wanted to keep the same pants, the same gloves."
"When we saw it, it kind of felt 'this is it.' We looked at a bunch of different things but we kept coming back to this."
Another photo (by @calishooterone) from Wed. jersey unveiling for upcoming #AHL version of the @OntarioReign #LAKings pic.twitter.com/am5LGkH84G

— Frozen Royalty (@frozenroyalty) February 12, 2015
The jersey has a familiar feel. It's a modernized spin-off on the chevron logo introduced in 1988, though with the trim familiar of the club's current NHL jersey. The Manchester Monarchs, who will become the club's affiliate in the ECHL next season, introduced the same color scheme and jerseys with similar trim prior to the 2014-15 season.
"We always talk about the Kings that 'We Are All Kings,' we're one big family, so we kind of want to be part of the same family, even though the Reign would have their own identity," Robitaille said.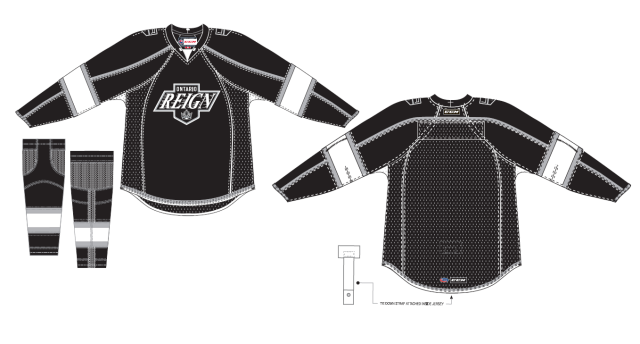 Assistant General Manager Rob Blake also spoke with reporters and discussed the ease of call-ups – a challenge raised again this week when Derek Forbort wasn't able to get out of Boston to meet the team in Columbus on Monday – though he did note that "there are going to be incidents where the big club is back east."
"We're going to have those same situations, but for the most part, being based out of California, especially with the salary cap and roster numbers and different things, there are a lot of advantages of having it very close," he said.
With earlier news that the California AHL teams may play a lighter schedule, Blake offered close to a specific number – and noted that the team is looking to distance itself from weekends in which the team plays three games in three nights.
"It still has to be voted on, finalized," he said. "But what we'd like to do…we'd like to get out of three-in-threes. The feeling in development is if you play three-in-three, it's a tough game. The third game is not a real development game. We can get away from that if it's a reduction if there are a certain amount of games during the season. There are things that still have to be finalized, but [it's] definitely a discussion."
Said Robitaille: "Three-in-three nights is good for business, but it's not good for hockey. It's not good for the growth of hockey, it's not good for the young men who are playing."
As of now, the target is a 68-game schedule, or "in that area," per Blake.
"Just based on how many games we need to get in – enough to keep the kids at the same level they're going to see and close to the NHL," he said. "But, again, the thing I think they want to try and get away [from] is the three-in-three."
Speaking of a lightened schedule, Robitaille noted that there could be a game or two trimmed from Los Angeles' preseason schedule next year.
"Since the new CBA, you're allowed to do eight [preseason] games," he said. "Our coaches want to do six. If they could only do four, we'd do four. Our team has played the most amount of games in the last three years."
While logistics back this move, there's still a larger, more abstract thrust: to continue to grow the sport in California, where all three NHL teams are highly competitive. The Stanley Cup has made Los Angeles a summer home in two of the last three seasons.
"Five years ago, I believed it and I pushed it, and we all pushed it as an organization," Robitaille said. "We knew it was important, and we knew it was important first for our hockey group, for Dean Lombardi, for Rob and Ron Hextall at the time, but at the same time, seeing the success they had, we knew it was important for the organization."
Read more from Alex Kinkopf at LAKings.com: New league, new look for the Ontario Reign
Ontario Reign press release