Saturday's game was an exhibition of systematic proficiency between two similar teams that worked the X's and O's down to a science and were ultimately separated by a third period Chris Kelly deflection that was awarded following video review. It matters little to the Kings, who were awarded zero points following one of their stronger performances of the season. But from the way Los Angeles executed its game plan, the Kings were very good. They didn't allow many chances down the center of the ice, they relied on their heavy style of play and gradually emerged as the superior puck possession team through a standout third period in which they dictated the run of play. Against a lesser team, that's a road Kings win. Against the Boston Bruins, who are healthy again and predictably rising up through the Atlantic Division standings, it was a performance that could have been good enough for at least one point, and perhaps two. Park and ride, as they say.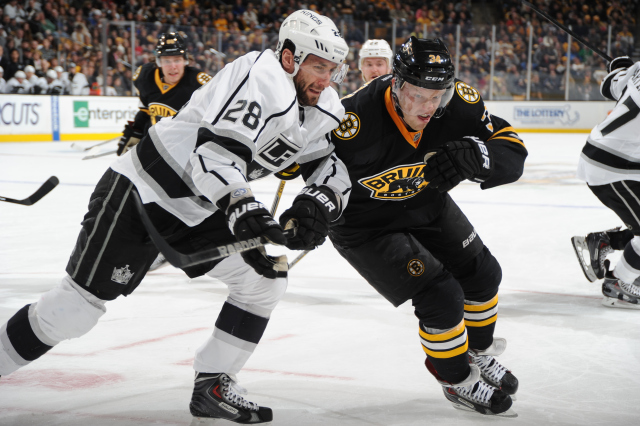 If you're looking for an example of plus/minus being a completely useless statistic if not supplied with any context, look at Tyler Toffoli's performance last night. Toffoli, a minus-three on the score sheet, was making a lot of little plays with the puck to help set up his teammates; he was competitive along the boards, in the neutral and defensive zones, and drew iron on a short side attempt while the Kings trailed by one goal early in the third. He said he was "getting there" when I asked him yesterday if he was back to 100%, and even if he's not quite where he wants to be conditioning-wise, he has been one of the club's best forwards in his two games back. With Tanner Pearson injured and the scoring balance spread throughout the lineup, the Kings need him to produce.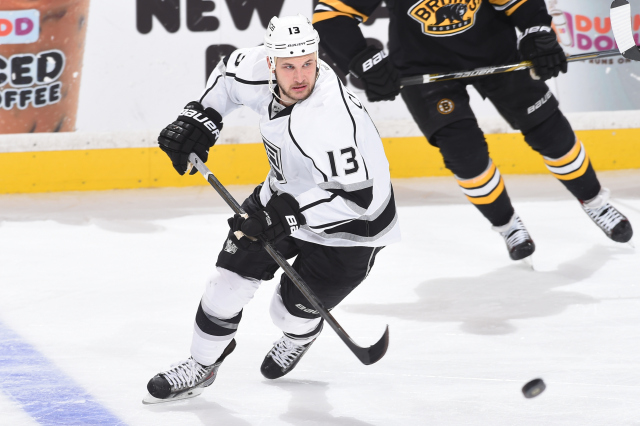 Saturday's game was a Let 'Em Play game, with one minor penalty issued to each side and Darryl Sutter noting that it was "just an honest game" when speaking to the media after the loss. Though Boston doesn't have the same forecheck that St. Louis has, last night's game reminded me of a Kings-Blues game at the Scottrade Center – not one of the more volatile, Kings-Blues games that coincidentally have produced higher scores at Staples Center – in which a tied game would inevitably be broken open by a third period marker with around six minutes to go, perhaps off the stick of Jeff Carter while on the power play. But there weren't many power play opportunities to be had, and Carter, like Anze Kopitar, has only two road goals this season. If you're looking for a partial explanation towards the Kings' struggles away from home, it's because top players haven't scored big goals. Like the special teams home-road splits, there's likely some natural progression bound to occur in top players' road production over the remainder of the regular season.