Los Angeles Kings (14-9-5) at Ottawa Senators (11-11-5)
Thursday, December 11, 2014, 4:30 p.m. PT
Canadian Tire Centre, Ottawa, ON
Referees: #33 Kevin Pollock, #40 Steve Kozari
Linesmen: #70 Derek Nansen, #65 Pierre Racicot
Fox Sports West, KABC 790 AM
Kings Weekly to follow tonight's game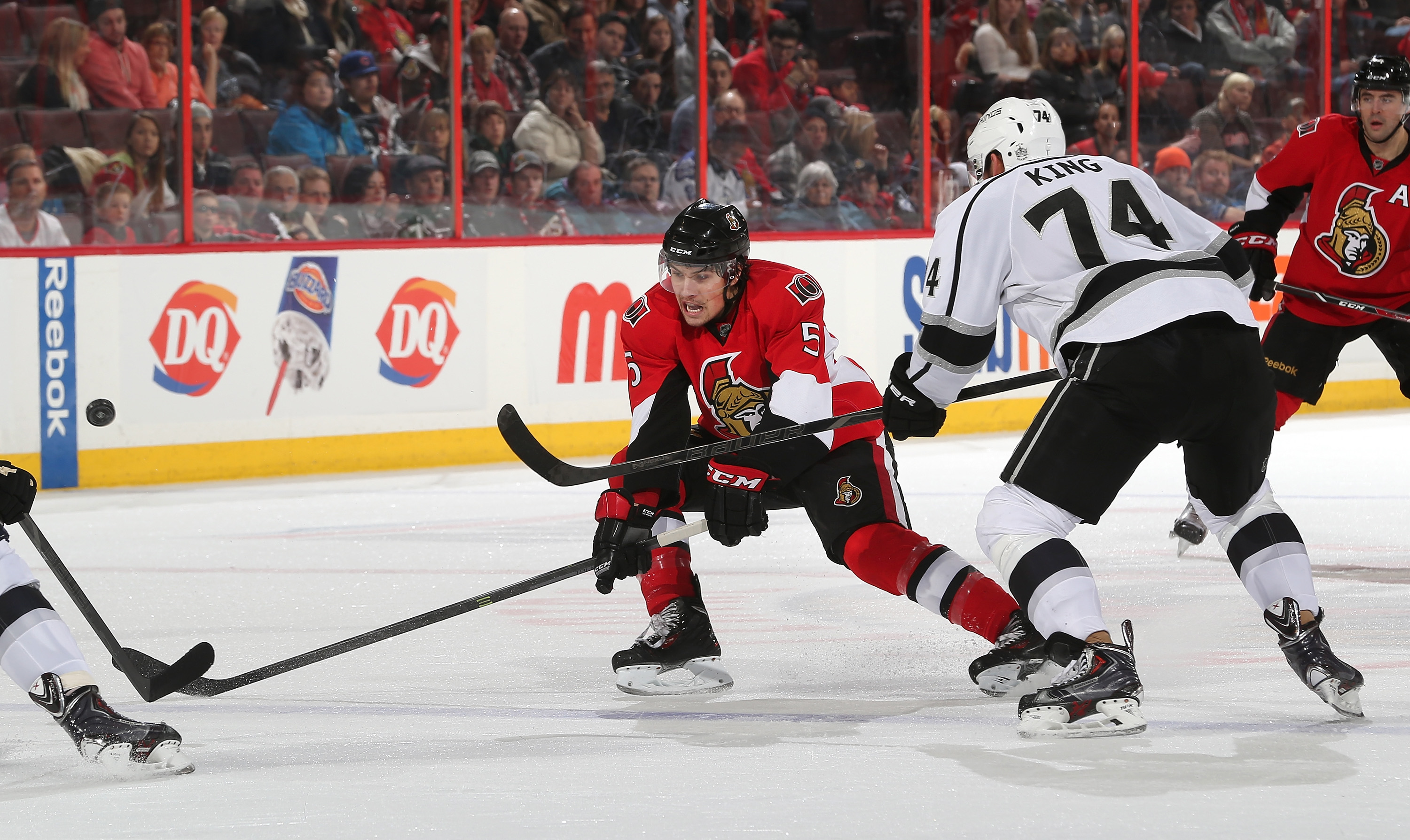 Los Angeles Projected Starting Goaltender – Jonathan Quick
2014-15: 22 GP (22 GS) / 11-7-4 record / 2.09 GAA / .931 Sv% / 3 SHO
Career vs Ottawa: 5 (5) / 4-1-0 / 2.01 / .924 / 1
Last Game vs Ottawa: 10/9/13 / 60 MP / 22-25 shots / 4-3 W
2014-15, Away: 8 (8) / 1-4-3 / 3.07 / .908 / 0
Ottawa Projected Starting Goaltender – Craig Anderson
2014-15: 17 GP (17 GS) / 6-7-4 record / 2.50 GAA / .928 Sv% / 2 SHO
Career vs Los Angeles: 13 (12) / 1-6-4 / 3.80 / .864 / 0
Last Game vs Los Angeles: 12/14/13 / 4 MP / 2-4 shots / 2-5 L
2014-15, Home: 7 (7) / 4-1-2 / 1.96 / .940 / 1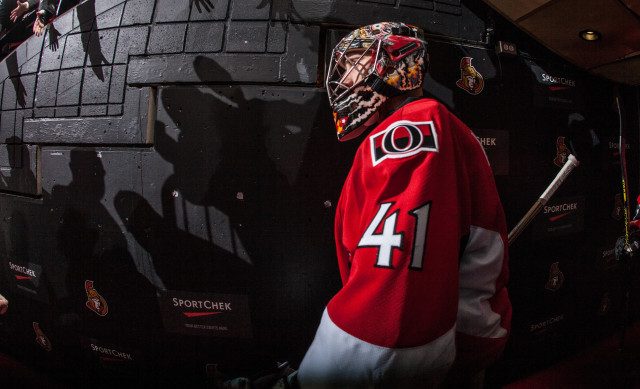 2014-15 Los Angeles Leaders
Total Points: Tyler Toffoli (10-10=20)
Goals: Tyler Toffoli (10-10=20), Tanner Pearson (10-3=13)
Assists: Jeff Carter (7-11=18), Drew Doughty (2-11=13)
Plus/Minus: Tyler Toffoli (+14; 10-10=20)
Penalty Minutes: Matt Greene (36; 1-1=2)
Time On Ice: Drew Doughty (28:50; 2-11=13)
Corsi-For Percentage: Jake Muzzin (57.9%; 1-10=11)
2014-15 Ottawa Leaders
Total Points: Erik Karlsson (7-13=20)
Goals: Clarke MacArthur (9-7=16)
Assists: Erik Karlsson (7-13=20)
Plus/Minus: Mike Hoffman (+10; 8-4=12)
Penalty Minutes: Eric Gryba (56; 0-4=4)
Time On Ice: Erik Karlsson (27:36; 7-13=20)
Corsi-For Percentage: Mark Stone (52.9%; 5-6=11)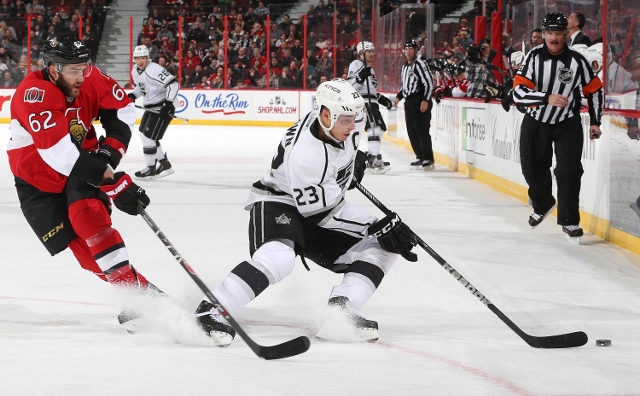 Rankings and Statistics
Goals/Game: LAK – 18 / 2.54; OTT – 18 / 2.52
Goals Against/Game: LAK – 3 / 2.04; OTT – t-16 / 2.67
Power Play: LAK – 20 / 16.3%; OTT – 14 / 20.0%
Penalty Kill: LAK – t-8 / 84.0%; OTT – 13 / 82.5%
Shots/Game: LAK – t-10 / 30.7; OTT – 24 / 28.8
Shots Against/Game: LAK – 19 / 30.1; OTT – 29 / 34.4
Faceoffs: LAK – 10 / 51.4%; OTT – 24 / 48.0%
Save Percentage: LAK – 1 / .932; OTT – 4 / .922
Corsi-For Percentage: LAK – 6 / 52.7%; OTT – 24 / 47.7%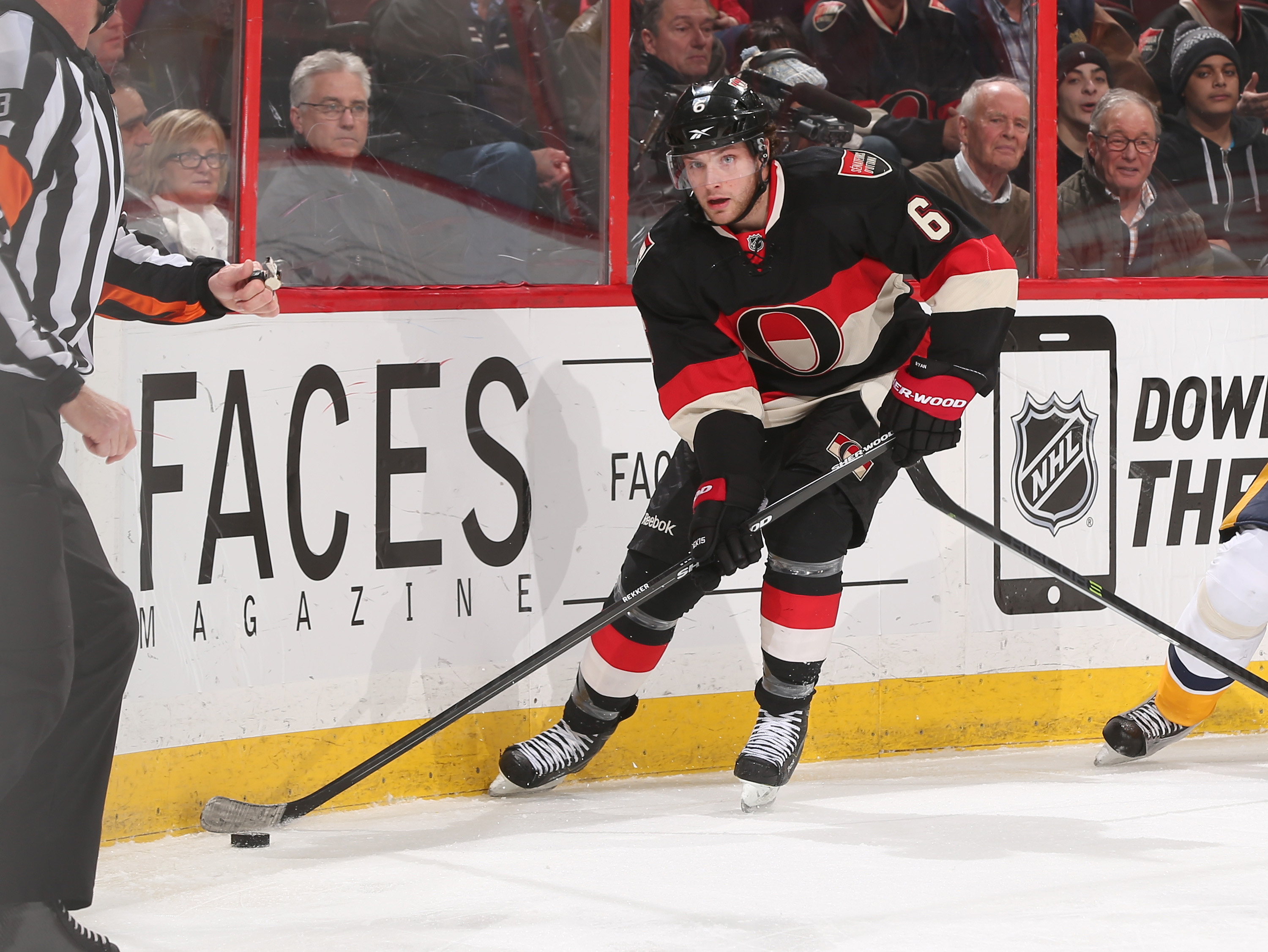 Los Angeles Projected Lines
Marian Gaborik – Anze Kopitar – Justin Williams
Tanner Pearson – Jeff Carter – Tyler Toffoli
Dustin Brown – Jarret Stoll – Trevor Lewis
Kyle Clifford – Mike Richards – Dwight King
Jake Muzzin – Drew Doughty
Robyn Regehr – Alec Martinez
Brayden McNabb – Matt Greene
Jonathan Quick
Martin Jones
Level of confidence in projected lines: A. There appears to be one change to tonight's lineup: Kyle Clifford is likely to draw in for Jordan Nolan. Other than that, line rushes at practice have indicated that the same alignment of players will be used, though Dwight King may also see shifts on the left side. Jonathan Quick left the ice first at the morning skate and is expected to start against Ottawa.
Notes and milestones: Los Angeles is 18-7-2 all-time against Ottawa, a record that includes an away mark of 6-6-1. The Kings are 8-2-0 in the last 10 overall games against the Senators and have tied a franchise-record three-game winning streak. Ottawa hasn't defeated Los Angeles since a 3-2 win at the Canadian Tire Centre on November 22, 2010. … The Kings are 5-5-2 against the Eastern Conference and 3-2-0 against the Atlantic Division. … Though Los Angeles has averaged 2.86 goals per game over their last 14 games (40 G / 14 GP), they have scored only one goal over their last two games. … The Kings are 2-for-21 on the power play over the last seven games. … Los Angeles is 11-0-3 when scoring the game's first goal and 14-3-1 when allowing two goals or less. … The Kings rank second in the league with 865 total hits. … Los Angeles is tied for second in the league with five shorthanded goals. … Jeff Carter has one point (0-1=1) in the last nine games, and Tyler Toffoli has two points (2-0=2) in the last 10 games. … With 29 career game-winning goals, Dustin Brown is tied with Rob Blake for fourth overall on Los Angeles' all-time list. … With 28 career game-winning goals, Anze Kopitar is tied with Mike Murphy and Butch Goring for fifth place on the Kings' all-time list and sits one game-winning goal behind Rob Blake and Dustin Brown for fourth place. … With 298 career assists, Mike Richards is two assists from 300 in his career. … With 234 (61-173=234) career points, Drew Doughty is tied with Marty McSorley for fifth place all-time amongst Los Angeles defensemen. … Mike Richards has 23 points (12-11=23) in 24 career games against Ottawa. … Anze Kopitar has seven points (3-4=7) in seven career games against Ottawa.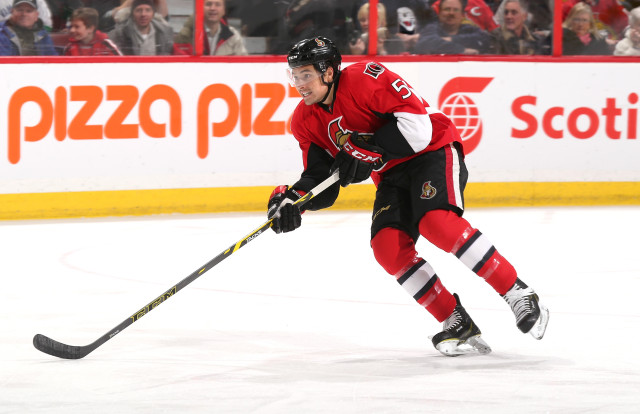 Ottawa Projected Lines
Colin Greening – Kyle Turris – Erik Condra
Mike Hoffman – Mika Zibanejad – Bobby Ryan
Mark Stone – Curtis Lazar – Alex Chiasson
David Legwand – Zack Smith – Chris Neil
Chris Phillips – Erik Karlsson
Jared Cowen – Cody Ceci
Mark Borowiecki – Eric Gryba
Craig Anderson
Robin Lehner
Notes and milestones: Lines via NHL.com correspondent Chris Stevenson … Forward Clarke MacArthur (flu) is a game-time decision, forward Milan Michalek (upper-body) is unlikely to play, and defensemen Mark Methot (hip/back) and Patrick Wiercioch are out. … Ottawa is 6-4-3 against the Western Conference and 2-1-1 against the Pacific Division. … The Senators are 5-6-1 when scoring first and 6-5-4 when their opponent scores first. … Ottawa has a minus-84 shot differential in second periods this season (242-326). … The Senators are 2-2 in shootouts. … 13 of Erik Karlsson's 20 points this season have come on the power play. … Ottawa averages 13 penalty minutes per game, the fourth-highest average in the league. … The Senators are 2-0-1 when wearing its heritage jersey this season and will do so tonight. … On October 2, Erik Karlsson was appointed as captain, the ninth in Ottawa history. … Chris Phillips ranks second in franchise history with 1,165 games played, and Chris Neil ranks third with 882. Daniel Alfredsson (1,178) has played more games than any other Senator in franchise history.