Good morning, Canada's capital, and good morning, Insiders.
So, it's snowing today — heavily. We're not expecting the strongest precipitation until the late afternoon, but there's already a white coating over much of the city to serve as a prelude to what's expected to be about a foot of snow by tomorrow morning. This could lead to an interesting commute to and from the arena, which is located in suburban Kanata, west of the city. Unlike last year, we're staying downtown, near Parliament Hill, where the recognizable Peace Tower rises up above the Centre Block of parliamentary buildings.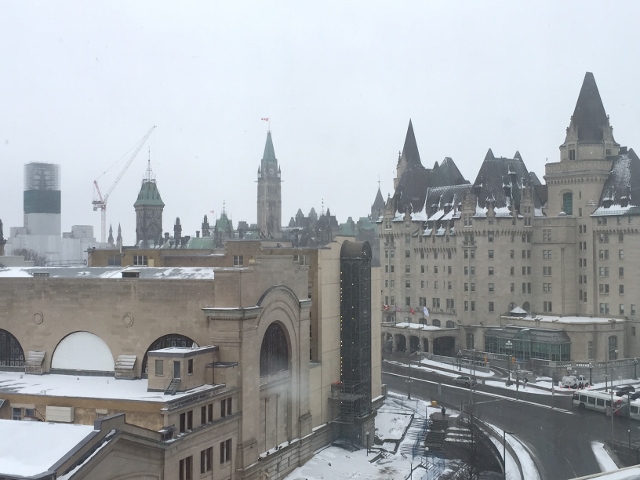 Though it doesn't appear to be fully frozen over at this point, the Rideau Canal (pictured in the lower part of the headline photo) is an urban waterway that in the winter transforms into what has been acknowledged by Guiness as the world's "largest naturally frozen ice rink." A stretch of nearly five miles of the canal opens for skaters in January and provides a much more interesting commute than traveling up and down the 405.
It's really a shame that the Senators play far outside the urban core of the city, though there are developments that suggest that may change at some point.
Don't worry – these are statues, not a family trapped outside in winter: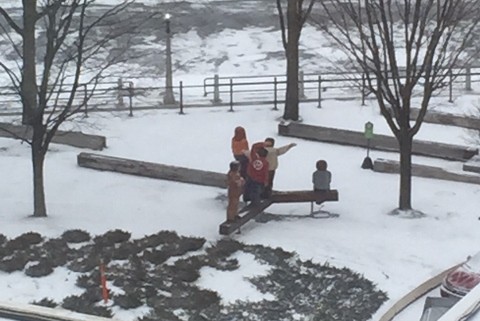 That's the Rideau Canal in the background. Of note: It opened in 1832 and was originally built as a safeguard in the event of war with the United States.
The Kings are scheduled to practice at the Canadian Tire Center at 12:30 p.m. As always, there's lots to come on a snowy Wednesday. Good morning, Insiders.