An efficient and opportunistic Kings team stomped on all Coyotes attempts to build something tangible with their momentum and skated to a comprehensive 4-0 road win Thursday night in Glendale. The visitors countered well in the game, taking advantage of another fine Martin Jones performance. After killing a penalty early in the second period, Los Angeles capitalized on a three-on-two rush with several Arizona forwards caught deep as David Schlemko never closed a gap (and may have inadvertently screened his goaltender) on the puck carrier Dustin Brown, who unleashed a laser beam from the inside of the right circle to double the Kings' lead to 2-0. When the Kings turned a 3-0 game into a 4-0 game, Alec Martinez's insurance tally came shortly after Martin Jones stopped Tobias Rieder on a Grade-A shorthanded chance from close range. Excellent goaltending provides a base for these counterattacks, and Martin Jones, as he has been for the entirety of his junior and professional career, was calm, composed and cool under pressure.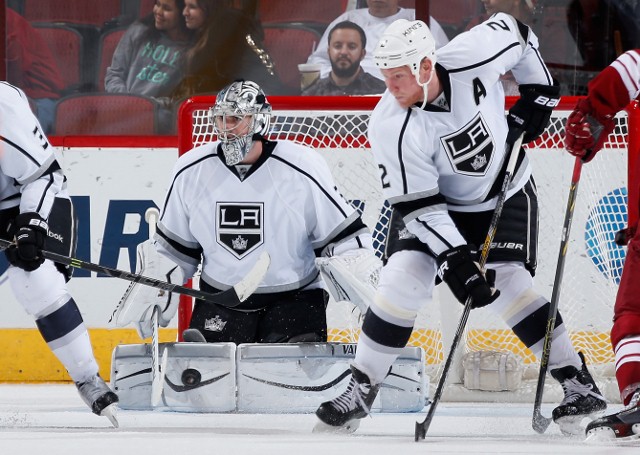 Hits are a mostly useless statistic; teams that don't possess the puck are going to find more opportunities to make hits than teams that play with the puck on their stick. The Kings, though, have been a team in recent years that has been able to rank among league leaders in both possession metrics and total hits, and Thursday's game was emblematic of those efforts. L.A. was +21 in Corsi events at even strength – and totaled an impressive 73 total shot attempts – and still out-hit Arizona 47-37. There was a lot to like about the entire team-wide performance, but if there are several players who represented the game's trends, they would be Brayden McNabb, who finished tied with Mike Richards with a team-high +13 Corsi and tallied seven hits, and Robyn Regehr, who was a +8 in Corsi and finished with a game-high 10 hits. Regehr has strung several quality performances together, while McNabb, who has clearly improved in many facets through the season's first 26 games, has seven points (all assists) in the last nine games and is on pace for 37 assists. One member of the club's hockey operations spoke about McNabb's progress during yesterday's morning skate and said that the young defenseman has been much more composed with the puck and has been better at making the small skating plays in his own zone to avoid opponents and get the puck quickly into the hands of his forwards. And if we're touching on scoring paces, it should be recognized that Kyle Clifford, who recorded his fifth assist and sixth point of the season, is on pace for a career-high 19 points.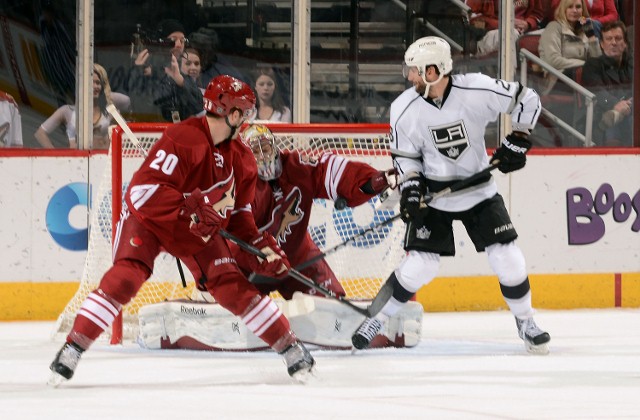 Surprise, surprise: The Kings are an upper-half offensive team. Having scored at least three goals in nine of the last 12 games, Los Angeles has catapulted up to 14th place in the league – one spot ahead of Anaheim – by averaging 2.69 goals per game. Part of the scoring uptick can be placed on raising the shooting percentage from 7.6% (2013-14) to 8.9% (2014-15), but as Dustin Brown said after the game last night, the Kings are banking on scoring from a deeper array of players. Six players have at least five goals on the season, and considering the Kings are yet to fully tap the production from Anze Kopitar and Marian Gaborik (though have banked on Tanner Pearson, who is shooting an unsustainable 22.7%, and Tyler Toffoli, who is at 15.2%), there's still perhaps some room to improve offensively. This is a nice deviation from the 2013-14 and 2011-12 regular seasons, though keep in mind that the 2012-13 team averaged 2.73 goals per game.