There were ample opportunities for both Los Angeles and Dallas to score in the first period Saturday night. The Kings did not score on their chances, going 0-fer on three early power plays and failing to draw momentum from the offensive opportunities, while the Stars capitalized on most of theirs, taking advantage of turnovers and using their top players to engineer offense in jumping out to a lead that proved too wide a gap to overcome. The most significant turning points occurred late in the first when Tanner Pearson created a neutral zone turnover with the Kings trailing 2-0, skated in alone on Kari Lehtonen but had his wristshot stopped with just over a minute and a half to play. Jake Muzzin was whistled for a penalty 40 seconds later, and after Jonathan Quick made a strong stop on a Tyler Seguin slapshot with time ticking down, John Klingberg found Jamie Benn open with a slick no-look pass that was finished off with a wristshot that beat Quick with 1.3 seconds remaining. There were other important moments – Lehtonen's fantastic stretch pass to Seguin to turn a three-goal game into a four-goal game early in the second was among them – but the outcome of this game was heavily impacted by the Stars' opportunistic first period bent, and the Kings' inability to score on or develop an offensive rhythm from their power plays.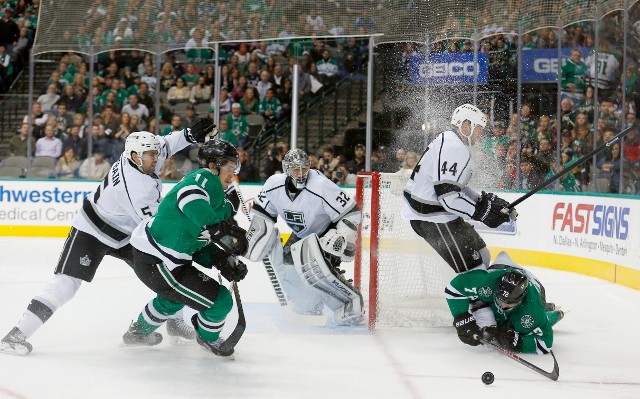 It's too bad the Kings faced a two-goal margin for 33:28 and a three-goal margin for 8:22 last night, because had they been able to remain in striking distance for a longer period of time, I'd have liked their chances to emerge from the game with at least a point. Territorially, the Kings were dominant from the second period on, especially in the shifts following Tanner Pearson's goal that got Los Angeles on the scoreboard. They totaled 31 shots on goal over the final 40 minutes and ultimately held a 71-48 shot attempt advantage throughout the full 60. In the third period – where the Kings outshot the Stars 16-2 – a heavy L.A. forecheck prevented Dallas from exiting their zone and advancing the puck in five-man units, though the visitors simply couldn't fully erase a four-goal gap.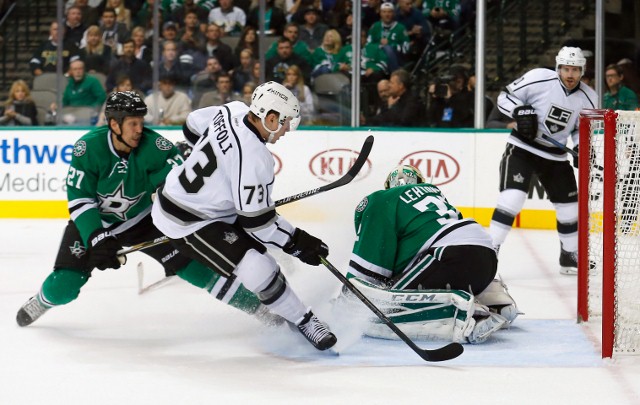 Standout goaltending, special teams play and top players scoring opportune goals can help a team win a road games, and on Saturday, L.A. didn't grade especially well in any of the three categories. There's really no blame to be placed on Jonathan Quick, who will be a Vezina Trophy candidate if he maintains his current pace but faced a barrage of Grade-A opportunities late in the first and early in the second period. Though the Kings scored once on the power play, they also allowed two goals while shorthanded and lost the special teams battle in a game in which there was a total of 18:35 of five-on-four play. As for top players – a subject that has been raised frequently in the early stages of the 2014-15 season – hopefully Drew Doughty slept in today, because he logged another exhausting ice time total of 33:07. But it was the not-quite-primary, not-quite-secondary scorers Justin Williams, Mike Richards and Tanner Pearson who found the back of the net while Anze Kopitar (two shots on goal, four shot attempts) and Marian Gaborik (no shots on goal, three shot attempts) acquitted themselves fine possession-wise (while enjoying more offensive zone starts than usual) but were unable to find the scoresheet and finished with minus-one ratings. Both players appeared to be finding their games in the recent seven-games in Southern California; they weren't bad on Saturday but didn't necessarily distinguish themselves, either. The rest of the road trip will offer a clearer indication of the trajectory in their game.