Dreary, nondescript hotel room view on a rainy day?
NOPE.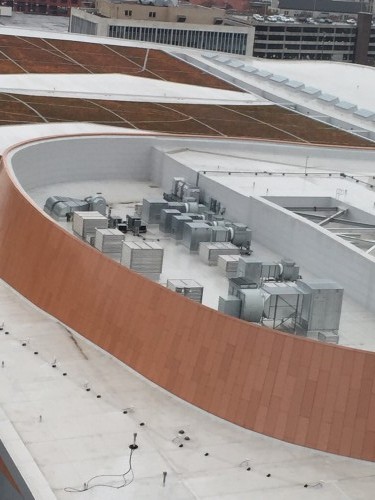 Soft eyes were used to spot these beauties, which, like the Kings, will have a day off on a cool, fall day. They're hibernating, no doubt, for that next cycle through a scalding Tennessee summer and could give those Glendale, Arizona units a fair showing were we to bracket them together in a March Madness-style competition amongst NHL absorption refrigeration units. We salute you, Carl Munters.
[Carl Munters Wiki-page views explode; Wikipedia's servers irreversibly damaged]
The Kings weren't the only team to land in Nashville shortly after midnight, though they were the only team to land shortly after midnight that lost by a narrow margin. The Vanderbilt football team, returning from a 51-0 drubbing at the hands of Mississippi State in Starkville, deplaned at the same time as the Kings. No eye contact was made between the two traveling parties.
It's a rest and recovery day for the Kings, who will return to practice at 1:00 p.m. local time on Monday. Waking up with the Kings will follow, as will The view from Dallas. Enjoy your Sunday, Insiders.