Los Angeles Kings (11-5-4) at Dallas Stars (7-9-4)
Saturday, November 22, 2014, 5:00 p.m. PT
American Airlines Center , Dallas, TX
Referees: #5 Chris Rooney, #26 Rob Martell
Linesmen: #52 Shandor Alphonso, #86 Brad Lazarowich
Fox Sports West, KABC 790 AM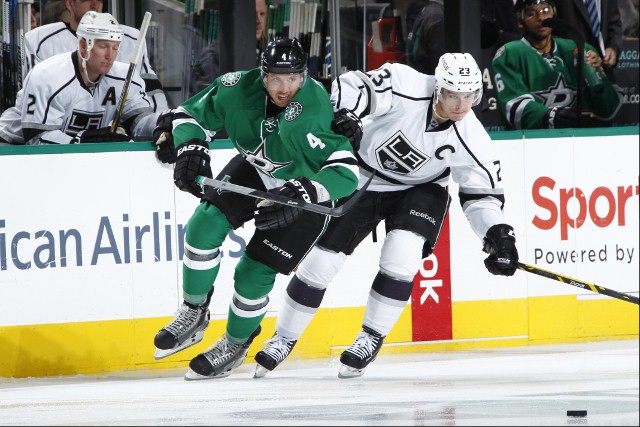 Los Angeles Projected Starting Goaltender – Jonathan Quick
2014-15: 17 GP (17 GS) / 10-3-4 record / 2.05 GAA / .938 Sv% / 2 SHO
Career vs Dallas: 24 (23) / 16-6-2 / 2.32 / .918 / 2
Last Game vs Dallas: 11/4/14 / 60 MP / 33-34 shots / 3-1 W
2014-15, Away: 6 (6) / 1-2-3 / 3.07 / .918 / 0
Dallas Projected Starting Goaltender – Kari Lehtonen
2014-15: 17 GP (17 GS) / 7-5-4 record / 2.92 GAA / .906 Sv% / 1 SHO
Career vs Los Angeles: 21 (21) / 11-8-1 / 2.45 / .916 / 2
Last Game vs Los Angeles: 11/13/14 / 60 MP / 27-27 shots / 2-0 W
2014-15, Home: 10 (10) / 2-3-4 / 3.09 / .896 / 0
2014-15 Los Angeles Leaders
Total Points: Tyler Toffoli (8-10=18)
Goals: Tyler Toffoli (8-10=18), Tanner Pearson (8-3=11)
Assists: Tyler Toffoli (8-10=18), Jeff Carter (7-10=17), Drew Doughty (1-10=11)
Plus/Minus: Tyler Toffoli (+13; 8-10=18), Jeff Carter (+13; 7-10=17)
Penalty Minutes: Mike Richards (35; 2-6=8)
Time On Ice: Drew Doughty (28:45; 1-10=11)
Corsi-For Percentage: Jake Muzzin (59.4%; 1-8=9)
2014-15 Dallas Leaders
Total Points: Tyler Seguin (14-10=24)
Goals: Tyler Seguin (14-10=24)
Assists: Jason Spezza (4-14=18)
Plus/Minus: Patrick Eaves (+2; 2-3=5)
Penalty Minutes: Antoine Roussel (53; 5-6=11)
Time On Ice: Alex Goligoski (25:09; 0-8=8)
Corsi-For Percentage: Tyler Seguin (58.0%; 14-10=24)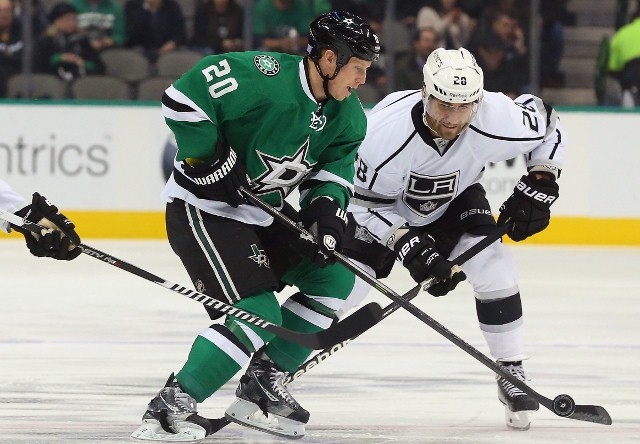 Rankings and Statistics
Goals/Game: LAK – 19 / 2.60; DAL – 12 / 2.75
Goals Against/Game: LAK – 4 / 2.10; DAL – 28 / 3.35
Power Play: LAK – 20 / 18.2%; DAL – 24 / 14.9%
Penalty Kill: LAK – 9 / 84.0%; DAL – 22 / 78.3%
Shots/Game: LAK – t-12 / 30.3; DAL – t-24 / 28.9
Shots Against/Game: LAK – 24 / 32.2; DAL – 22 / 31.0
Faceoffs: LAK – 10 / 52.0%; DAL – t-19 / 48.8%
Save Percentage: LAK – 1 / .935; DAL – 29 / .892
Corsi-For Percentage: LAK – 17 / 49.9%; DAL – 23 / 48.5%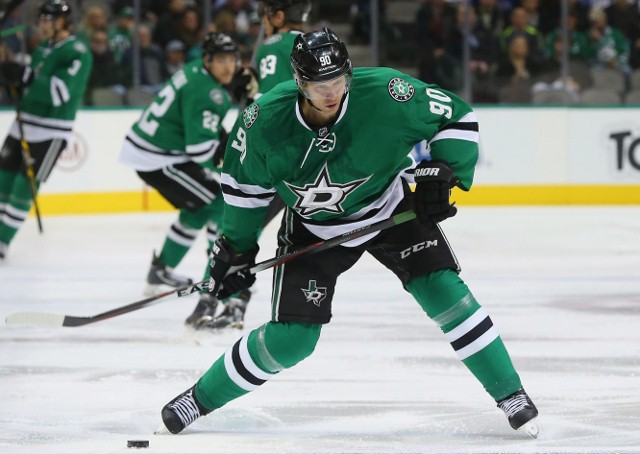 Los Angeles Projected Lines
Marian Gaborik – Anze Kopitar – Trevor Lewis
Dwight King – Jeff Carter – Tyler Toffoli
Dustin Brown – Jarret Stoll – Justin Williams
Kyle Clifford – Mike Richards – Tanner Pearson
Jake Muzzin – Drew Doughty
Brayden McNabb – Matt Greene
Robyn Regehr – Jamie McBain
Jonathan Quick
Martin Jones
Level of confidence in projected lines: A. A! Finally there's an 'A' after some crooked grades over the past week. The above lines were used in Thursday's win over Carolina and held up during line rushes today. Jonathan Quick left the ice first at the morning skate and is expected to draw the start tonight.
Notes and milestones: Los Angeles is 84-100-40 all-time against the Dallas/Minnesota franchise, a record that includes a road mark of 34-60-18. Each team has won in regulation on the other team's home ice, so tonight's game serves as the rubber match of the season series. Unless they meet in the playoffs, these teams won't play each other until the 2015-16 season. … The Kings are 7-2-2 against the Western Conference and 4-1-0 against the Central Division. … Los Angeles is 6-for-12 on the power play over the last three games, though the Kings are 1-for-21 on the power play on the road this season. … Though Los Angeles ranks ninth overall in penalty killing, the Kings are just 20-of-27 on the road. … Drew Doughty (0-3=3 in the last three), Jake Muzzin (0-4=4 in the last three) and Justin Williams (0-3=3 in the last three) have three-game assist streaks. … Muzzin has nine points (1-8=9) in the last seven games. … Drew Doughty has five points (1-4=5) in the last five games. He has logged at least 30 minutes of ice time in six of the last eight games. … Mike Richards is expected to play his 200th consecutive regular season game. … Darryl Sutter will coach his 200th regular season game with the Kings. … Jonathan Quick has not lost a game in regulation in his last seven appearances (5-0-2), posting a .935 SV% and 1.94 GAA during that span.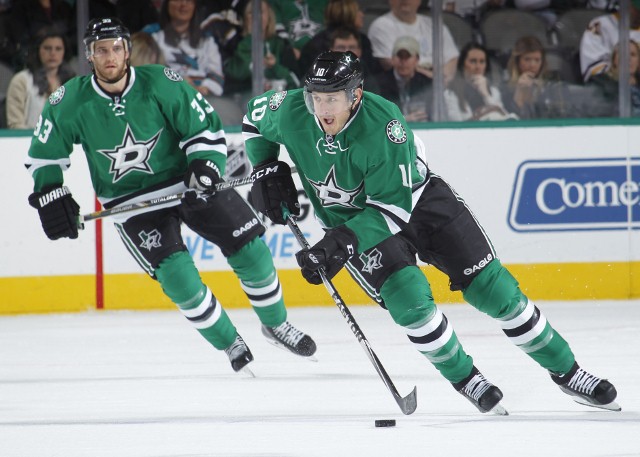 Dallas Projected Lines
Jamie Benn – Cody Eakin – Tyler Seguin
Antoine Roussel – Jason Spezza – Ales Hemsky
Travis Moen – Vernon Fiddler – Patrick Eaves
Erik Cole – Shawn Horcoff – Curtis McKenzie
Alex Goligoski – John Klingberg
Trevor Daley – Jason Demers
Jyrki Jokipakka – Jamie Oleksiak
Kari Lehtonen
Anders Lindback
Notes and milestones: Ryan Garbutt (upper-body) is expected to miss tonight's game. Valeri Nichushkin (lower-body) is on injured reserve. … Jason Demers, acquired Friday along with a third round draft pick from San Jose for Brenden Dillon, will make his Stars debut tonight. … Ales Hemsky leads all Stars with nine career goals against the Kings and ranks second on Dallas with 25 points (9-16=25) in 33 career games against Los Angeles. … Defenseman Alex Goligoski has 16 points (3-13=16) in 20 career games against the Kings. … Rookie defenseman John Klingberg has four points (1-3=4) in six games and is averaging 23:42 per game. He carries a three-game point streak into tonight's game. … Jason Spezza has a three-game point streak (1-2=3).