Los Angeles Kings (9-5-4) vs Florida Panthers (6-4-5)
Tuesday, November 18, 2014, 7:30 p.m. PT
Staples Center, Los Angeles, CA
Referees: #5 Chris Rooney, #32 Tom Kowal
Linesmen: #68 Scott Driscoll, #56 Mark Wheler
Fox Sports West, KABC 790 AM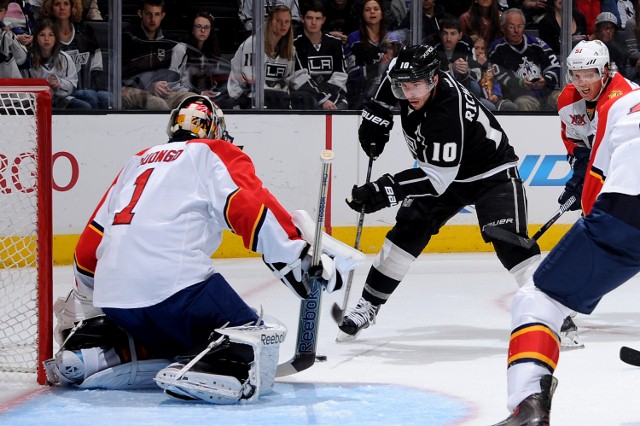 Los Angeles Projected Starting Goaltender – Jonathan Quick
2014-15: 15 GP (15 GS) / 8-3-4 record / 2.06 GAA / .938 Sv% / 2 SHO
Career vs Florida: 5 (5) / 4-1-0 / 1.69 / .939 / 1
Last Game vs Florida: 3/22/14 / 60 MP / 24-24 shots / 4-0 W
2014-15, Home: 9 (9) / 7-1-1 / 1.35 / .956 / 2
Florida Projected Starting Goaltender – Roberto Luongo
2014-15: 12 GP (12 GS) / 5-3-4 record / 2.24 GAA / .927 Sv% / 1 SHO
Career vs Los Angeles: 31 (31) / 14-12-5 / 2.38 / .917 / 3
Last Game vs Los Angeles: 3/22/14 / 60 MP / 25-29 shots / 0-4 L
2014-15, Away: 6 (6) / 2-1-3 / 2.28 / .925 / 1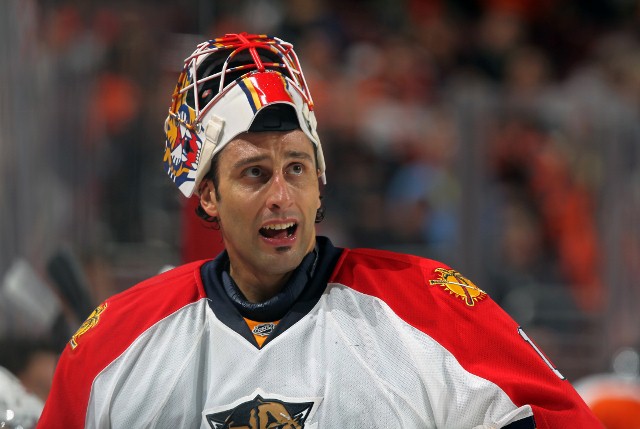 2014-15 Los Angeles Leaders
Total Points: Tyler Toffoli (8-10=18)
Goals: Tyler Toffoli (8-10=18)
Assists: Tyler Toffoli (8-10=18)
Plus/Minus: Tyler Toffoli (+13; 8-10=18), Jeff Carter (+13; 6-9=15)
Penalty Minutes: Mike Richards (35; 2-5=7)
Time On Ice: Drew Doughty (28:49; 1-8=9)
Corsi-For Percentage: Jake Muzzin (59.5%; 1-6=7)
2014-15 Florida Leaders
Total Points: Jussi Jokinen (1-10=11)
Goals: Brad Boyes (4-5=9), Nick Bjugstad (4-3=7)
Assists: Jussi Jokinen (1-10=11)
Plus/Minus: Jimmy Hayes (+6; 3-3=6)
Penalty Minutes: Scottie Upshall (18; 3-4=7)
Time On Ice: Brian Campbell (23:48; 1-5=6)
Corsi-For Percentage: Jonathan Huberdeau (58.7%; 2-2=4)
Drew Doughty, on whether Darryl Sutter is "unnecessarily worried" over his heavy ice time accumulation:

Rankings and Statistics
Goals/Game: LAK – t-24 / 2.44; FLA – 27 / 2.20
Goals Against/Game: LAK – t-4 / 2.11; FLA – 10 / 2.33
Power Play: LAK – 23 / 14.0%; FLA – 21 / 15.7%
Penalty Kill: LAK – 8 / 85.1%; FLA – t-19 / 79.7%
Shots/Game: LAK – t-14 / 30.0; FLA – 25 / 28.9
Shots Against/Game: LAK – 25 / 32.6; FLA – 18 / 30.1
Faceoffs: LAK – 9 / 52.0%; FLA – t-19 / 49.0%
Save Percentage: LAK – 1 / .935; FLA – 8 / .923
Corsi-For Percentage: LAK – 17 / 49.8%; FLA – 23 / 48.7%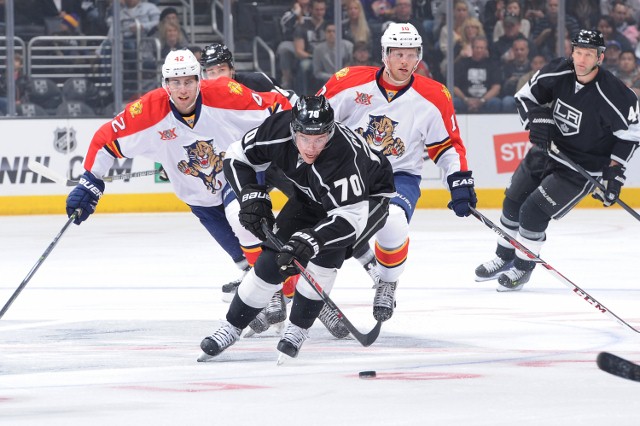 Los Angeles Projected Lines
Marian Gaborik – Anze Kopitar – Trevor Lewis
Dwight King – Jeff Carter – Tyler Toffoli
Tanner Pearson – Jarret Stoll – Justin Williams
Kyle Clifford – Mike Richards – Dustin Brown
Jake Muzzin – Drew Doughty
Brayden McNabb – Matt Greene
Robyn Regehr – Jamie McBain
Jonathan Quick
Martin Jones
Level of confidence in projected lines: B-. Tonight's scratches are the easiest to pinpoint as Andy Andreoff and Jordan Nolan remained on the ice for extra work with Martin Jones following the morning skate. So, expect Dwight King to re-enter the lineup and Jonathan Quick to draw the start in goal. As for the forward lines, the above alignment could change. It wouldn't be a surprise to see Dustin Brown take shifts alongside Marian Gaborik and Anze Kopitar; the same goes for Justin Williams. As always, lines are fluid and change throughout the game.
Notes and milestones: Los Angeles is 14-9-3 all-time against Florida, a record that includes a home mark of 10-4-0. The Kings have won five consecutive games on home ice in the series and have not lost to the Panthers at Staples Center since November 27, 2002. The teams will conclude their season series at the BB&T Center on February 5. … Los Angeles outscored Florida 7-0 in 2013-14 and hasn't ceded a goal in head-to-head match-ups since Matt Bradley's goal with 49 seconds remaining in a 3-1 Panthers win in Sunrise on February 9, 2012. … The Kings are 2-3-2 against the Eastern Conference and 1-1-0 against the Atlantic Division. … With four shorthanded goals in 18 games, Tyler Toffoli became the fastest King to record four shorthanded goals in team history, beating Bernie Nicholls' 1988-89 club record by seven games. Toffoli is also the fastest player to score four shorthanded goals since the Flyers' Simon Gagne had four in his first 15 games during the 2008-09 season. … Los Angeles has killed off 37-of-40 power plays at Staples Center. … The Kings have held their opponents to a 4.4% shooting percentage in the third period (8 GA / 181 SA). … With a win, Darryl Sutter will surpass Bob Berry (107 wins) for sole possession of sixth place on the Kings' all-time wins list. … Drew Doughty has earned at least 30 minutes of ice time in five of the last six games and ranks second in the NHL with an ice time average of 28:49. … Jonathan Quick leads the league with 471 saves and ranks first amongst goaltenders with more than three starts with a .938 save percentage. … Jake Muzzin has recorded three multi-point efforts in his last four games (1-5=6). … With 198 career goals, Dustin Brown is two goals shy of 200.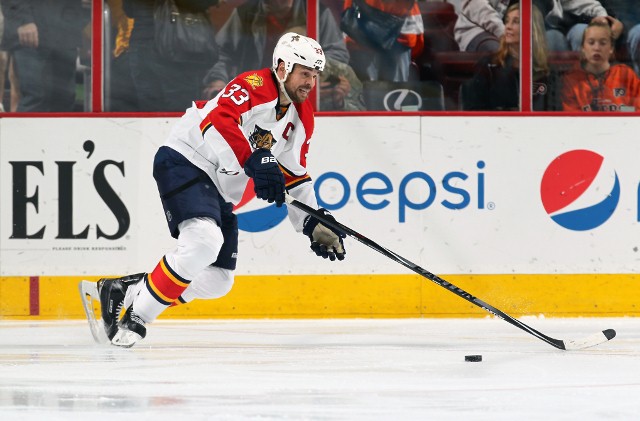 Florida Projected Lines
Tomas Kopecky – Jonathan Huberdeau – Scottie Upshall
Nick Bjugstad – Vincent Trocheck – Brad Boyes
Jussi Jokinen – Rocco Grimaldi – Jimmy Hayes
Tomas Fleischmann – Derek MacKenzie – Shawn Thornton
Willie Mitchell – Aaron Ekblad
Brian Campbell – Colby Robak
Dylan Olsen – Erik Gudbranson
Roberto Luongo
Al Montoya
Notes and milestones: Florida is likely to be without Brandon Pirri (IR/concussion), Dave Bolland (IR/groin), Dmitry Kulikov (knee) and Aleksander Barkov (sick). Sean Bergenheim, who hasn't played in November due to a lower-body injury, could possibly re-enter the lineup. Five-foot-six forward Rocco Grimaldi, who took three shots on goal in San Antonio's 4-3 shootout win over Oklahoma City earlier today, was removed from the game early and flown to Los Angeles because of an illness to Aleksander Barkov, per Harvey Fialkov of the Sun Sentinel. Grimaldi, a Rossmoor, CA native, scored the United States' game-tying and game-winning goals in a 3-1 gold medal game victory over Sweden at the 2013 World Junior Championships. Grimaldi was held scoreless over four games – his first four NHL games – earlier this month. … Florida has scored 17 points in its last four games and has claimed at least one point in 10 of the last 12 games (6-2-4). … Brad Boyes is expected to play in his 700th career game tonight. … Brian Campbell is expected to play his 239th consecutive game tonight. … Roberto Luongo is currently tied with Roy Worters (1925-37) for 13th all-time in NHL history with 67 shutouts. Luongo leads all active goalies in games played (815), wins (378), shutouts (67) and saves (22,214). … 18-year-old defenseman Aaron Ekblad, selected first overall in 2014, has eight points (2-6=8) in his last seven games and ranks second on the team with 10 points (2-8=10). He has points in four straight games (1-5=6). … Vincent Trocheck has points in four straight games (1-4=5). … Willie Mitchell appeared in 209 games with the Kings from 2010-14, totaling 46 points (11-35=46) en route to two Stanley Cups. … Assistant coach Mark Morris is the Manchester Monarchs' all-time leader in games coached (552), regular season wins (338) and playoff wins (35). … The last Panthers road win in the series came on November 27, 2002. Florida won 5-2 behind 32 saves by Jani Hurme, while Kristian Huselius, Viktor Kozlov, Marcus Nilson, Ivan Novoseltsev and Sandis Ozolinsh scored. Los Angeles goals came from Ziggy Palffy and Mathieu Schneider.