Back-to-backs with travel are more of a burden than back-to-backs with a short ride up the freeway and the luxury of sleeping in one's own bed, but after watching the Kings over the last two days, it did appear as though the team was trying to summon more than what the emotional reservoir could ration. Players aren't robots and do have batteries that need to be recharged. For whatever reason, it took a while for the home team to reach full bars on its involvement. There were pivotal moments that occurred early; Jamie McBain's rebound opportunity was denied while on a power play, and after Dwight King was stopped by Kari Lehtonen on a contested shorthanded break, Dallas opened a rush in the opposite direction that culminated in the underrated Ryan Garbutt gaining the L.A. blue line with speed and control of the puck and chipping in the rebound of a quick release that Martin Jones had directed to the left circle. Other than a late second period flurry sustained by excellent pressure from Jarret Stoll's line, the Kings didn't threaten Lehtonen consistently enough, and second and third opportunities were mostly absent.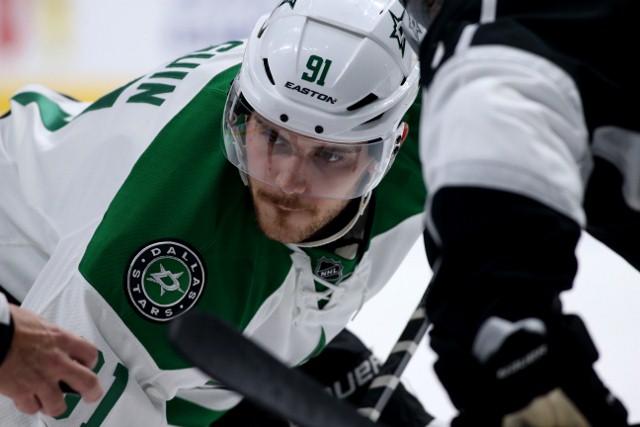 But oh, that Lehtonen save on Stoll late in the second. Lehtonen practically earned the first star on that save alone.
We see similar saves by Jonathan Quick – heck, we saw an excellent lunge/glove stop in Anaheim on Wednesday – but, wow. There's something about the desperation dive here that quieted the capacity crowd; rarely do buildings fall into such a wide-eyed, "I can't believe what I just saw"-hush. Los Angeles wasn't consistently threatening throughout the game, so credit the visiting goaltender for making big saves when necessary to preserve the lead. For Stoll, it's a continued slog. Seventeen games in, the veteran center is sitting on one assist with a 42.4% Corsi-for. His defensive credentials provide difficult match-ups, heavy defensive zone starts and consistent shorthanded success, but it's still a rough go for a forward who has never gone this long into the start of any season without scoring a goal (his four-game rookie appearance in 2002-03 notwithstanding).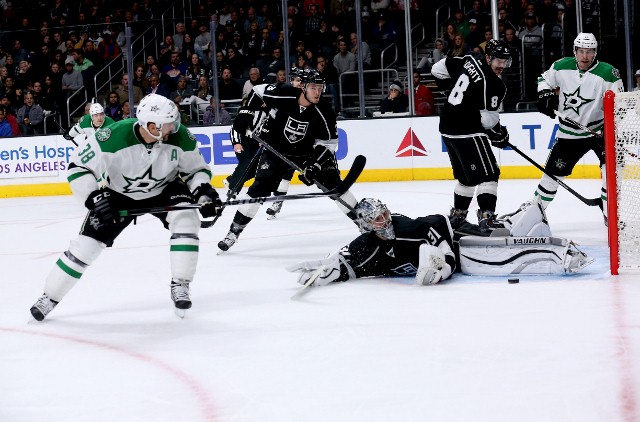 There was an encouraging word late last night about Alec Martinez's status, though more will be learned over the coming days about the extent of the injury that caused him to leave last night's game early. With limited options due to the continued financial inflexibility as Slava Voynov's salary continues to count against the salary cap during his indefinite suspension, the team is particularly hamstrung by a rash of early season injuries. Of course, this does provide an opportunity for those to inherit wider roles, and Brayden McNabb by and large contributed a quality performance in last night's loss despite taking two minor penalties. He logged 1:17 of shorthanded time as part of a 21 minute and five second night of work, blocked two shots, issued a pair of hits, and was sturdy in one-on-one defending, especially when snuffing out an attack led by Erik Cole in the first period. He was a plus-two in Corsi and plus-three in Fenwick despite being less inclined to start shifts in the offensive zone than his teammates.