And lo, there was no doubt. The Kings banked on the play of their five available defensemen while generating synergy in five-man units through all corners of the ice en route to the finest 60-minute performance of the season, a 5-1 thrashing of the Vancouver Canucks in front of an excitable Staples Center crowd and a Hockey Night In Canada audience. The top players cashed in on their opportunities as well; we'll overlook Anze Kopitar's one shot on goal (he scored!) (and it was a beautiful snipe!), and instead reference his line's ability to carry the puck into the offensive zone (more on that in a moment). That 70's Line broke out with a combined six points as all three members recorded a plus-three rating, and Jake Muzzin followed a breakthrough performance against the Islanders with a 25 minute, 36 second effort in which he recorded nine shot attempts, issued four hits and blocked three shots. The Kings banked on a key Drew Doughty block while killing off an early five-on-three that supplied momentum and eventually led to Marian Gaborik's goal that opened the scoring.
The Kings dominated possession in a game in which Vancouver struggled to leave its own zone while Los Angeles enjoyed the highest number of controlled zone entries in any game in which James kept tabs this season (James wasn't at the Edmonton game, which I suspect also had a strong controlled entry ratio). The Kings were afforded wide lanes in the neutral zone that led to consistent rush opportunities, and after the game the players spoke about how effective they were as five man units when advancing the puck. Without the puck, they made it awfully difficult for the Canucks to string together any number of passes while leaving their zone. As a result, the possession numbers were dominant in favor of the home team: Los Angeles attempted 60 shots, and Vancouver attempted 37 shots. The Kings limited the Canucks to only 14 even strength shots on goal. The most recent games in which the Kings limited their opponents to at most 37 shot opportunities: Game 4 against Anaheim (2-0 loss), February 1 versus Philadelphia (2-0 loss), the Dodger Stadium game (3-0 loss), and December 7 versus the Islanders (3-0 win). A familiar group of Marian Gaborik (nine controlled entries), Jeff Carter (seven controlled entries) and Dustin Brown (six controlled entries) prominently figured into the Kings' ability to carry the puck cleanly into the offensive zone.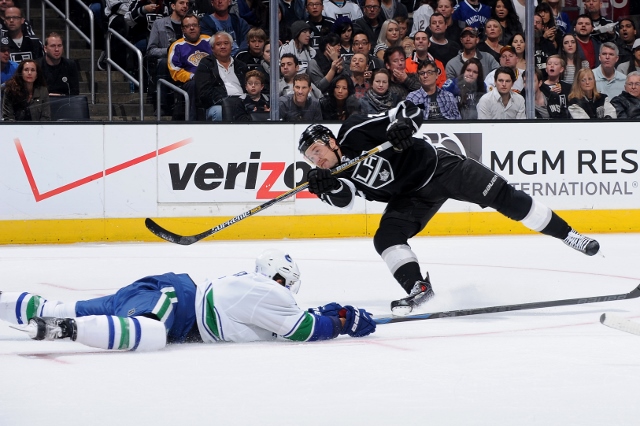 The penalty kill was excellent – it was also excellent in the Islanders game despite giving up a goal, as well as the Stars game, in which it outscored Dallas 1-0. So that's three straight strong performances despite the absence of Robyn Regehr in the most recent outing. All five defensemen were used on the kill, with Matt Greene (4:19 SH TOI) and Drew Doughty (3:59 SH TOI) leading the charge. Alec Martinez, who has absorbed greater responsibilities this season in the absence of several defensemen, logged 3:31 of shorthanded time on ice as part of a career-high in regular season ice time and a first star. Vancouver, a strong playmaking team, was kept in check while with the man advantage. The top Canucks power play unit of D. Sedin – H. Sedin – Vrbata – Edler – Vey was held to just three shots on goal (two by Radim Vrbata, and one by Daniel Sedin). In the 29 seconds of Vancouver's five-on-three advantage, Doughty blocked the only two shot attempts, both of which came off the stick of Alex Edler. There were few second opportunities from high tension areas in the Kings' zone.
As a long trip was coattailed by playing every other day upon returning to Los Angeles, a welcomed three-day break precedes the upcoming three-in-four, which includes both a road game and a Saturday afternoon home game against the Anaheim Ducks. Rest up, Insiders.