Los Angeles Kings (7-4-3) vs Vancouver Canucks (10-4-0)
Saturday, November 8, 2014, 7:00 p.m. PT
Staples Center, Los Angeles, CA
Referees: #19 Gord Dwyer, #24 Graham Skilliter
Linesmen: #57 Jay Sharrers, #91 Don Henderson
FOX Sports West, CBC, KABC 790 AM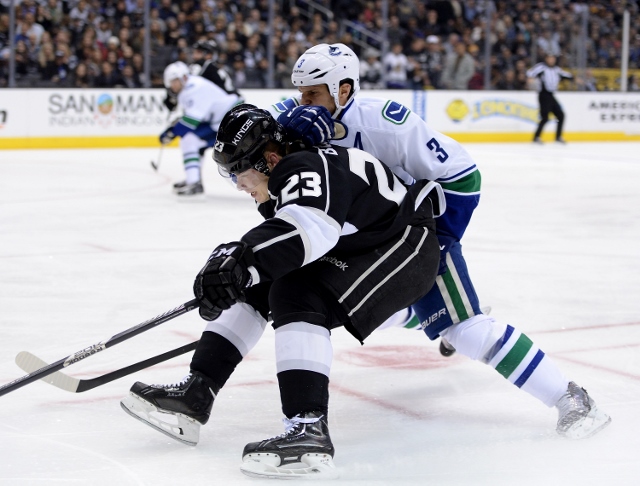 Los Angeles Projected Starting Goaltender – Jonathan Quick
2014-15: 12 GP (12 GS) / 6-3-3 record / 1.93 GAA / .943 Sv% / 2 SHO
Career vs Vancouver: 21 (21) / 9-11-1 / 1.84 / .932 / 1
Last Game vs Vancouver: 4/5/14 / 59 MP / 38-40 shots / 1-2 L
2014-15, Home: 7 (7) / 5-1-1 / 1.32 / .960 / 2
Vancouver Projected Starting Goaltender – Ryan Miller
2014-15: 11 GP (11 GS) / 10-1-0 record / 2.20 GAA / .920 Sv% / 1 SHO
Career vs Los Angeles: 8 (7) / 5-1-1 / 2.30 / .935 / 1
Last Game vs Los Angeles: 11/12/13 / 65 MP / 43-45 shots / 3-2 W
2014-15, Away: 7 (7) / 6-1-0 / 2.20 / .924 / 1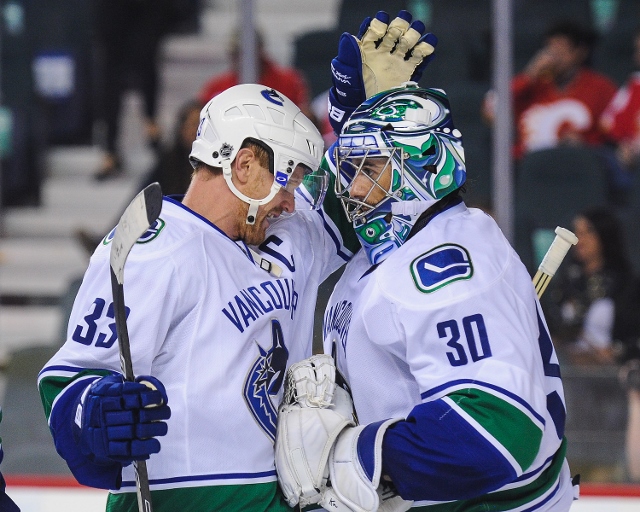 2014-15 Los Angeles Leaders
Total Points: Tyler Toffoli (6-8=14)
Goals: Tanner Pearson (7-2=9)
Assists: Tyler Toffoli (6-8=14)
Plus/Minus: Tyler Toffoli (+11; 6-8=14)
Penalty Minutes: Mike Richards (35; 2-5=7)
Time On Ice: Drew Doughty (28:10; 0-6=6)
Corsi-For Percentage: Jake Muzzin (60.7%; 0-1=1)
2014-15 Vancouver Leaders
Total Points: Henrik Sedin (5-10=15)
Goals: Nick Bonino (7-5=12)
Assists: Daniel Sedin (3-11=14)
Plus/Minus: Nick Bonino (+7; 7-5=12)
Penalty Minutes: Derek Dorsett (26; 2-3=5)
Time On Ice: Alexander Edler (23:14; 3-4=7)
Corsi-For Percentage: Daniel Sedin (62.6%; 3-11=14)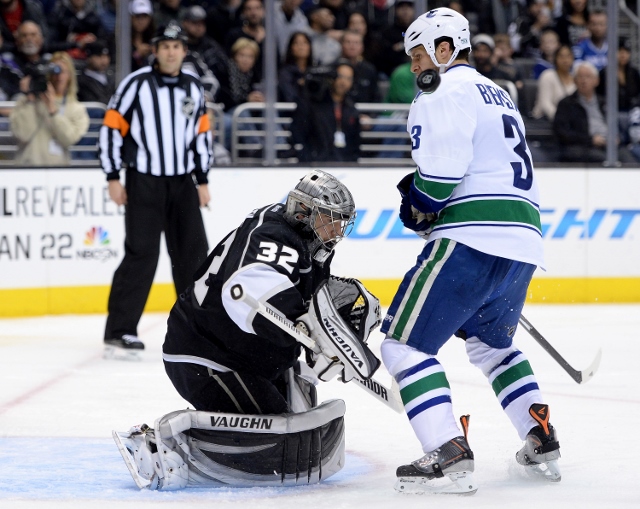 Rankings and Statistics
Goals/Game: LAK – 26 / 2.21; VAN – 3 / 3.21
Goals Against/Game: LAK – t-4 / 2.00; VAN – 17 / 2.71
Power Play: LAK – 26 / 12.8%; VAN – 7 / 22.4%
Penalty Kill: LAK – 14 / 81.5%; VAN – 6 / 87.3%
Shots/Game: LAK – t-18 / 29.6; VAN – 7 / 31.2
Shots Against/Game: LAK – 27 / 33.0; VAN – t-12 / 29.4
Faceoffs: LAK – 7 / 52.6%; VAN – t-27 / 47.1%
Save Percentage: LAK – t-1 / .939; VAN – t-19 / .907
Corsi-For Percentage: LAK – 19 / 49.7%; VAN – 17 / 50.2%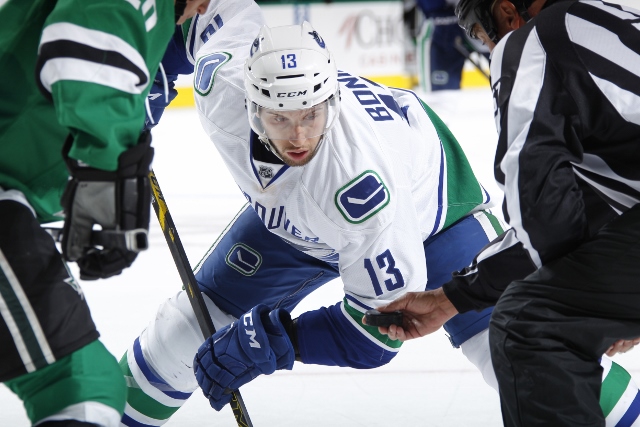 Los Angeles Projected Lineup
Marian Gaborik – Anze Kopitar – Justin Williams
Tanner Pearson – Jeff Carter – Tyler Toffoli
Dwight King – Mike Richards – Dustin Brown
Kyle Clifford – Jarret Stoll – Trevor Lewis
Jordan Nolan
Jake Muzzin – Drew Doughty
Alec Martinez – Matt Greene
Brayden McNabb
Jonathan Quick
Martin Jones
Level of confidence in projected lines: B+. The Kings will likely utilize the very rare 13 forwards / 5 defensemen ratio due to Robyn Regehr's injury and Slava Voynov's indefinite suspension. Justin Williams was deemed a "game-time decision" by Darryl Sutter earlier today, though given his appraisal of his recovery yesterday, he should be able to play. Should he play, Jordan Nolan would remain in the lineup as an extra forward. Andy Andreoff remained on the ice for extra work with Martin Jones, so he's unlikely to play today. Jonathan Quick left the ice first at the morning skate and is expected to start in goal.
Notes and milestones: Los Angeles is 100-97-35 all-time against Vancouver, a record that includes a home mark of 62-38-18. The Kings have won three consecutive home games against the Canucks, all of which took place last season. The two teams will continue their season series on January 1 (at Vancouver), March 12 (at Vancouver), March 21 (at Los Angeles) and April 6 (at Vancouver). … The Kings are 5-1-1 against the Western Conference and 1-1-1 against the Pacific Division. … Los Angeles is on a seven-game home point streak (6-0-1). … The Kings have held their opponents to a 2.7% shooting percentage in the third period (four goals, 146 shots). … Mike Richards is on a four-game point streak (1-3=4) and is currently the team's consecutive games played leader at 193. … Jeff Carter has been held without a point for six consecutive games. The six-game point-less streak ties a career-long, set between October 10, 2011 and November 17, 2011 (interrupted by injury) with Columbus, and January 5-14, 2006 with Philadelphia. … Dwight King has points in back to back games (1-1=2) and three points (1-2=3) in his last four games. … Tanner Pearson has an even-or-better rating in all 14 games this season. … With 615 games played, Anze Kopitar is one game behind Mark Hardy (616 games played) for ninth place on the Kings' all-time games played list.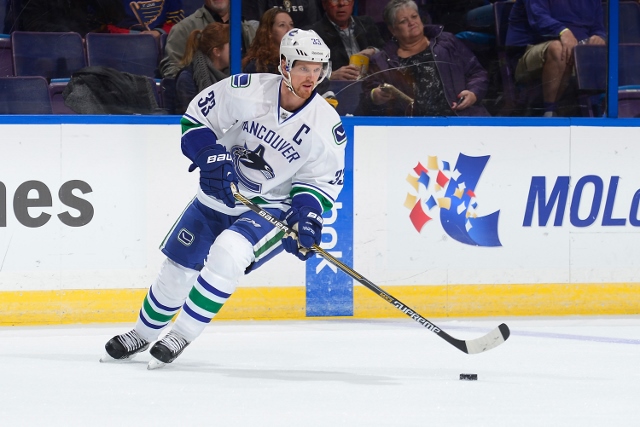 Vancouver Projected Lineup
Daniel Sedin – Henrik Sedin – Radim Vrbata
Chris Higgins – Nick Bonino – Alexandre Burrows
Shawn Matthias – Bo Horvat – Nicklas Jensen
Derek Dorsett – Linden Vey – Jannik Hansen
Alex Edler – Chris Tanev
Ryan Stanton – Kevin Bieksa
Dan Hamhuis – Luca Sbisa
Ryan Miller
Eddie Lack
Notes and milestones: Brad Richardson is a game-time decision and could replace Nicklas Jensen in the lineup, per Ben Kuzma of The Province. Zack Kassian (leg) is out. … Vancouver is 7-3-0 against the Western Conference and 5-0-0 against the Pacific Division. … The line of Henrik Sedin, Daniel Sedin and Radim Vrabata have combined for 42 points (14-28=42) in 14 games. Vrbata has recorded a point in 10 of 14 games this season. … Linden Vey ranks second amongst rookies with seven points (4-3=7). Vey recorded five assists in 18 games with Los Angeles in 2013-14. … With a victory over Edmonton on November 1, Ryan Miller moved into third place all-time in wins amongst American-born goaltenders. Miller (304 wins) trails John Vanbiesbrouck (374) and Tom Barrasso (369). … The Canucks have scored 29 five-on-five goals, tied for third most in the NHL. … Only seven current Canucks were drafted by the team.