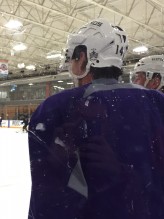 After sitting out a game due to a cut on his eyelid that required "a couple" stitches, Justin Williams' swelling and blurriness subsided to the point where he rejoined his teammates at practice and should be available for tomorrow's game against the Vancouver Canucks.
"I saw the ophthalmologist this morning and she said, 'Looking good,'" Williams said. "So I skated today and hopefully get in tomorrow."
Williams, who was high-sticked by the Stars' Brenden Dillon in the third period of Tuesday's 3-1 Kings win, learned that the injury was not likely to be a long-term issue after originally meeting with the doctor on Wednesday, shortly after the team's arrival from a five-city road trip.
"Yeah, I love it when it's right," Williams said. "I came in and said [to the doctor], 'You're absolutely right.' That's why they're the pros."
Though the reigning Conn Smythe Trophy winner fortunately avoided a serious injury, there was still an area of concern back at his household as his son happened to be awake during the third period of the game, which took place at 5:30 p.m. local time.
"…He was watching a little bit and he was worried that I'd have to wear an eye-patch," Williams said. "He was just asking if I was going to be able to play hockey. He was asking mom. He was ok. The next morning he kept looking at me, and losing his train of thought, and then he'd stare at me for a couple seconds. But he's good."
Final approval of whether Williams will be able to play will be given by head coach Darryl Sutter. Though it matters little in any grand scheme, Williams' 225 consecutive games played streak has been reset.
"The trainer, [Chris] Kingsley, was telling me about it. He said 'Maybe you should dress for a couple seconds and then get off.' No, I've just got to start a fresh one," Williams said.
"From the start of 11-12, that's a lot of playoff games too."
Justin Williams, on whether he'll have to wear extra equipment to cover his eye:
No, I was talking to Rudy and there is not much he can do for a visor for a stick that comes up underneath unless you've got a full cage on. Visors are more for pucks because very rarely a stick is going to come this way at you, but sometimes it happens. I tried something different, but I didn't really care for that visor I had on today at practice. I'll probably go back to the other one.
Williams, on the visor he wore at practice:
It was just a different look. When you're used to the same look all the time, it's tough to change. This one had a cutout a little bit in the nose and going down further on the eyes, but I don't know. At the end of the day, I don't think it's really going to matter.