Los Angeles Kings (7-4-2) vs New York Islanders (7-5-0)
Thursday, November 6, 2014, 7:30 p.m. PT
Staples Center, Los Angeles, CA
Referees: #16 Brian Pochmara, #22 Ghislain Hebert
Linesmen: #57 Jay Sharrers, #63 Trent Knorr
FOX Sports West, KABC 790 AM
Kings Weekly follows tonight's game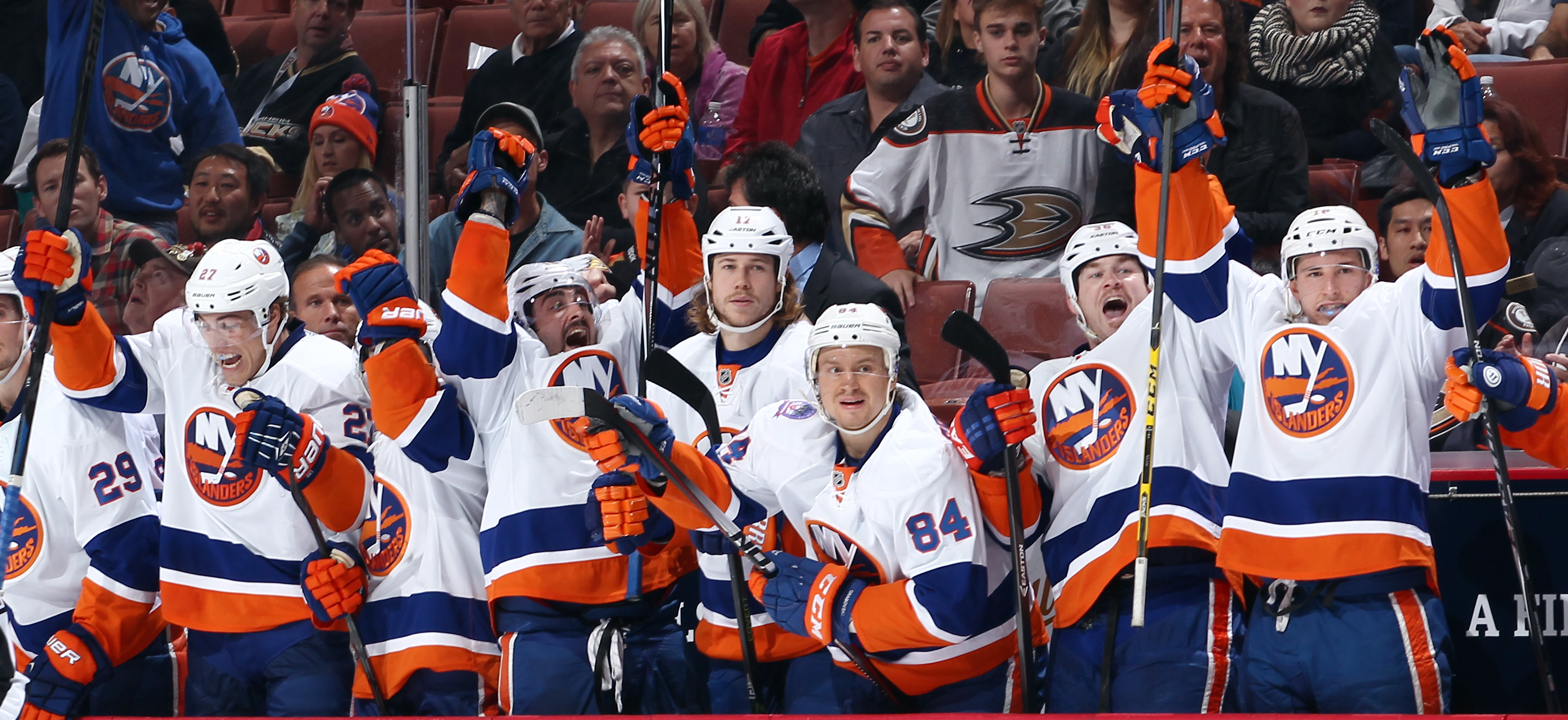 Los Angeles Projected Starting Goaltender – Jonathan Quick
2014-15: 11 GP (11 GS) / 6-3-2 record / 2.03 GAA / .942 Sv% / 2 SHO
Career vs New York: 6 (6) / 4-1-1 / 1.64 / .932 / 1
Last Game vs New York: 2/11/11 / 62 MP / 23-25 shots / 1-2 OTL
2014-15, Home: 6 (6) / 5-1-0 / 1.39 / .959 / 2
New York Projected Starting Goaltender – Chad Johnson
2014-15: 5 GP (4 GS) / 3-1-0 record / 3.47 GAA / .870 Sv% / 0 SHO
Career vs Los Angeles: 2 (1) / 1-0-0 / 1.85 / .925 / 0
Last Game vs Los Angeles: 1/20/14 / 60 MP / 21-23 shots / 3-2 W
2014-15, Away: 2 (2) / 1-1-0 / 3.50 / .873 / 0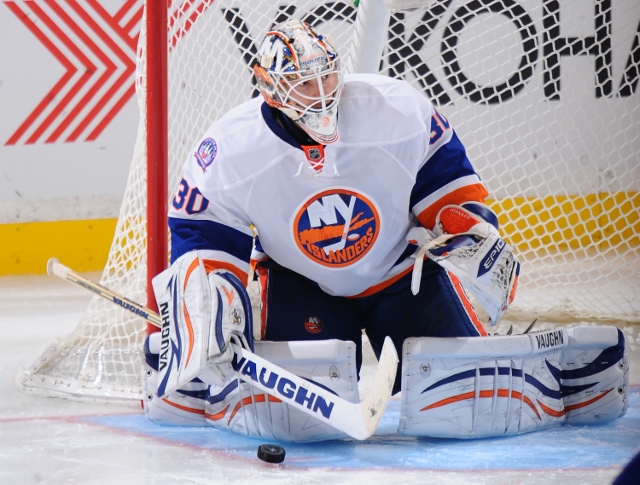 2014-15 Los Angeles Leaders
Total Points: Tyler Toffoli (6-8=14)
Goals: Tanner Pearson (7-2=9)
Assists: Tyler Toffoli (6-8=14)
Plus/Minus: Tyler Toffoli (+11; 6-8=14)
Penalty Minutes: Mike Richards (33; 2-4=6)
Time On Ice: Drew Doughty (27:59; 0-6=6)
Corsi-For Percentage: Jake Muzzin (60.5%; 0-0=0)
2014-15 New York Leaders
Total Points: John Tavares (6-8=14), Kyle Okposo (5-9=14)
Goals: John Tavares (6-8=14), Brock Nelson (6-7=13)
Assists: Kyle Okposo (5-9=14)
Plus/Minus: Johnny Boychuck (+5; 2-7=9), Nick Leddy (+5; 3-3=6)
Penalty Minutes: Travis Hamonic (23; 1-1=2)
Time On Ice: Johnny Boychuck (22:05; 2-7=9)
Corsi-For Percentage: Kyle Okposo (61.2%; 5-9=14)
Jarret Stoll on John Tavares and the New York Islanders:

Rankings and Statistics
Goals/Game: LAK – 25 / 2.31; NYI – 5 / 3.17
Goals Against/Game: LAK – 8 / 2.08; NYI – t-27 / 3.42
Power Play: LAK – 23 / 14.0%; NYI – t-6 / 23.4%
Penalty Kill: LAK – 15 / 81.6%; NYI – 30 / 63.9%
Shots/Game: LAK – 17 / 29.6; NYI – t-4 / 32.0
Shots Against/Game: LAK – t-27 / 33.5; NYI – 17 / 30.1
Faceoffs: LAK – 8 / 52.1%; NYI – 26 / 47.6%
Save Percentage: LAK – 1 / .938; NYI – 26 / .886
Corsi-For Percentage: LAK – 20 / 49.5%; NYI – 9 / 51.2%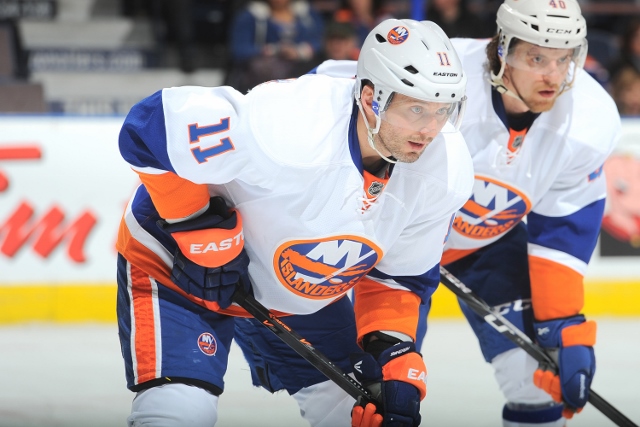 Los Angeles Projected Lines
Marian Gaborik – Anze Kopitar – Jordan Nolan
Tanner Pearson – Jeff Carter – Tyler Toffoli
Dwight King – Mike Richards – Dustin Brown
Kyle Clifford – Jarret Stoll – Trevor Lewis
Jake Muzzin – Drew Doughty
Robyn Regehr – Alec Martinez
Brayden McNabb – Matt Greene
Jonathan Quick
Martin Jones
Level of confidence in projected lines: B. These were the lines that were utilized at this morning's skate and are based on the unlikeliness that Justin Williams' condition drastically improves after Darryl Sutter ruled him out earlier today. It wouldn't be a shock to see Dustin Brown eventually move up alongside Marian Gaborik and Anze Kopitar. Andy Andreoff remained on the ice for extra work after the morning skate and is unlikely to play tonight. Jonathan Quick left the ice first and should be expected to start in net.
Notes and milestones: The Kings are 44-42-13 all-time against the Islanders, a record that includes a home mark of 25-17-7. Los Angeles hasn't lost at home to New York since February 15, 2003 (4-0-0) and hasn't lost a regulation game overall in the series since a 3-0 setback on February 19, 2011. The teams will conclude the season series on March 26 in the fifth-to-last regular season game at Nassau Coliseum. The Islanders will move into Barclays Center in Brooklyn next season. … The Kings are 2-3-1 against the Eastern Conference and 1-2-1 against the Metropolitan Division. … Los Angeles has allowed only four third period goals this season. … The Kings are 6-0-1 when allowing zero power play goals and 7-0-0 when allowing two goals or less. … Justin Williams' club-leading streak of 225 consecutive games played is in jeopardy. Should he be unable to play – Williams has appeared in every regular season and postseason game since the start of the 2011-12 season – Mike Richards would become the club's leading iron man. Richards is slated to appear in his 193rd consecutive game played tonight. The club record for consecutive games played is held by Anze Kopitar, who appeared in 330 straight games between March 21, 2007 and March 26, 2011. … Richards is on a three-game point streak (1-2=3). … Tanner Pearson has an even-or-better rating in all 13 games this season. … Jeff Carter has 42 points (19-23=42) in 40 career games against New York. … Marian Gaborik has 37 points (22-15=37) in 32 career games against New York.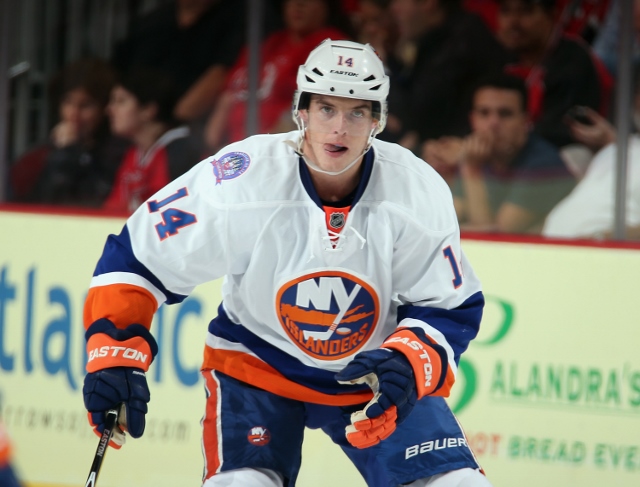 New York Projected Lines
Nikolay Kulemin – John Tavares – Kyle Okposo
Mikhail Grabovski – Frans Nielsen – Cal Clutterbuck
Anders Lee – Brock Nelson – Ryan Strome
Matt Martin – Casey Cizikas – Eric Boulton
Nick Leddy – Johnny Boychuk
Thomas Hickey – Lubomir Visnovsky
Calvin de Haan – Travis Hamonic
Chad Johnson
Jaroslav Halak
Notes and milestones: Josh Bailey (hand), Matt Carkner (back) and Michael Grabner (lower body) are on injured reserve and not expected to play. … The Islanders are 3-3-0 against the Western Conference and 2-1-0 against the Pacific Division. They are 1-2-0 on their five-game road trip that will conclude at Arizona on Saturday and 2-3-0 in a stretch of eight consecutive games against the Western Conference. … New York has outscored opponents 14-8 in first periods this season but has been outscored 33-23 in second and third periods. … With 99 career points (23-76=99), Nick Leddy is one point from 100 in his NHL career. … After having led the NHL in hits in each of the last three seasons, Matt Martin currently leads the NHL in hits with 59. In 2011-12, Martin's 374 recorded hits marked the highest total since hits became an official stat in 2005-06. … John Tavares has never scored against Los Angeles, having totaled no goals and three assists in seven games. … Islanders defenseman Lubomir Visnovsky ranks 21st in all-time Kings scoring and fourth amongst defensemen in club history with 279 points (70-209=279) in 499 games from 2000-08. … Thomas Hickey, selected fourth overall by Los Angeles in 2007, has 28 points (6-22=28) in 133 career games with New York. He was claimed off waivers by the Islanders in January, 2013.