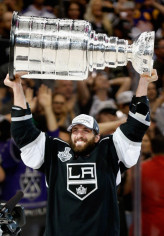 JARRET STOLL
This season: 78 games, 8 goals, 19 assists, 27 points, 48 penalty minutes, +9 rating, 15:52 time on ice
The good: The regular season numbers Jarret Stoll produced are mostly irrelevant. The perfect third line center for the Kings' needs and expectations, Stoll is another conduit of the team's will to win and an experienced, intelligent veteran responsible for the collective best efforts of a Stanley Cup-winning team. One of the thickest branches of the team's success has roots in the June, 2008 trade that brought Stoll and Matt Greene to Los Angeles, a trade that paid dividends in the development of the team's identity and preparation. While the San Jose Sharks were "co-workers, not teammates," according to Doug Wilson, the Kings appear to be the opposite, and Stoll has his hand in making sure that stays the same way.
"We've got guys that want to play the right way, aren't selfish," Stoll said in June. "There's not one selfish guy in that room. We understand if there is a selfish guy in that room, we'll either kick him out or he won't play. That's honestly the way it will work. Yeah, we all care about each other. There's no cliques on our team. There's no some guys going off here, some guys going off there. We all do things together on the ice and off the ice. We get together a lot. We all live fairly close to each other down at the beach, five, ten minutes apart. So that helps, getting together, doing things. We train together. We try to train together as much as we can in the off-season, which I think also helps. Yeah, when you come into the dressing room, you know everybody. You know everybody really well."
More tangibly, Stoll has served as a defensive stopper. He and Anze Kopitar earned the highest frequency of defensive zone starts out of any Los Angeles forwards, and by the postseason, a forward-low 47.7% of his shifts started in the offensive zone – Justin Williams was a distant second at 52.2%. He blocked 60 shots, 16 more than any other Kings forward. At critical junctures of the game, Stoll was on the ice for late defensive zone and penalty killing faceoffs and in situations in which his relentless battle and suffocating presence would create a difficult environment for the opposition. His 54.7% faceoff rate was the 14th best in the NHL and led the club that tied for second league-wide on draws. His line often forechecks well. He led all forwards in shorthanded ice time. Dean Lombardi has previously commented on the example Stoll has set in helping to establish an identity, and Sutter believes the tireless worker is the prototypical player for his role.
"Absolutely," Sutter said. "Well-trained, great practice habits, knows the game, understands his role. He's going to be a good coach."
The bad: Stoll tends to take penalties without drawing a surplus of them. Taking penalties is perfectly acceptable and expected given everything else that he brings and his tenacity in battling and defending – he ranked third on the team with 202 hits last season – but last season he took the third most penalties amongst L.A.'s forwards while drawing the fewest penalties amongst forwards with 65 games played. Stoll took 109 shots, the second-fewest he had registered in any full NHL season. His ice time has decreased; he finished with the lowest average ice time per game since his rookie season and finished 15th on the Kings. Also completely nitpicky: his advanced stats have never leapt off a page (like much of the above, partly because he starts a heavier amount of shifts in the defensive zone). Who cares? He's in a role perfectly fitted to his set of skills and has been able to lead both by example and emotionally as a team leader, on and off the ice.
Going forward: Stoll's a free agent after the upcoming season. Also free agents: Williams, Adam Cracknell, Robyn Regehr and Alec Martinez (unrestricted), and Martin Jones, Jake Muzzin, Jordan Nolan, Tyler Toffoli, Tanner Pearson and Kyle Clifford (restricted). Stoll, by virtue of a seniority that has filled a valuable role in two Stanley Cups and remains a figure central to the team's emotional and competitive drive, and through the tough minutes he offers his opponents, would be a valuable asset to retain. Production-wise, he shouldn't see any sharp deviation from the numbers he produced in 2013-14. Expect a similar year from the dependable, tough Stoll, who plays banged up and has missed as many as nine games once in the last seven seasons.
2013 Stoll evaluation
2012 Stoll evaluation
2011 Stoll evaluation
2010 Stoll evaluation
2009 Stoll evaluation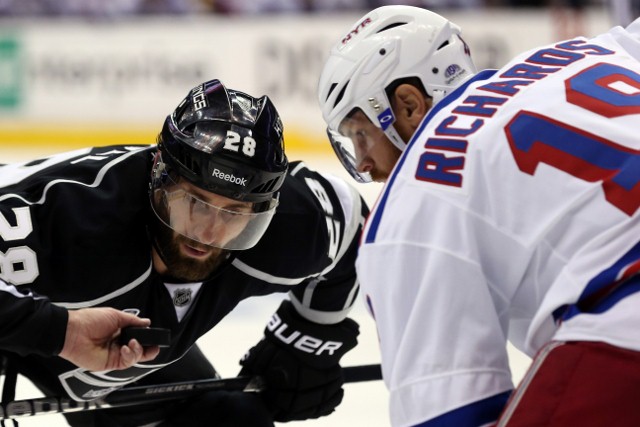 2014 Player Evaluations
#2 – MATT GREENE | #6 – JAKE MUZZIN | #8 – DREW DOUGHTY | #10 – MIKE RICHARDS | #11 – ANZE KOPITAR | #12 – MARIAN GABORIK | # 13 – KYLE CLIFFORD | #14 – JUSTIN WILLIAMS | #22 – TREVOR LEWIS | #23 – DUSTIN BROWN | #24 – COLIN FRASER | #26 – SLAVA VOYNOV | #27 – ALEC MARTINEZ