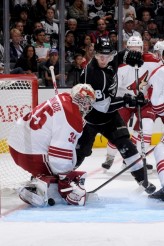 Valentin Zykov's 40-goal, 75-point 17-year-old season with the QMJHL's Baie-Comeau Drakkar left a major question heading into his sophomore major junior season.
What could he possibly do to top that?
"Just try to help my team win," he said. "It's not always points, it's not always goals. Just be better on the ice than the opponent."
For virtually all nights, he was. And if the statistics don't necessarily jump off the page – he had a fine regular season with 23 goals and 63 points in 53 games – to the same degree as his rookie season, he improved in many facets and played on a Drakkar team that advanced to Game 7 of the QMJHL Championship before losing to Val d'Or.
"No one gave us a road to the final that was easy," Zykov said. "Still, it's like a big accomplishment. Yeah, of course we expected a different result, but it just happened."
He also appeared in the World Junior Championships as an 18-year-old, even though he didn't earn a regular shift and was held without a point during Russia's seven games.
"I was happy just to go there," he said. "It's…the best tournaments for guys under 20. It was a good experience, even though I didn't have a lot of ice time."
Having returned to Southern California for his second Development Camp, he has been instructed on the ice by Nelson Emerson, Mike O'Connell, Glen Murray, Mike Donnelly, Kim Dillabaugh and Manchester coaches Mike Stothers and Chris Hajt.
The key for this week is development and not necessarily evaluation, though Donnelly said that he sees improvement in the forward's game between the two camps.
"Yeah, I do," Donnelly said. "I really believe his work ethic is really solid. The thing is, what we're doing, it's not a lot of game situation stuff. It's more of a teaching environment. So when I'm looking at the kids, I'm kind of evaluating what I can do to make them better. So I'm kind of looking at things differently than what you would do if there was a game situation and stuff like that. We're trying to instill good habits into him. We're happy with his progression and we'll keep getting him better."
The areas where Zykov improved over the past season revolved around his play in his own end of the ice – and the general maturation undertaken by players still in their teenage years.
"Probably I was better defensively. I just improved my game in the defensive zone," he said.
"Any season doesn't just pass through. You always learn something new about yourself."
Considering 22-year-old Tyler Toffoli (47th overall, 2010) and 21-year-old Tanner Pearson (30th overall, 2012) earned regular minutes during the run to the Stanley Cup this spring, a good example has been set of what Zykov (37th overall, 2013) is capable of accomplishing should skill, development and work ethic align in the path towards reaching the highest level in the sport.
"You look on defense or forwards – and our job is to get these kids as NHL-ready as we can," Donnelly said. "We know what our job is. We have an excellent staff with Mike O'Connell, Nelson Emerson and Glen Murray. We know what our job is, and we have to do whatever we can to try to help these kids get ready in case they're needed on the big club, or when they're ready to step in and play."