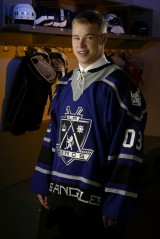 The 2003 draft class is heralded as one of the greatest of all time. After a one-two-three of Marc-Andre Fleury, Eric Staal and Nathan Horton, Thomas Vanek was selected fifth overall, Ryan Suter went seventh, Dion Phaneuf ninth, Jeff Carter 11th, Zach Parise 17th, Ryan Getzlaf 19th, and Corey Perry 28th. The first round, which was littered with top flight NHL stars, was followed by a second round that featured Loui Eriksson, Patrice Bergeron Shea Weber, David Backes and Jimmy Howard.
Dustin Brown was selected 13th overall, right between Hugh Jessiman at 12 (who played only two NHL games, the fewest out of any player selected in the first round), and Brent Seabrook at 14. He recalled the pressure cooker environment of sitting in what was then known as the Gaylord Entertainment Center in Nashville amidst a fishbowl containing a sea of heavily hyped prospects and their friends and families as names began dropping off the board.
"Well, when you're going through it, you think this is the most tense situation you'll ever be in, and then when you realize once you're drafted, the real stuff begins," he said. "It's one thing to get drafted. It's another thing to make a career out of it."
Brown was selected by the Kings, who also selected Brian Boyle 26th and Jeff Tambellini 27th in the first round. Once Jessiman was off the board, he knew what jersey he'd be putting on.
"Once the Rangers picked, I actually kind of knew," he said. "There was like that minute delay. I knew I was getting picked by L.A. about a minute before the pick because their table was right where I was sitting, and a bunch of their guys started pointing to me."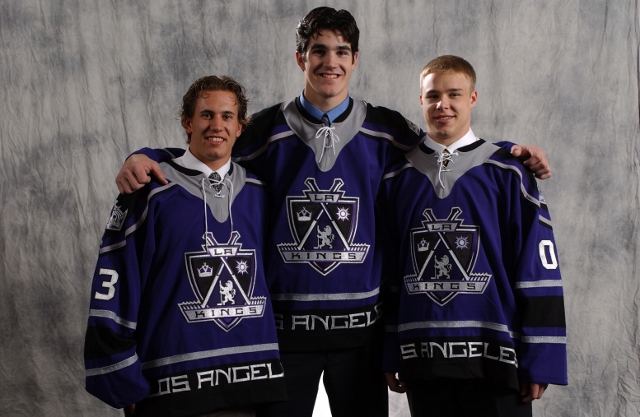 As of now, the Kings hold the 29th pick in the first round.
Los Angeles picks:
First Round / 29th overall*
Second Round / 60th overall
Third Round / 90th overall
Fourth Round / 120th overall
Fifth Round / 150th overall
Sixth Round / 157th overall**
Sixth Round / 180th overall
Seventh Round / 209th overall***
Seventh Round / 210th overall
*New Jersey will select 30th overall in the first round as part of sanctions due to cap circumvention while signing Ilya Kovalchuk.
**Los Angeles received Carolina's sixth round pick as the result of a trade that sent Kevin Westgarth to the Hurricanes in exchange for Anthony Stewart, a 2013 fourth round pick, and this pick on January 13, 2013.
***Los Angeles received New York's seventh round pick as the result of a trade that sent Daniel Carcillo to the Rangers on January 4, 2014.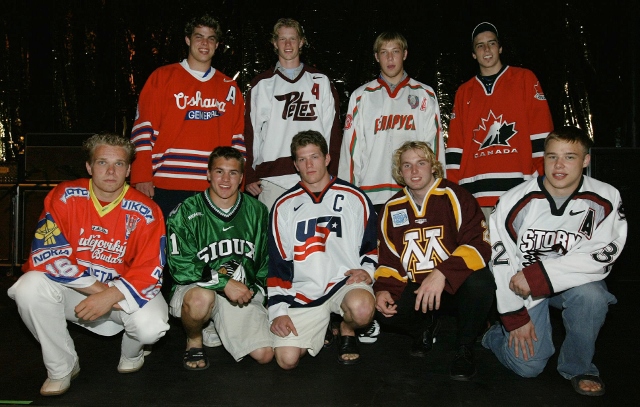 Front row, left to right: Milan Michalek, Zach Parise, Ryan Suter, Thomas Vanek, Dustin Brown
Second row, left to right: Nathan Horton, Eric Staal, Andrei Kostsitsyn, Marc-Andre Fleury
-Photo by Elsa / Getty Images / NHL