The Los Angeles Kings were honored at Dodger Stadium on Tuesday during a pre-game ceremony as a contingent of players posed for photos, lifted up the Cup to huge cheers, and threw out ceremonial first pitches.
The team took batting practice before the gates opened, and the word is that Jeff Carter, perhaps wanting to impress Jamie Romak, a longtime friend and fellow London, Ontario native who made his Major League Baseball debut in late May, turned on a ball. Several of his teammates were eager to talk about his blast two hours later.
"Carts delievered today, man," Matt Greene said. "He definitely hit the longest shot that we saw today. He almost got it out. It was a bomb."
Willie Mitchell was shagging balls when Carter was at the plate and confirmed that his shot missed clearing the fence by a whisker.
"I was out there. I was trying to track that son of a [gun]," Mitchell said. "It hit the baggie. I felt bad for him, because six more inches, it was out of the park, and you want to just say, 'Hey, I hit one out.' He had a good swing, a really good swing. It was just smooth."
Carter wasn't boasting about the length of his drive.
"Not good enough," he said. "Hit the wall."
Carter wasn't the only King with a longtime friend at the ballpark. Mitchell is close with fellow British Columbian and avid Canucks fan Justin Morneau after having developed a relationship with the veteran slugger while the two represented Minnesota-based teams a decade ago, Morneau with the Twins and Mitchell with the Wild.
"Really, to be honest with you, he's a big hockey fan in general," Mitchell said. "We just connected. He was kind enough – me and my wife, the All-Star Game was out in Yankee Stadium the one year, and he won the home run derby that year, so we were kind of guests of his and got to do the whole behind-the-scenes and be there when he won that, and it was cool. It was kind of ironic that we win here [with the Kings], and we get to do BP, do the opening pitch and all that, and they're in town, which is really cool.
It wasn't the first time Morneau had connected with Mitchell and the Kings on the trip.
"I was actually lucky the other day – no one had the Cup for the afternoon, and I had it, and they were playing San Francisco. So it was really cool – they flew in, and Dean was having the Cup that night. The Cup keepers were like, 'Well, when's your buddy coming?' I'm like 'He's coming, he's coming.' So I got a picture together with him, which was cool for both of us, because like I said, he's a hockey fan, and we're really good friends."
Greene, a former Dodgers ticket plan holder who still gets to the ballpark on off-nights when the teams' seasons overlap, was taken aback by the reception the team received.
"Unreal. Huge," Greene said. "To be able to come out here and get treated the way we do is awesome. The players, management, coaches have been more than accommodating for us to be coming out here and letting us have a good time and kind of have a little fantasy camp of our own today."
Jeff Carter, on Jamie Romak's Dodgers debut: It's cool. I haven't seen him in forever because obviously he's playing, and I'm away too. He paid his dues in the minors long enough, and it's good to see guys like that get a chance. Carter, on the best hitter on the team: The word is Quickie, but he wasn't here today.
Hello, beautiful! pic.twitter.com/4XiTFxUWmP

— Los Angeles Dodgers (@Dodgers) June 18, 2014
Willie Mitchell, on British Columbia cultivating the best baseball players in Canada:
I think the weather's a little bit more accommodating for it. It's a little bit more mild weather – you look at Dempster, and Francis, himself, you go on and on, there are a lot of guys.
Mitchell, on taking batting practice:
It's funny, like my friend was saying, most of us hit the ball quite well when it was out over the plate, and anything inside, we actually couldn't get it out of the infield, and it jammed us up, versus, these guys, all these pros here, they want it on the inside of the plate. That's how they turn on it. If they're doing BP, the guys pitching are chucking it on the inside. For us, it's no good because our hockey swing's more of an extension, wider, where they're tight. So it's funny, because once you pick that up, you're like, 'Oh, I could extend my arms a little more and get the big part of the bat on it, hit it better.' But you only get so many swings.
Yasiel Puig meets Lord Stanley: pic.twitter.com/obVRYcvgaD

— Los Angeles Dodgers (@Dodgers) June 18, 2014
Matt Greene, on whether he hit any into the deep outfield: Not a chance, no. Greene, on getting some good swings in: Yeah, I felt good in the cage. The ball wasn't jumping off the bat, and I think that's certainly due to skill. Greene, on attending Dodger games during hockey season: Yeah, I come down to games when we're going. Usually we have some off nights, so I just get down here, and it's a fun thing to do. It's a fun way to spend a night in L.A., and it's good to get your mind off hockey for a little bit.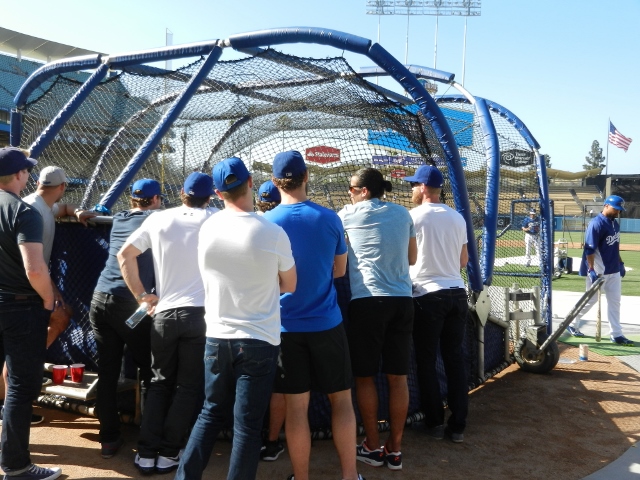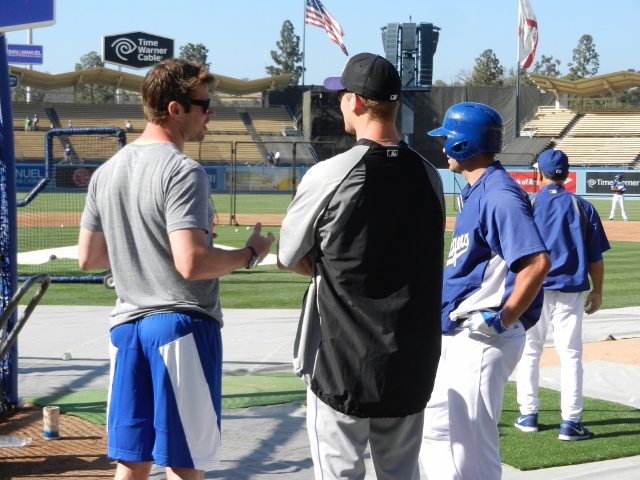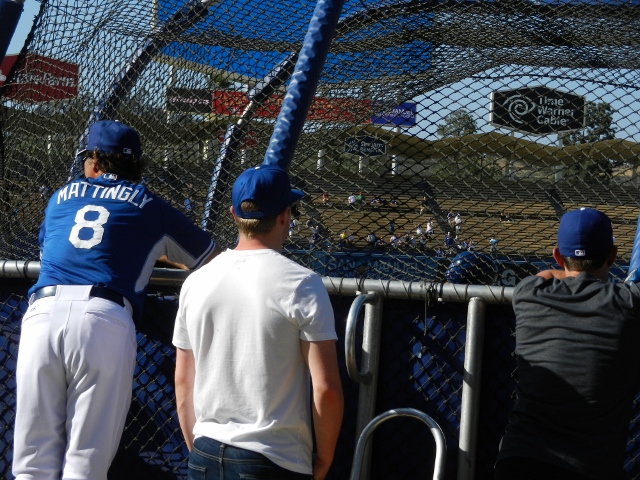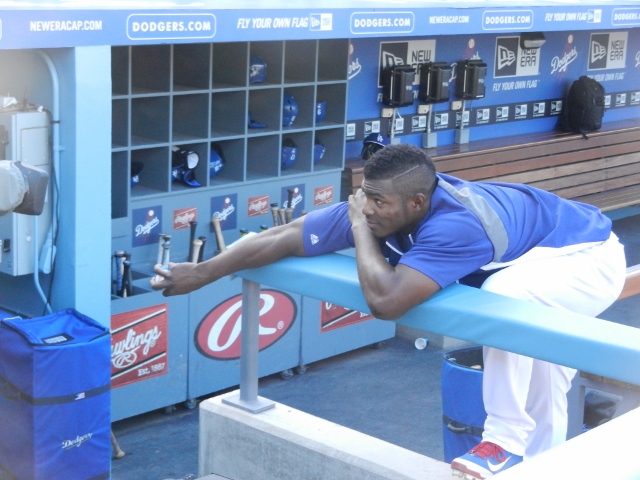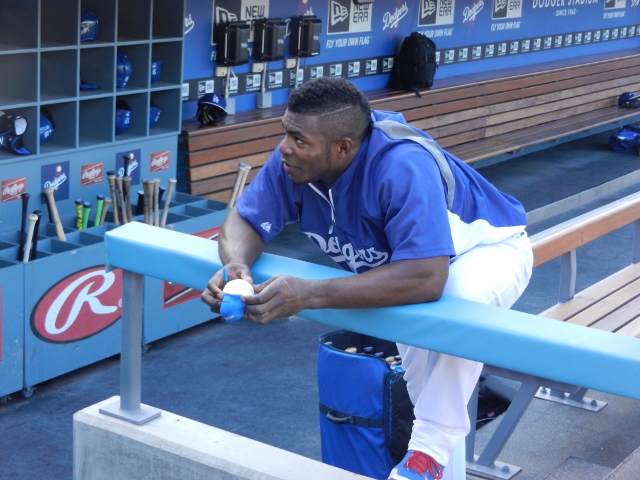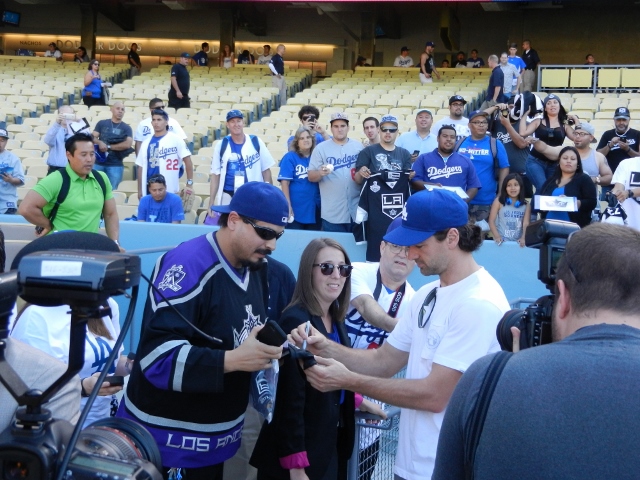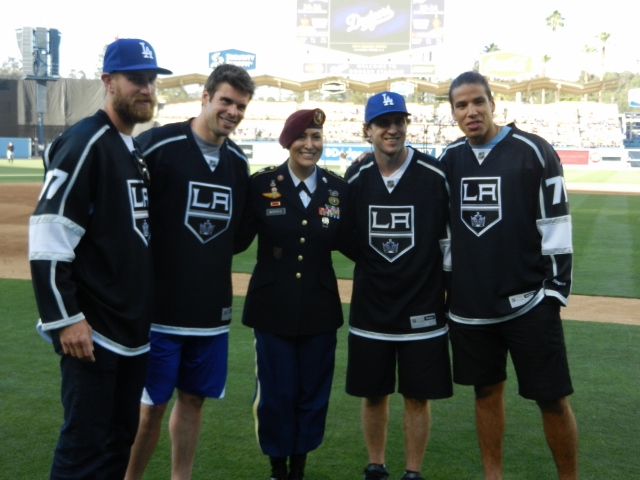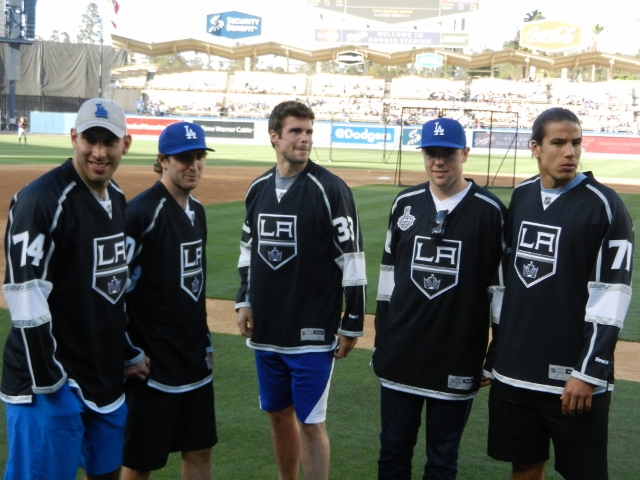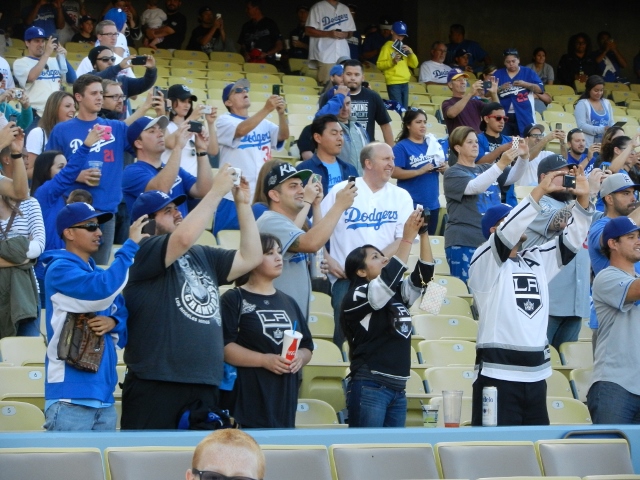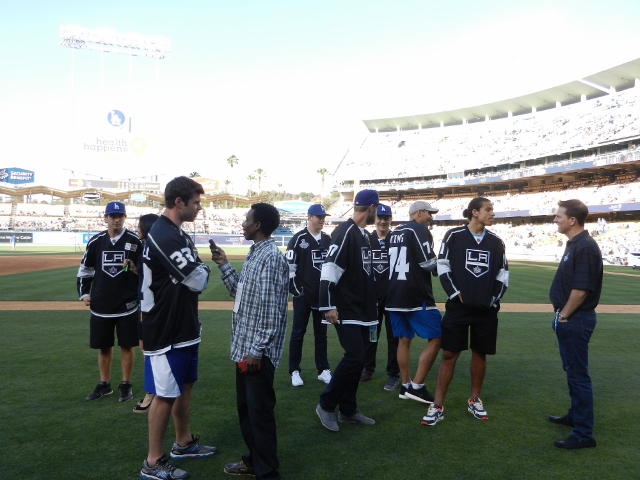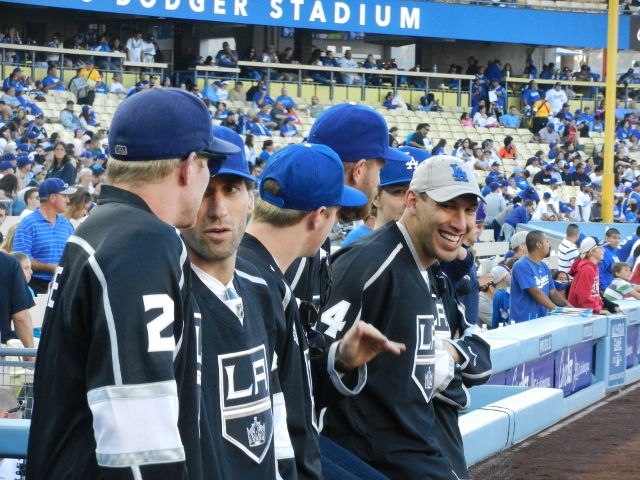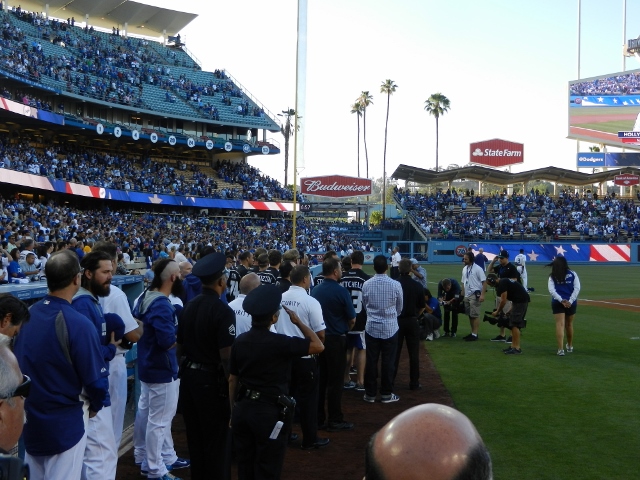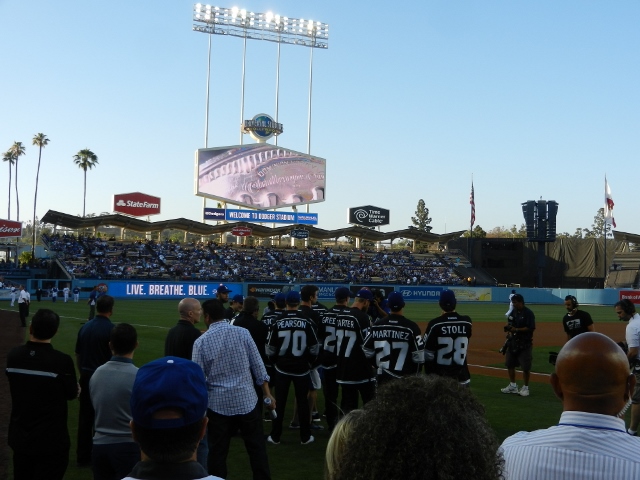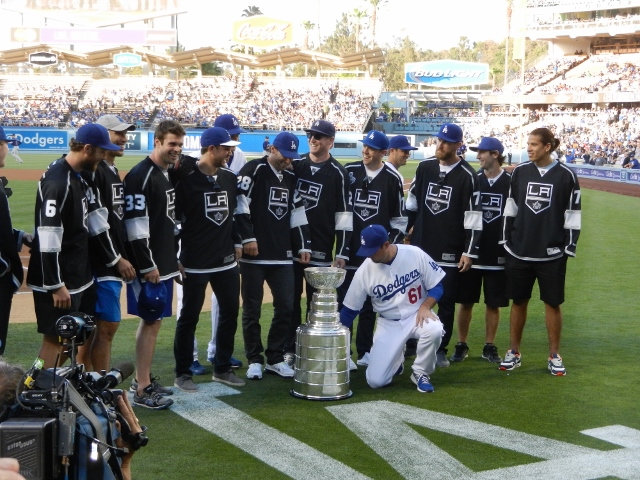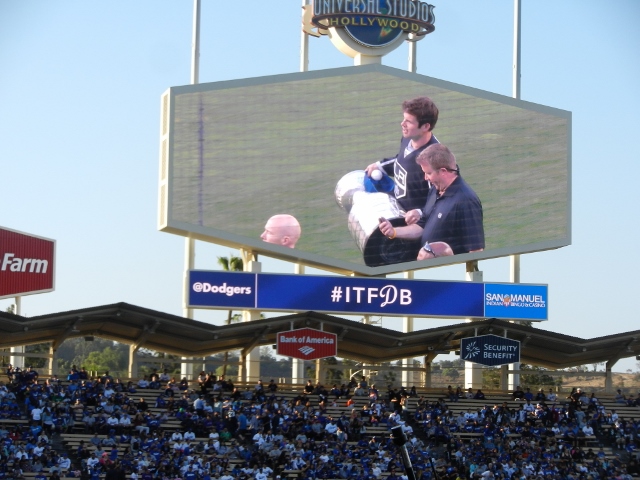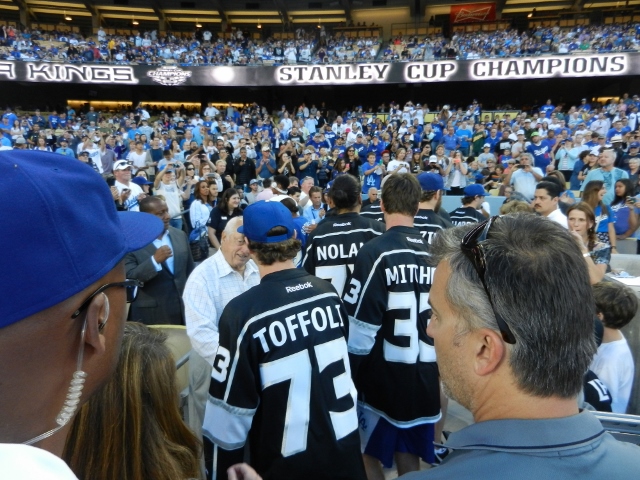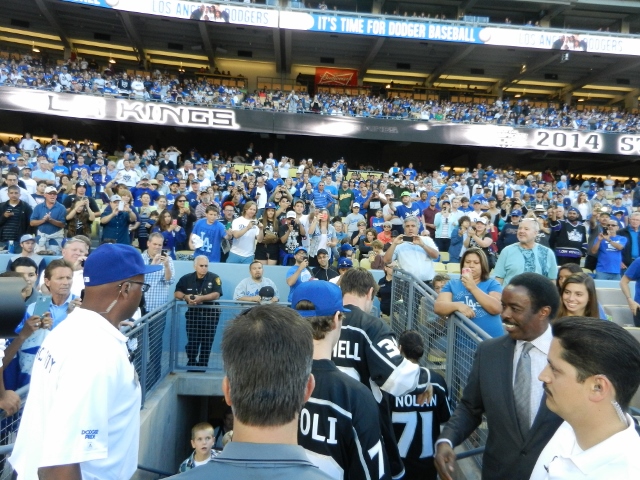 In the cage with the @LAKings' @dewyy8: https://t.co/yjmFKAyznW

— Los Angeles Dodgers (@Dodgers) June 17, 2014