After seven weeks of wondering, "Who are these Kings?" Monday night's Game 3 represented a much more familiar embodiment of Kings Hockey. The players said it after the game, those who cover the team used the term in the press box between periods, and anyone who has been awake and sentient during the Darryl Sutter era understands that the soul of this team does not lie in breakneck 5-4 shootouts but in playing smart, contained hockey when holding a lead and being an awfully difficult opponent to fight from behind against. It has been what has made them a very functional road team over his tenure – a tenet that certainly has roots from the days of Terry Murray – and in taking a commanding 3-0 series lead, Los Angeles played what amounted to being a textbook road game. They received timely goals, a superb performance in net by Jonathan Quick, and killed off all six power plays. There are obviously other important factors that allow teams to win consistently on the road, but those three examples are a good start, and the Kings passed those tests with honors.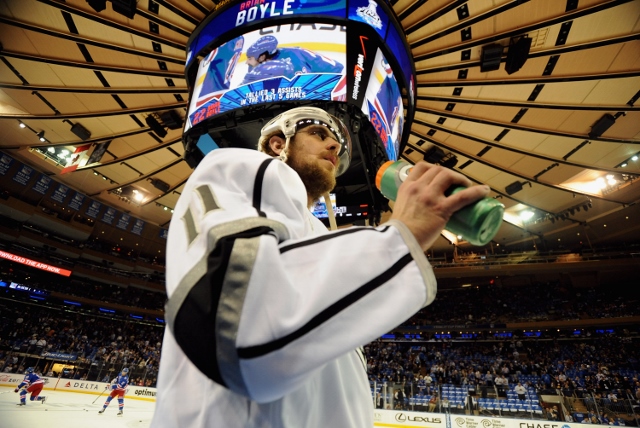 A six-minute stretch at the end of the first period and early in the second period was the difference in Game 3. After killing off a Willie Mitchell high stick by allowing nary a sniff at the net, Los Angeles regrouped on a quick counterattack that developed into a Justin Williams and Jeff Carter give and go. Carter's shot, which tickled Dan Girardi's boot before sneaking up under the crossbar, was a hellaciously well-timed goal that sent the Kings into the break with a good feeling after a first period in which the shots were mostly even but New York held a slight run-of-play advantage. Having received a pair of opportunities when Ryan McDonagh and Mark Staal were whistled for high-sticks early in the period, Los Angeles made the most of the second opportunity when good movement along the right wing boards resulted in Jake Muzzin finding just enough time and space to wrist a quick shot off. He kept the shot low to boost the opportunity of finding a deflection, and that's exactly what happened when Martin St. Louis nicked the puck enough to skip it past Henrik Lundqvist with Carter in front. Over a span of four minutes and 18 seconds, the Kings had built up their first two-goal lead since Game 4 against Chicago, a lead that felt much more secure than several earlier leads in this comeback-inclined 2014 postseason.
Jonathan Quick was truly excellent for probably the first time since stealing Game 2 of the Anaheim series. Unlike his Game 5 shutout in San Jose, where the Sharks more or less took a few half-interested laps around the SAP Center ice before calling it a night, he stopped a regular rhythm of quality chances, including a pair of outstanding saves with the broad side of his stick. The first, a lunging stop on Mats Zuccarello in the first period, was one of those black magic, how-did-that-puck-stay-out type of saves, while the second was a terrific save off a rebound by Derick Brassard in the second period. The bounces weren't in New York's favor, as has been mentioned once or twice in the last 12 hours, but credit Quick and the Kings for denying all 10 Rangers power play shots and denying the home team from finding a surplus of second chances.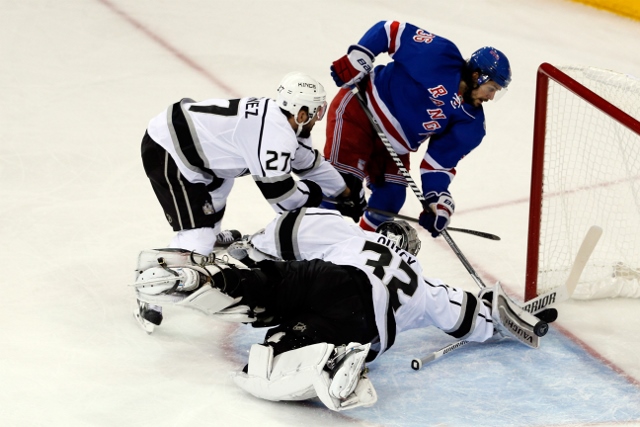 The Kings are a win away from the Stanley Cup, and while they're human beings and obviously cognizant of that, it didn't appear to be on the front of their minds during television interviews and press scrums last night. But if there's something that does separate this Los Angeles team from the team that won the Cup two years ago, it's that they're more experienced; they've been in this situation before and can vividly draw back to when New Jersey clawed back into a series when facing a three-nothing deficit to make things very, very interesting. The Kings also won a pair of overtime games to open the series and posted a Game 3 shutout as that series opened with Los Angeles-led run of play in Game 1 before the series evened up. The run of play has been mostly even in this current series, but credit the Kings for not only "getting the bounces" but for taking advantage of the opportunities presented. It's an abstract and moderately useful term, but the Kings have been in this situation before and, as the playoffs have shown, are pretty good at simply finding ways to win hockey games.