Half expecting a feeling out process between a pair of continent-separated teams that hadn't done business since November, we watched the Kings and Rangers get right at it Wednesday night at Staples Center in a game that marked a significant departure from a more buttoned down Game 1 of the 2012 Stanley Cup Final. The first period of action appeared to represent the second leg of the track meet that began in the Western Conference Final, with a handful of mistakes on both ends (though usually in Los Angeles' end) leading to a high number of controlled zone entries with speed and momentum. The Kings, as has often been said throughout a playoffs in which their goals per game and goals against per game have spiked, have no interest in trading chances against a quick transition team like the Rangers, and eventually as the team bled most of the mistakes out of their game, were able to win the second and third periods en route to a thrilling overtime victory. Jonathan Quick was very, very good. Though his save percentage dipped significantly in the Blackhawks series due to the pace of play, unfortunate bounces and a collection of other factors that were both in and out of his control, he made a handful of game-breaking saves against Chicago and did so again against New York, with his last-minute denial of Carl Hagelin's breakaway obviously serving as a game-preserving stop. On the other end, Henrik Lundqvist was also very, very good, as was to be expected. He faced a higher number of shots than Quick and turned aside all 20 that he faced in the third period – though it should be noted that the sheer quantity of shot attempts Los Angeles generated over that span didn't necessarily translate into a consistent barrage of high quality scoring opportunities. Grade-A chances in the third period appeared to be mostly even – though the Kings did an excellent job driving play towards the attacking net. Los Angeles didn't produce its best outing in Game 1, a mostly even game that saw the visitors likely hold a slight advantage in quality opportunities. The composure, the ability to avoid deviation in intent and all the intangibles that have been mentioned of this Kings team throughout the playoffs – they were again present in another come-from-behind win.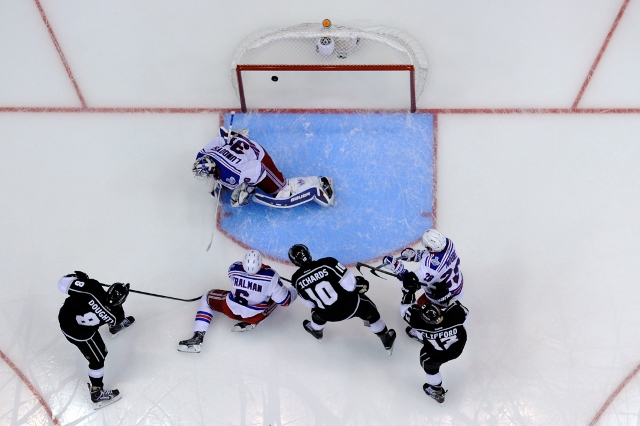 Los Angeles got pucks through to the net, while New York got pucks through that too frequently missed the target. The only King not to register a shot on goal was Dwight King, whose one attempt was blocked. Everyone else was able to boost the team's percentage of shots on goal. Los Angeles' top goal scorers up front – Marian Gaborik, Jeff Carter, Justin Williams, Tyler Toffoli and Anze Kopitar – combined for 18 shots on goal, two attempts blocked and four missed shots. That's a quality percentage for the team's top scoring threats, and one that will look to be corrected by Alain Vigneault for Game 2. Overall, 67.2% of Kings attempts were on goal, while 42.9% of Rangers attempts were on goal. That's a stark difference, one that likely won't be replicated in subsequent games.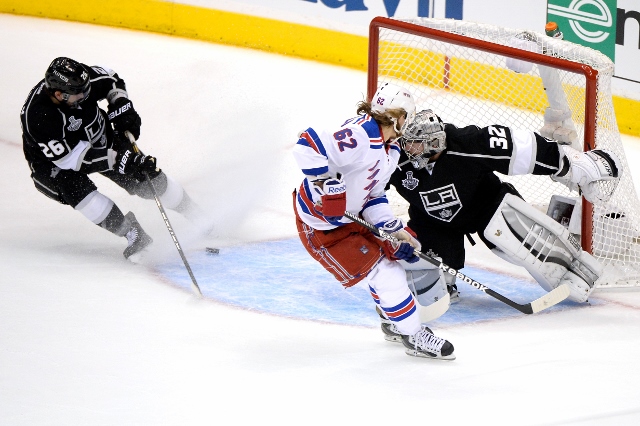 After turning the puck over twice on his first shift, Kyle Clifford more than redeemed himself with a standout performance that was a long time coming given the generally high quality of play he's contributed since the Olympic break. There have been hiccups – Games 1 and 2 against San Jose weren't his best games as a King – but by and large he's forechecked relentlessly and forced turnovers in the offensive zone. He's generally sheltered and will begin the majority of his starts in the attacking end, but credit his backchecking dive to free the puck from Carl Hagelin as a crucial defensive play to disrupt a high quality New York scoring opportunity. With a goal and an assist, his second star performance was the appropriate response after he received only 2:52 of ice time in the Game 7 win over Chicago.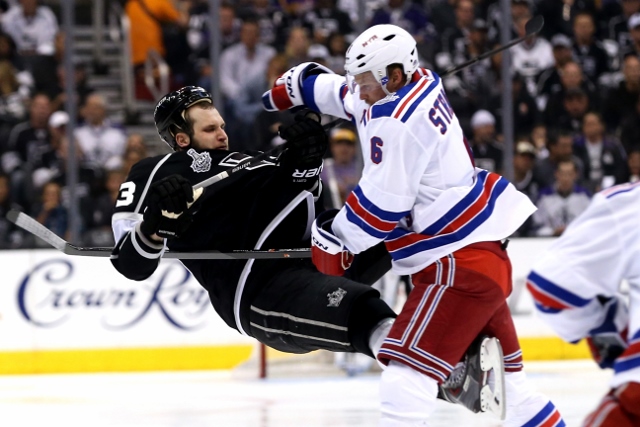 Lines! Who? What? When? Where? Why? Darryl Sutter operated the blender for the vast majority of 64 minutes and 36 seconds, and while Gaborik-Kopitar-Brown stayed mostly intact (though Justin Williams also received time alongside his former linemates), there wasn't any real consistency as Sutter saw something he didn't like early in the game and searched for the adjustments he saw necessary. Forwards on the ice during the three Kings goals? Clifford-Carter-Lewis, Clifford-Richards-Williams and Pearson-Richards-Williams. It's interesting that the Pearson-Carter-Toffoli line was broken up, because that appeared to be one of the more consistent attacking lines in the first period. The team isn't going to hit the ice today, so it'll be interesting to see what comes out of any potential line rushes on Friday morning.