When the Los Angeles Kings honor former right wing and current television color commentator Jim Fox tomorrow night, it will mark the final Legends Night in which the team takes the ice in its primary "Forum Blue" color scheme. Beginning in 2014-15, the Kings will switch to a home gold jersey to be used on commemorative evenings.
LA Kings Insider obtained a copy of the sample jersey and equipment: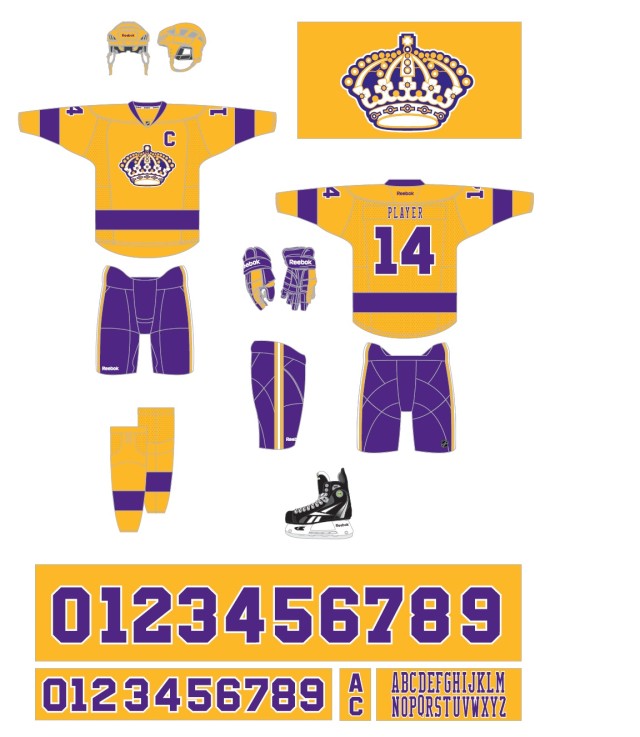 The uniform scheme is similar to what was used between 1967 and 1970, prior to when the team incorporated gold pants. The Kings returned to only using purple pants with yellow and white vertical stripes along the hips in 1979-80, but by that time the horizontal stripe underneath the logo had been dropped to the bottom of the jersey. In the reincorporated design above, there will still be gold below the horizontal stripe of purple.
"We know our fans love those jerseys, and they seem to like when we go back in our history," President, Business Operations Luc Robitaille said. "To me, the LA Kings have been around since 1967. I've looked for so many years, and I don't think people really understand how long we've been around for. To have the opportunity to bring back those jerseys and show some respect to our history is very important. I just think it's a fun thing for our players because they like doing it as long as we don't overdo it, and to have the opportunity to bring back the gold version…we asked the league if we'd be able to do it, and when they agreed to do it, I just thought it's great."
As Robitaille shared with LA Kings Insider, the process of incorporating new jerseys is a two-year process that includes gaining league approval, and then having the jerseys made. As such, the first Legends Night in 2014-15 won't be held until the second or third week in December.
"We're not trying to tweak or redesign the jersey, so it's a little bit easier," Robitaille said.
"There are so many jerseys, so many teams, and Reebok has to have enough time to be able to make them. It's a process. It takes about two years. But on this one, it's basically our old jersey, so everybody's aware of the style and everything."
At this point, it doesn't appear as though the team will use the gold jerseys as a more traditional alternate jersey.
"We don't want to overdo it," Robitaille said. "I'd prefer just having it three, four times a year and making it special."
Though it's several years away, ideas are being proposed about ways to commemorate the 2016-17 season, the team's 50th in the National Hockey League. An idea Robitaille shared would be to use multiple jerseys from the team's history, similar to what the Montreal Canadiens did in 2008-09 and 2009-10.
"I'd love to find a way to bring back probably not every one of our jerseys, but a bunch of them," he said. "Montreal did a great job with their 100th year anniversary. For us, it's our 50th coming, so we'd love to do something where we're able to bring at least one jersey from each era, and play one or two games within that year. We think it's going to be pretty special."