Was there a player in professional hockey more fortunate than Kings goaltender J.F. Berube over the last two weeks?
Because Martin Jones was assigned to Manchester to get in games during the February 9-18 Olympic break, Berube was recalled to Los Angeles so that the Kings would remain CBA-compliant with two active goaltenders.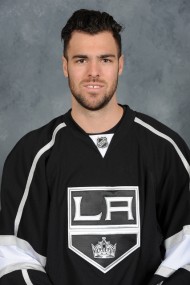 That meant that instead of receiving a four-day All-Star break in the American Hockey League, he received an NHL-mandated Olympic break, which comes with such perks as an NHL paycheck – and, as it turned out, a mid-season vacation.
"I got the call on the Friday, saying that they needed to make a roster move for the Olympics, and they wanted Jonesy to get into some games," Berube said. "They asked me to come up here, so I ended up having a 12-day break that I wasn't expecting. I went home, relaxed, and then I went to Mexico on a vacation with my girlfriend and her family."
"It was good to get off of hockey and just do something else."
Yeah, no one's going to disagree with that.
"I wasn't expecting that at all. It was just surprising to know first that I was getting a call-up, and then to know that I had 12 days off, that was pretty amazing. I was only expecting to have the All-Star break in the American League, so it gave me a chance to relax a little bit more. It's so important at this time of the year to get ready for playoffs."
Per the CBA, Berube can't be sent down until February 24. So he'll remain with the team as players begin to return from Sochi and fill out the Kings' active roster. With Jonathan Quick preparing to face Canada tomorrow, and Martin Jones readying himself for a three-in-three weekend with Manchester, he and Kings alum Jamie Storr were the two goalies on the ice when practices reconvened on Wednesday.
And even though he may have gotten some sun last week, he still knows exactly how he wants to put this span of practice to use.
"I still want to prove to myself that I can take another step forward," he said. "It's a really good opportunity for me to show that I can play at this level. I never had that chance to be that long with the NHL guys, so it's going to be an adaptation for me, but I'm willing to take it and work hard."
Berube, who had five games of AHL experience prior to this year, was 19-13-2 with a 2.43 goals-against average and .914 save percentage over 34 games with the Monarchs prior to his call-up.
"I would never think I would be into that spot," he said. "Obviously I feel really fortunate to be into that spot, and I'm going to take everything in."
Berube, on his season in Manchester:
I felt really good. I worked hard this summer, and it was good to see where my body was at. I felt great. I had a long stretch without having any rest, and I felt like I could go for another 20 more games. It was great to know that I can do it and to prove to everyone, too, that I can be in that spot. It's all about opportunity and taking it, and I think it worked out good for me.