Los Angeles Kings (30-19-6) vs Pittsburgh Penguins (37-14-2)
Thursday, January 30, 2014, 7:30 p.m. PT
STAPLES Center, Los Angeles, CA
Referees: #8 Dave Jackson, #29 Ian Walsh
Linesmen: #56 Mark Wheler, #76 Michel Cormier
FOX Sports West, KEIB 1150 AM
Kings Weekly to air after tonight's game
Los Angeles Projected Starting Goaltender – Jonathan Quick
2013-14 Season: 28 GP (28 GS) / 15-10-2 record / 2.05 GAA / .917 Sv% / 3 SHO
Career vs Pittsburgh: 4 (4) / 1-1-2 / 2.41 / .907 / 0
Last Game vs Pittsburgh: 11/5/11 / 65 MP / 31-33 shots / 3-2 SOL
2013-14, Home: 16 (16) / 10-5-1 / 2.05 / .912 / 2
Pittsburgh Projected Starting Goaltender – Jeff Zatkoff
2013-14 Season: 11 GP (10 GS) / 8-2-1 record / 2.80 GAA / .903 Sv% / 1 SHO
Career vs Los Angeles: First appearance
Last Game vs Los Angeles: First appearance
2013-14, Away: 7 (7) / 5-1-1 / 2.71 / .910 / 1
2013-14 Los Angeles Leaders
Total Points: Anze Kopitar (15-27=42)
Goals: Jeff Carter (20-14=34)
Assists: Mike Richards (7-28=35)
Plus/Minus: Anze Kopitar (+22; 15-27=42)
Penalty Minutes: Kyle Clifford (63; 3-2=5)
Time On Ice: Drew Doughty (25:59; 7-20=27)
2013-14 Pittsburgh Leaders
Total Points: Sidney Crosby (27-47=74)
Goals: Sidney Crosby (27-47=74)
Assists: Sidney Crosby (27-47=74)
Plus/Minus: Matt Niskanen (+29; 7-23=30)
Penalty Minutes: Tanner Glass (51; 3-7=10)
Time On Ice: Paul Martin (24:35; 2-10=12)
Rankings and Statistics
Goals/Game: LAK – 26 / 2.31; PIT – 4 / 3.15
Goals Against/Game: LAK – 1 / 2.04; PIT – 9 / 2.42
Power Play: LAK – 28 / 13.8%; PIT – 1 / 24.3%
Penalty Kill: LAK – 6 / 84.4%; PIT – 1 / 87.6%
Shots/Game: LAK – 8 / 31.2; PIT – 13/ 30.6
Shots Against/Game: LAK – 3 / 27.1; PIT – 5 / 27.7
Faceoffs: LAK – 3 / 53.1%; PIT – t-8 / 51.5%
Save Percentage: LAK – 2 / .925; PIT – 15 / .913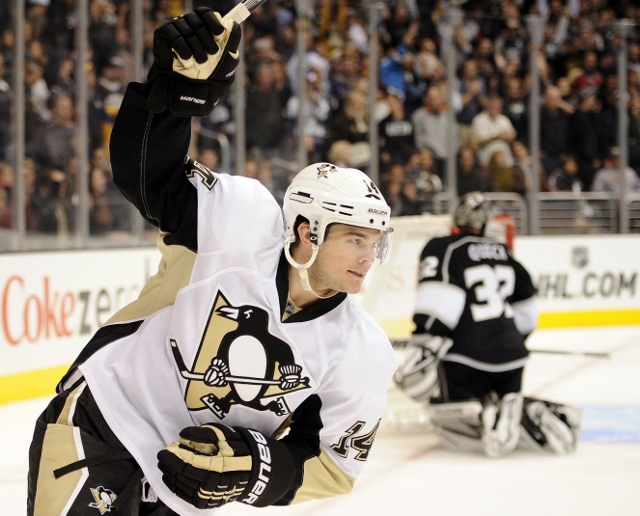 Los Angeles Projected Lines
Dwight King – Anze Kopitar – Jeff Carter
Trevor Lewis – Mike Richards – Justin Williams
Kyle Clifford – Jarret Stoll – Dustin Brown
Jordan Nolan – Colin Fraser – Tyler Toffoli
Jake Muzzin – Drew Doughty
Robyn Regehr – Slava Voynov
Willie Mitchell – Matt Greene
Jonathan Quick
Martin Jones
Level of confidence in projected lines: A. The team took two sets of line rushes, Jonathan Quick left the ice first, and Matt Frattin and Jeff Schultz stayed late to work with Martin Jones.
Notes and milestones: The Kings are 70-57-21 all-time against the Penguins, a record that includes a 45-17-10 mark in Los Angeles. Los Angeles is 4-0-2 against Pittsburgh in Staples Center's history. This is the first meeting between the teams since November 5, 2011, a 3-2 Penguins shootout victory. These teams will conclude the series on March 27 at the CONSOL Energy Center. … The Kings are 13-5-2 against the Eastern Conference and 5-2-1 against the Metropolitan Division. … Los Angeles is the only team in the NHL that is perfect when leading after two periods, going 16-0-0. In the last 10 games, the only third period lead the Kings have held was in Monday's 1-0 win at San Jose. The last time the Kings lost a game in which they held a lead after 40 minutes was the 4-3 shootout loss at Minnesota on March 30, 2013 … In the last 243:10, the only King to score has been Anze Kopitar, who has scored twice. The last Los Angeles skater to score a goal other than Kopitar was Robyn Regehr during the third period of the 5-3 loss to Columbus on January 21. … There are currently eight Kings forwards that have gone at least eight games or longer without a goal: Fraser (45), Clifford (21), Nolan (18), Frattin (17), Toffoli (13), Stoll (11), Williams (10) and Brown (8). … After 20 games, the Kings' power play was sixth in the NHL at 21.0%. In the 35 games since, they have scored on 9.2 percent of their power plays, falling to 28th in the NHL. … By playing in his 578th Kings game tonight, Anze Kopitar will tie Jim Fox for 13th overall on the team's all-time list. … Robyn Regehr will play in his 999th career game tonight.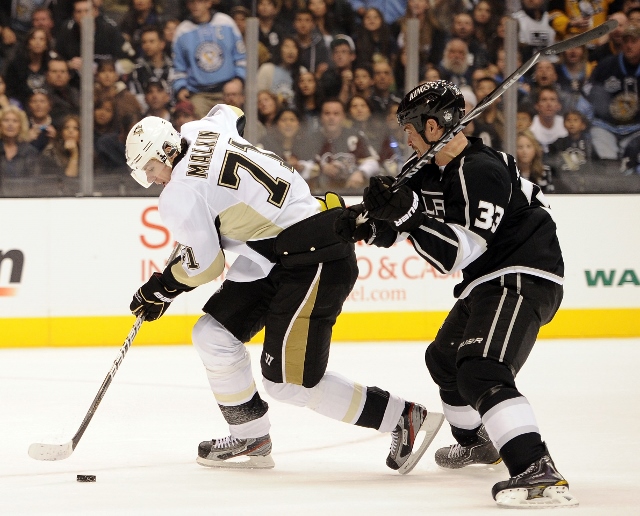 Pittsburgh Projected Lines
Chris Kunitz – Sidney Crosby – Tanner Glass
James Neal – Evgeni Malkin – Jussi Jokinen
Brian Gibbons – Brandon Sutter – Jayson Megna
Taylor Pyatt – Craig Adams – Deryk Engelland
Paul Martin – Brooks Orpik
Rob Scuderi – Kris Letang
Matt Niskanen – Olli Maatta
Jeff Zatkoff
Marc-Andre Fleury
Notes and milestones: Penguins lines via NHL.com's At the Rink blog … Tomas Vokoun (blood clot), Beau Bennett (wrist) Pascal Dupuis (wrist), Chris Conner (hand) and Joe Vitale (wrist) are injured. … Pittsburgh's 15-point Metropolitan Division lead is the largest margin held by any divisional leader. … The Penguins are 10-3-1 against the Western Conference and 7-0-1 against the Pacific Division. … 38 different players have appeared in a game for Pittsburgh this season. … The Penguins lead the league in both power play and penalty kill. The last team to lead the league in both categories at the end of the season was the 1984-85 New York Islanders. … Sidney Crosby will play only his fourth career game against Los Angeles. The only NHL team he has faced fewer times is the Chicago Blackhawks (two). He has one goal and five points in three total games against the Kings and has not appeared in Los Angeles since November 5, 2009. Crosby leads the NHL in points with 74 points, ten more than second place John Tavares. After missing 113 games over the previous three seasons, he has not missed a game this season. In the 42 games in which Crosby has recorded at least one point, Pittsburgh's record is 35-5-2. In the 11 games in which he was held scoreless, the Penguins are 2-9-0. … Chris Kunitz, whose 26 goals matches his 2011-12 career-best, has recorded 19 goals in which Crosby earned an assist. … In four career games against Los Angeles, Evgeni Malkin has seven points (5-2=7). … The NHL's top three points-per-game leaders are Crosby (1.40 pts/game), James Neal (1.22) and Malkin (1.21). … Matt Niskanen leads the NHL with a plus-29 rating. Five of his seven goals (which tie a career high) are game-winning goals. His five game-winning goals lead all NHL defensemen.