The promotion of the game between the Los Angeles Kings and Anaheim Ducks at Dodger Stadium – and the promotion of Southern California hockey in a larger context – continued on Tuesday as representatives of both teams and the National Hockey League converged upon Graham Elementary School in South Los Angeles as part of the Stadium Series Los Angeles Legacy Initiative.
At Dodger Stadium, an inline hockey rink will be constructed in the infield, representing the street and roller hockey backgrounds shared by many players that grew up developing their hockey ability in California. Representative of that background, on Tuesday the NHL, the Kings and Ducks met at one of 50 schools that will receive street hockey equipment on behalf of the initiative, which extends as one of many grassroots efforts to continue to grow the game in one of the country's largest population centers.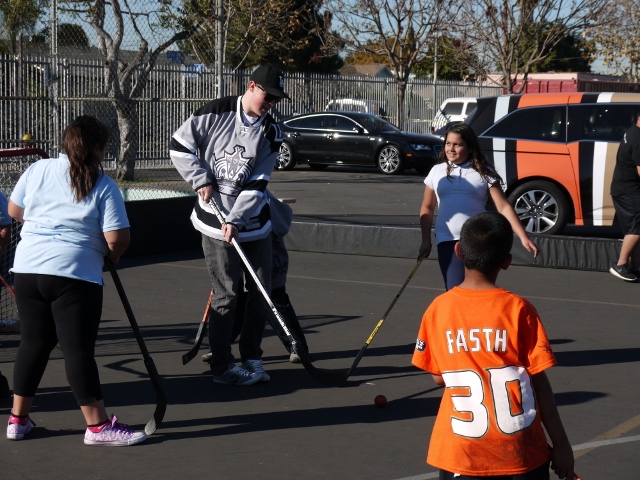 "Obviously the interest in hockey in Southern California has been pretty big," said Sean O'Donnell, Manager, Fan Development and Alumni Relations with the Kings.
"The Ducks won it in '07, and the Kings won it two years ago, so kids are growing up now. Kids gravitate towards winning teams, and teams that do well, so to be able to give back and take that enthusiasm the kids have and channel it towards Bailey's Royal Reading Program, or channel it towards some of the other programs where they go around and donate equipment to kids or take a day like this where they take them out and instead of having a regular phys-ed class, they put clinics on, and these kids get to see. I remember when I was younger – you might like a sport, but when you get to see someone you watch on TV or someone that your dad talks about or someone that your friends admire, you feel special, and you feel pretty good. It's something you don't forget. I think the actual hands-on, the kids looking you in the eye and getting to meet some of the players that are here today, I think is a huge props that go out to the Kings and the Ducks both."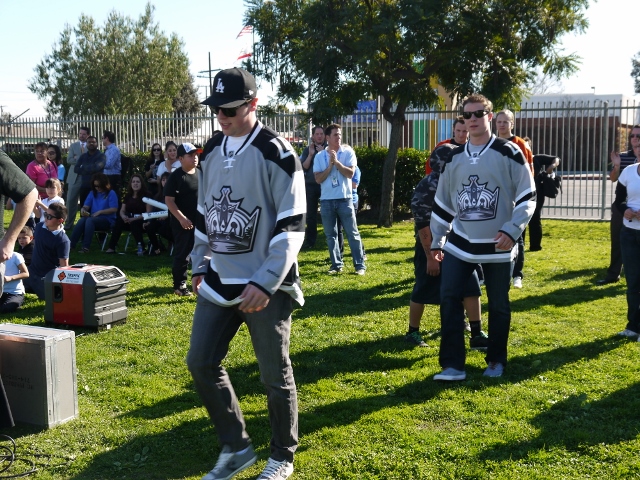 Matt Frattin and Tanner Pearson represented the Kings. At the event, Frattin spoke with LAKI's James Nicholson about the process of growing the game in Southern California and his excitement towards the Stadium Series event.
Cam Fowler and Hampus Lindholm represented the Ducks. Fowler spoke of the excitement of the Stadium Series game from Anaheim's perspective.
"All of us are very excited about it," he said. "However it shakes out – even if the ice was terrible, we're all excited to be there and play in front of all those people. I know the NHL is going to do a great job, and conditions are supposed to be really good, so we're looking forward to it."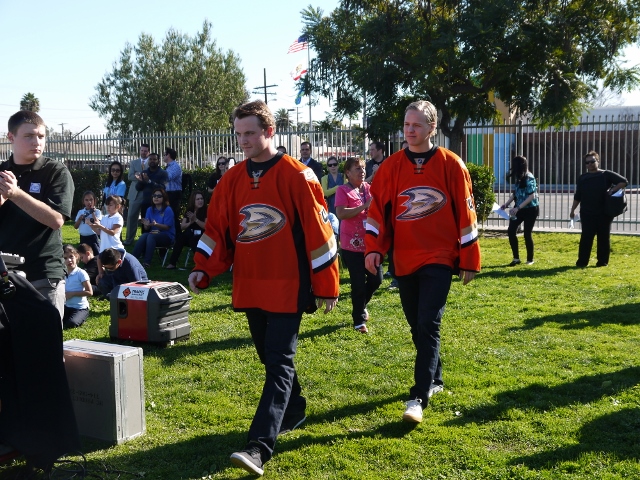 The fourth year pro is aware of the efforts to grow the game in a non-traditional hockey region.
"I think it says a lot. Like I said earlier, even I've noticed how far it's come since I've been here. It seems to me how many more kids are playing and how many more people are interested in the game, so for us to come out here and promote the game makes a big difference and hopefully gets these kids involved."
He was also asked where he'd like to play if given the opportunity to play an outdoor game at any venue on the planet before giving a thoughtful response.
"Hoo. Wow. That's a hard one," he said. "Maybe where the gladiators used to play. What's that called? The Coliseum? I dink that'd be awesome."
Nicholson also learned from the U.S. Olympian that he hasn't yet gotten in touch with future teammates Jonathan Quick or Dustin Brown.