Los Angeles Kings (25-9-4) at Nashville Predators (16-18-4)
Saturday, December 28, 2013, 7:00 p.m. CT
Bridgestone Arena, Nashville, TN
Referees: #28 Chris Lee, #9 Dan O'Rourke
Linesmen: #94 Bryan Pancich, #95 Jonny Murray
FOX Sports West, KTLK 1150 AM
Los Angeles Projected Starting Goaltender – Ben Scrivens
2013-14 Season: 16 GP (13 GS) / 7-3-4 record / 1.66 GAA / .941 Sv% / 3 SHO
Career vs Nashville: 1 (1) / 0-1-0 / 3.08 / .857 / 0
Last Game vs Nashville: 11/17/11 / 58 MP / 18-21 shots / 1-4 L
2013-14, Away: 11 (8) / 5-2-2 / 1.60 / .949 / 3
Nashville Projected Starting Goaltender – Marek Mazanek
2013-14 Season: 17 GP (14 GS) / 5-8-1 record / 2.73 GAA / .910 Sv% / 2 SHO
Career vs Los Angeles: First appearance
Last Game vs Los Angeles: First appearance
2013-14, Home: 9 (8) / 2-5-1 / 3.08 / .899 / 0
-Nashville did not name a starting goaltender for tonight's game. Because the Predators are playing in the second game of a back to back, Carter Hutton received the start in last night's 4-1 loss in Dallas, and Mazanec has slightly better numbers than Hutton, LAKI is projecting Mazanec as the starter.
2013-14 Los Angeles Leaders
Total Points: Anze Kopitar (11-20=31)
Goals: Justin Williams (13-12=25)
Assists: Mike Richards (6-21=27)
Plus/Minus: Anze Kopitar (+20; 11-20=31)
Penalty Minutes: Daniel Carcillo (57; 1-1=2)
Time On Ice: Drew Doughty (25:39; 6-14=20)
2013-14 Nashville Leaders
Total Points: David Legwand (6-19=25)
Goals: Craig Smith (11-10=21)
Assists: David Legwand (6-19=25)
Plus/Minus: Nick Spaling (+1; 6-7=13), Ryan Ellis (+1; 1-10=11)
Penalty Minutes: Rich Clune (74; 1-1=2)
Time On Ice: Shea Weber (26:37; 9-12=21)
Rankings and Statistics
Goals/Game: LAK – 15 / 2.63; NAS – t-26 / 2.26
Goals Against/Game: LAK – 1 / 1.95; NAS – t-22 / 2.90
Power Play: LAK – 22 / 15.5%; NAS – 8 / 21.0%
Penalty Kill: LAK – t-6 / 85.1%; NAS – 13 / 82.3%
Shots/Game: LAK – 10 / 31.2; NAS – t-22 / 28.8
Shots Against/Game: LAK – t-4 / 27.2; NAS – t-16 / 30.1
Faceoffs: LAK – 1 / 54.3%; NAS – 2 / 54.0%
Save Percentage: LAK – t-2 / .929; NAS – 24 / .904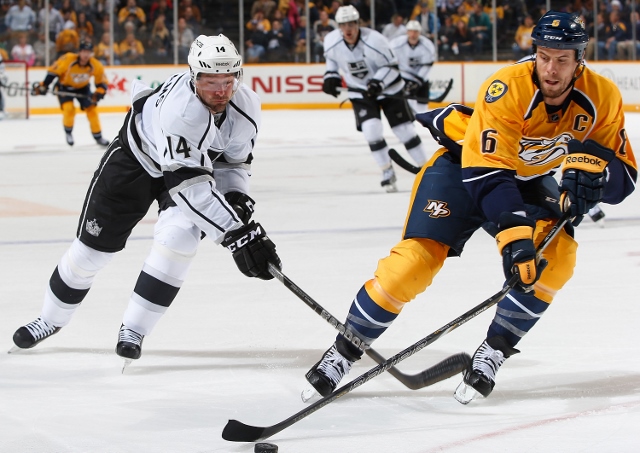 Los Angeles Projected Lines
Dwight King – Anze Kopitar – Jeff Carter
Dustin Brown – Jarret Stoll – Justin Williams
Trevor Lewis – Mike Richards – Tyler Toffoli
Kyle Clifford – Jordan Nolan
Jake Muzzin – Drew Doughty
Willie Mitchell – Slava Voynov
Matt Greene – Alec Martinez
Robyn Regehr
Ben Scrivens
Martin Jones
Level of confidence in projected lines: C. Scrivens left the ice first at the morning skate, so he's likely to start. Other than that, changes are certainly possible. During initial defensive rushes, Willie Mitchell skated with Slava Voynov. Robyn Regehr skated with Voynov on a subsequent shift. This could be an indication that Sutter is planning on using seven defensemen tonight, even if he played down the idea last week. Should the team roll with seven defensemen, Colin Fraser could come out of the lineup, which would place Kyle Clifford and Jordan Nolan flanked to the wings of a consortium of Anze Kopitar, Jarret Stoll, Mike Richards and Trevor Lewis. It is also possible that nothing should be read into Voynov's initial pairing with Mitchell, and that the team could very well use the same lineup from Monday night. Hence, the C grade of confidence. As always, lineup projections are educated assessments and not definite alignments.
Notes and milestones: Los Angeles is 29-22-6 all-time against Nashville, which includes a road record of 15-9-4. The Kings have won five of the last seven meetings at Bridgestone Arena since March 30, 2010. Tonight's game concludes the teams' season series. … Los Angeles' overall record of 25-9-4 (54 points) is the best record after 38 games in club history. The previous mark was held by the 1980-81 team, which went 24-10-4, and the 1974-75 team, which went 20-6-12 (52 points). … With 26 points, the team's 12-4-2 road record is tied with the 1974-75 team for the best road record in club history after 18 games. … The Kings are 9-2-0 in their last 11 games, having outscored opponents 34-18 (not including shootout goals). … The Kings have only two regulation wins against the Central Division this season. Overall, they are 5-4-1 against the Central. … Los Angeles has been assessed 169 minor penalties, the third highest total in the league. … The Kings are scoreless in their last 10 power plays. Their last power play goal was recorded by Anze Kopitar in the third period of the 5-2 win at Ottawa on December 14. … The Kings have allowed four power play goals over their last 17 shorthanded situations. … The Kings rank fourth in the league in road penalty killing percentage, having killed 65-of-74 penalties in away games (87.8%). … Ben Scrivens has earned shutouts in three of his eight road starts. … Dustin Brown has gone 25 games without recording a point on the power play. … Jeff Carter has 18 points (10-8=18) in 15 career games against Nashville. … Darryl Sutter will coach his 996th NHL game tonight. … With 1,480 all-time wins, the Kings are 20 wins away from the 1,500th win in franchise history.
Nashville Projected Lines
Colin Wilson – Mike Fisher – Patric Hornqvist
Nick Spaling – David Legwand – Craig Smith
Gabriel Bourque – Matt Cullen – Viktor Stalberg
Eric Nystrom – Paul Gaustad – Matt Hendricks
Roman Josi – Shea Weber
Mattias Ekholm – Kevin Klein
Seth Jones – Ryan Ellis
Victor Bartley
Marek Mazenec
Carter Hutton
Notes and milestones: Lines via Robby Stanley of Smashville 24/7. … The Predators are 0-4-1 in their last five games, having been outscored 20-9 over that stretch. … Nashville's 25.0% home power play rate (14-for-56) ranks tied for fourth in the NHL. … Eight of the Predators' last 15 goals have come via the power play. … Nashville is 2-2-0 on the second night of back-to-backs. … The Predators are the only team not to have allowed a shorthanded goal this season. … No Nashville skater has scored in a shootout this season. Matt Cullen, David Legwand, Mike Fisher, Matt Hendricks, Craig Smith and Gabriel Bourque are a combined 0-for-10. The Kings beat the Predators 2-1 in a shootout at Bridgestone Arena on October 17. … Nashville is 7-0-4 in one-goal games. … Barry Trotz is the longest tenured head coach in the NHL (1,152 games) and ranks behind only Greg Popovich of the San Antonio Spurs on the longest active tenure in all four major professional sports. … Patric Hornqvist has seven goals, 13 points and a plus-4 rating in 17 career games against Los Angeles. … Craig Smith has six points (4-2=6) in his last six games.