The Hockey Reporting Gods smiled upon LAKI on two fronts. First, I said to myself late last week, "I'm going to write a story about the Kings goaltending in the absence of Jonathan Quick," and then Martin Jones posted back-to-back shutouts sandwiched around a fascinating Bill Ranford conversation at Toyota Sports Center on Sunday. Second, putting together feature stories while covering back-to-back games and traveling can be a challenge, so thankfully the Kings turned Tuesday's game into a laugher by the middle of the second period, allowing me to piece together a good chunk of the feature in the Bell Centre pressbox while keeping a drifting glance on the ice during the third period of a 6-0 rout. Because I have used up the entirety my capital this week, the next Kings player I choose to write a story about is almost certainly going to be struck by lightning. Let's hope that doesn't happen.
Bill Ranford, who joined the Marek vs Wyshynski Podcast today, isn't trying to build a one-size-fits-all goaltender.
"If things that you're doing are costing us hockey games, I will step in and change them. Other than that, it's just like a piece of clay, and you're just trying to mold it and make it better," he said. "If you look at the goalies that have gone through here, the only cookie cutter part of the LA King goalies are…attention to detail, work habits. There's been just a blend of Quickie – the athletic. Bernier – the standup, kind of a blend. Jeff Zatkoff – a little bit more of a butterfly. So there's been a huge variance in how guys hold their stick, how deep in their stance they are."

"We don't believe in a cookie cutter goalie. Whenever we bring a new goalie in, the first thing we talk about is habits and detail. First thing. We don't even look at detail. Don't even start there. I met with the pitching coach with the Dodgers this summer, and the thing that they always talked about is it's starting from the bottom – just basic habits with their pitchers. They don't even look at technical. They just start with habits, and once they get their habits to where they need, then they start looking at little tiny details of what they do."
The entire feature can be read here: Net Gains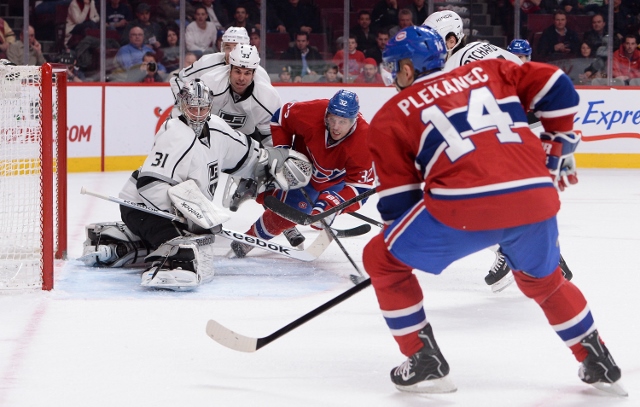 There were other topics not covered in the LAKings.com article. The transcripts of the conversation with Ranford – and a Darryl Sutter appraisal of things that he noticed slipping into Ben Scrivens' game – are below. Several quotes were removed to form the LAKings.com story.
Ranford, on what he makes of the goalies' success since Jonathan Quick was injured:
Well, I think the big part is we've found our game from the structure, defensively. We were giving up probably 10-plus more chances a game early on in the season, and we felt we had to clean that area up and get the puck moving quicker and faster, and I think that everything started to fall into place. You give good teams that many extra opportunities, pucks are going to end up in the net. It doesn't matter who's in goal.
Ranford, on what his expectations of Martin Jones were when he joined the Kings:
Exactly what you saw. That's what they expectations [were]. I've always felt that Marty could play in this league, and the unfortunate thing is he hasn't had the opportunity because our goalies have been so healthy over the past three years. It's one of those things – he's worked hard at his game in Manchester, and he's worked hard to prove that he can be a number one, and all he wanted was the opportunity to play at the NHL level, and he's been given that opportunity, and he's kind of trying to take the ball and run with it.
Ranford, on whether teams play different styles of hockey in front of different goalies:
Well, I think it sometimes may happen when you have your number one guy go down. I think it's just an automatic thing that a team will try and buckle down and defend – I don't know if you say 'harder,' because you're always trying to defend harder, but I think those first couple games, you always get into that scenario where guys are like, 'Let's let this guy get his feet underneath him until he gets comfortable' kind of thing. But I think it was more so just the situation where we had to play better as a team, and it just kind of coincided when Quicker went down. Everybody has the utmost confidence in Jonathan Quick, and what his abilities are, and he's proven it time and time again. We're not concerned about that.
Ranford, on when he first saw Martin Jones:
I knew Marty just from playing North Shore Winter Club. My nephew played there. The reputation was there, and I think the issue that we had is wedidn't know a lot about Marty. We saw him a little bit with the Hitmen, but he wasn't playing a lot at that point. But for me, pedigree, resume sometimes comes into play, and all I knew about this kid was that he won at every level, and I just felt with his size and such a strong technical package that he already had in his game that this was something that I felt comfortable, that I thought was a real good challenge to work with somebody like that. It's easy for myself or Kim to try and take credit for it, but it's the goalies that do the work. We just try and push the buttons a little bit, I guess is the best way to put it. We have an expectation of hard work and attention to detail, and we try and find the goalies that have the demeanor and the mindset to work that way.
Ranford, on Jones' composure:
I've always been comfortable with Marty's game and his composure. Any time throughout your career you're going to go through some ups and downs, especially as a young individual at the pro level. Being away from the structure of whether you're living at home or billeting, and now you're out on your own, there's always going to be times whwere you're going to have to deal with some adversity. The one thing good or bad, he's always been a very composed goalie. He very rarely gets rattled about anything, even when he's not playing necessarily well, and I think that's I think just a strong component of what he's about.
Ranford, on Jones not getting too high after wins:
Well, you can't. It's no different than when Ben was put into this situation to become our number one guy. He won three or four in a row, and I'm like, 'It's not about winning. You have to realize that you have to be ready to go for the long haul here. It's not about 'Look what I've done now.' It's what you need to do to make yourself a consistent and reliable goalie in this league, and if you want to be a number one guy and have the confidence of your organization, you have to have that consistency and that detail in your game every night because that's how you get through the ups and downs, is by having detail in your game, and not just because you're playing well,*** be on top of the world and forget about what you have to do to continue to be successful and the hard work that you put in to get to where you are.
Ranford, on Darryl Sutter saying that things were "slipping into" Ben Scrivens' game:
To be honest with you, I don't think it was probably previous to that. I don't necessarily think they were starting to slip, but there just wasn't as much detail, and you don't want it to snowball. He's on the upswing again, and that's where we need him to be.
Ranford, on the type of detail he's looking for:
Movements, post-save, no delay in his post-save. Have rhythm to the game. Just the habits of what you do…getting to your spots. Like you said, edge control. For me, that goes a long way. I'm not an overly technical guy. If there's a technical deficiency, yeah, then you attack it. But I'm more about detail and work ethic. That
Darryl Sutter on whether the choice to start Martin Jones against Anaheim reflected a "reset button" for the team to focus:
I knew during the [St. Louis] game – that game – I had seen [things] start slipping into Ben's game, two or three games ago. Just little things that you can't do at this level. You're going to get scored upon, or the team's going to get beat. We did a lot of work with Ben in training camp to get him into our program. There's a reason that we don't give up many shots. There's a reason that teams don't score many goals around the net, and there's a reason we don't spend much time in our zone. There's a reason why have the puck a lot, and a big reason is how the goaltender plays for us and what we want him to do, and if the goalie is getting away from that, then he's not going to play because there's only a few of what did you call those goalies? [Reporter: Elite.] There's only a few of those.