Los Angeles Kings (16-6-4) vs Calgary Flames (8-13-4)
Saturday, November 30, 2013, 7:00 p.m. PT
STAPLES Center, Los Angeles, CA
Referees: #29 Ian Walsh, #34 Brad Meier
Linesmen: #57 Jay Sharrers, #55 Shane Heyer
FOX Sports West, CBC, KTLK 1150 AM
Los Angeles Projected Starting Goaltender – Ben Scrivens
2013-14 Season: 13 GP (10 GS) / 6-1-4 record / 1.48 GAA / .947 Sv% / 3 SHO
Career vs Calgary: First appearance
Last Game vs Calgary: First appearance
2013-14, Home: 3 (3) / 1-0-2 / 1.62 / .928 / 0
Calgary Projected Starting Goaltender – Karri Ramo
2013-14 Season: 9 GP (7 GS) / 2-4-1 record / 3.52 GAA / .884 Sv% / 0 SHO
Career vs Los Angeles: 1 (1) / 1-0-0 / 2.01 / .931 / 0
Last Game vs Los Angeles: 10/21/13 / 60 MP / 27-29 shots / 3-2 W
2013-14, Away: 6 (5) / 1-3-1 / 3.68 / .886 / 0
2013-14 Los Angeles Leaders
Total Points: Anze Kopitar (7-16=23)
Goals: Justin Williams (9-9=18)
Assists: Anze Kopitar (7-16=23)
Plus/Minus: Dustin Brown (+10; 4-5=9)
Penalty Minutes: Daniel Carcillo (53; 1-1=2)
Time On Ice: Drew Doughty (25:43; 5-8=13)
2013-14 Calgary Leaders
Total Points: Jiri Hudler (7-16=23)
Goals: Sean Monahan (9-6=15)*, Mike Cammalleri (9-4=13)
Assists: Jiri Hudler (7-16=23)
Plus/Minus: Lance Bouma (+3; 2-4=6)
Penalty Minutes: Shane O'Brien (36; 0-2=2)
Time On Ice: Dennis Wideman (26:14; 2-10=12)*, Kris Russell (23:30; 3-10=13)**
*inactive **amongst active players
Rankings and Statistics
Goals/Game: LAK – t-20 / 2.50; CGY – 15 / 2.64
Goals Against/Game: LAK – t-3 / 2.08; CGY – 30 / 3.64
Power Play: LAK – 19 / 17.5%; CGY – 24 / 15.2%
Penalty Kill: LAK – t-10 / 84.3%; CGY – 26 / 77.6%
Shots/Game: LAK – 8 / 31.6; CGY – t-24 / 28.0
Shots Against/Game: LAK – 5 / 26.6; CGY – t-18 / 30.3
Faceoffs: LAK – 2 / 54.9%; CGY – 4 / 53.1%
Save Percentage: LAK – t-6 / .922; CGY – 30 / .880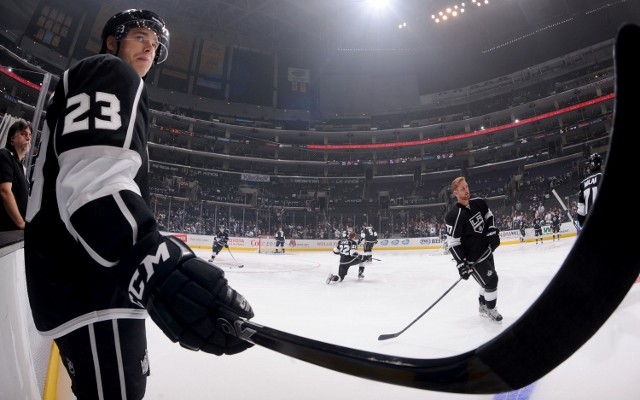 Los Angeles Projected Lineup:
Dustin Brown – Anze Kopitar – Justin Williams
Dwight King – Mike Richards – Jeff Carter
Daniel Carcillo – Jarret Stoll – Jordan Nolan
Kyle Clifford – Linden Vey – Tyler Toffoli
Jake Muzzin – Drew Doughty
Robyn Regehr – Slava Voynov
Willie Mitchell – Alec Martinez
Ben Scrivens
Martin Jones
Level of confidence in projected lines: A. Colin Fraser, Tanner Pearson and Matt Frattin remained on the ice for extra work with Martin Jones and Gasper Kopitar. Gasper took the ice for a conditioning skate and is not Kings property. Trevor Lewis skated with a member of the coaching staff at the opposite end of the ice. There's a good chance Fraser takes the warm-up, but expect the projected lineup above to dress tonight.
Notes and milestones: Los Angeles is 86-106-25 all-time against the Calgary franchise, which includes a home record of 54-44-10. The Kings have won four of the last five meetings since March 28,2010. After tonight, the teams will continue the season series with a trio of games at the Scotiabank Saddledome on February 27, March 10 and April 9. … Los Angeles has recorded points in 11 straight games, tying a franchise record (1973-74: 9-0-2; 2010-11: 8-0-3). Excluding shootout goals, the Kings have outscored their opponents 26-14 over that span. … Excluding shootout goals, Los Angeles has allowed two goals or less in 11 straight games. They have allowed 14 goals over the last 11 games. … The Kings have killed off 36 of the last 39 power plays dating back to November 7, and 29 of the last 31 power plays, dating back to November 14. … The Kings are 0-for-15 on the power play over the last four games. … Ben Scrivens has allowed nine goals in the last 465:52 (1.16 GAA), having stopped 215 of 224 shots (.969 Sv%) over that period. … Anze Kopitar's next point will be the 500th of his career. His 499 points have come on 180 goals and 319 assists. … Justin Williams' next goal will be the 200th of his career. … With 185 career goals, Dustin Brown is one goal behind Jim Fox for ninth place on the club's all-time goal scoring list.
Calgary Projected Lineup
Mike Cammalleri – Matt Stajan – Lee Stempniak
Paul Byron – Joe Colborne – Jiri Hudler
Lance Bouma – Mikael Backlund – David Jones
Blair Jones – Max Reinhart – Brian McGrattan
Kris Russell – TJ Brodie
Chris Butler – Ladislav Smid
Derek Smith – Shane O'Brien
Karri Ramo
Reto Berra
Notes and milestones: Lines via Randy Sportak of the Calgary Sun. … The Flames will be without D Mark Giordano (ankle), LW Curtis Glencross (knee), LW TJ Galiardi (back), C Sean Monahan (foot) and D Dennis Wideman (hand), per The Sun. … Karri Ramo appeared to suffer a freak injury during the Calgary's morning skate, though he isn't expected to miss tonight's game. "He looks good — just took a puck on the leg," Head Coach Bob Hartley told reporters. "It stung him for a while, but a little bag of ice did the trick. He's good to go." … The Kings will get their first look at Max Reinhart, son of longtime Atlanta and Calgary Flame and Vancouver Canuck Paul Reinhart, an All-Star in 1985 and 1989. Max, 21, has one goal and three points in 14 career games. … Calgary has won three of the last five games between the teams at STAPLES Center. … The Flames' AHL affiliate, the Abbotsford Heat, lead the AHL's Western Conference (17-6-0-1; 35 points), while the Kings' AHL affiliate, the Manchester Monarchs, lead the AHL's Eastern Conference (14-3-1-3; 32 points). … Seven of Calgary's eight wins came by virtue of one-goal margins. … The Flames are 4-1-0 when tied after two periods. … The Flames are 1-2-0 on the second night of back-to-back games. They lost 5-2 in Anaheim Friday afternoon.