Los Angeles Kings (4-2-0) at Tampa Bay Lightning (3-2-0)
Tuesday, October 15, 2013, 7:30 p.m. ET
Tampa Bay Times Forum
Referees: #9 Dan O'Rourke, #41 Mark Lemelin
Linesmen: #96 David Brisebois, #55 Shane Heyer
Los Angeles Projected Starting Goaltender – Jonathan Quick
2013-14 Season: 5 GP (5 GS) / 3-2-0 record / 2.64 GAA / .905 Sv% / 0 SHO
Career vs Tampa Bay: 4 (3) / 3-0-0 / 0.55 / .979 / 1 SHO
Last Game vs Tampa Bay: 2/7/12 / 60 MP / 24-25 shots / 3-1 W
2013-14, Away: 3 (3) / 2-1-0 / 2.40 / .917 / 0
Tampa Bay Projected Starting Goaltender – Ben Bishop
2013-14 Season: 3 GP (3 GS) / 3-0-0 / 1.93 GAA / .928 Sv% / 0 SHO
Career vs Los Angeles: 2 (0) / 0-0-0 / 4.00 / .840 / 0
Last Game vs Los Angeles: 12/11/08 / 20 MP / 6-8 shots / 2-6 L
2013-14, Home: 1 (1) / 1-0-0 / 2.00 / .905 / 0
2013-14 Los Angeles Leaders
Total Points: Jeff Carter (4-1=5), Anze Kopitar (0-5=5)
Goals: Jeff Carter (4-1=5)
Assists: Anze Kopitar (0-5=5)
Plus/Minus: Robyn Regehr (+2; 0-1=1), Daniel Carcillo (+2; 1-1=2), Alec Martinez (+2; 0-0=0)
Kyle Clifford (14; 0-0=0)
2013-14 Tampa Bay Leaders
Total Points: Martin St. Louis (2-5=7); Steven Stamkos (4-3=7)
Goals: Steven Stamkos (4-3=7); Valtteri Filppula (4-1=5)
Assists: Martin St. Louis (2-5=7)
Plus/Minus: Teddy Purcell (+4; 3-3=6)
Penalty Minutes: Ryan Malone (24; 0-2=2)
Rankings and Statistics
Goals/Game: LAK – 21 / 2.33; TBL – t-8 / 3.40
Goals Against/Game: LAK – 7 / 2.33; TBL – 18 / 2.80
Power Play: LAK – t-8 / 25.0%; TBL – 4 / 31.6%
Penalty Kill: LAK – 10 / 84.0%; TBL – 26 / 68.2%
Shots/Game: LAK – t-18 / 30.2; TBL – 26 / 25.8
Shots Against/Game: LAK – 7 / 27.2; TBL – 6 / 26.8
Faceoffs: LAK – 4 / 56.3%; TBL – 13 / 51.7%
Save Percentage: LAK – 16 / .914; TBL – 23 / .896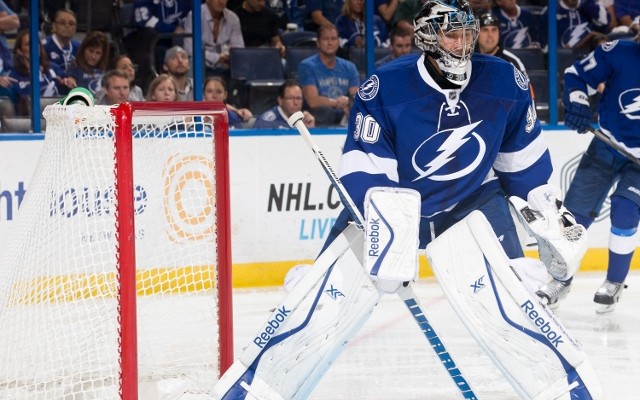 Los Angeles Projected Lines
Dustin Brown – Anze Kopitar – Justin Williams
Dwight King – Mike Richards – Jeff Carter
Kyle Clifford – Trevor Lewis – Matt Frattin
Daniel Carcillo – Jarret Stoll – Jordan Nolan
Robyn Regehr – Drew Doughty
Willie Mitchell – Slava Voynov
Alec Martinez – Matt Greene
Jonathan Quick
Ben Scrivens
Level of confidence in projected lines: B. Anze Kopitar and Mike Richards had swapped spots at practice on Monday; at Tuesday's morning skate Kopitar was back with Brown and Williams, while Richards was alongside King and Carter. Expect the Kings to start out with the above lines, though we may get a taste of what we saw at practice yesterday based on special teams time and the way the game evolves.
Notes and milestones: Los Angeles is 9-15-3 all-time against the Tampa Bay Lightning, which includes a road record of 7-5-1. The Kings have won three consecutive games against the Lightning, which represents their longest unbeaten streak in the series. In their last four visits to the Tampa Bay Times Forum, Los Angeles is 3-0-1. The two teams will meet at Staples Center on November 19, 2013. … Jonathan Quick has stopped 91 of 93 shots in his career against the Lightning, having posted a 3-0-0 record with one shutout over 217 minutes. … Mike Richards has 23 points (10-13=23) in 22 career games against the Lightning. … Drew Doughty (25:42), Willie Mitchell (22:01) and Anze Kopitar (21:28) rank first, second and third amongst the Kings in average ice time. … Since being outshot in the season opener at Minnesota, Los Angeles has outshot five consecutive opponents.
Jarret Stoll, on what he has seen from Tampa Bay's power play:
Obviously al their guys are on it, and they do a lot of different plays – not just one or two plays. They mix it up, and they move around, so you've definitely got to be on the ball and look at a lot of video and what their tendencies are. Just a lot of pressure. Don't let them get set up is probably a big key. We've got to make sure we're sharp in that area. We've already looked at it, and we're going to look at it again before the game.
Stoll, on Tampa Bay's power play particulars:
Well, they've got shooters. Shooters in the slot, shooters off the backside. Obviously Stamkos – he's been known to score a lot of power play goals from the same areas, so we've got to make sure we're on top of that, and know that before it happens, and try to stop it.
Stoll, on how to approach defending against Steven Stamkos:
You've got to just make it hard on him, knowing that when he gets that puck that someone's right over top of him. You've got to finish him every chance you get and see how much he's going to want to battle through You make it an easy night for him, and he's going to have a couple probably. So you've just got to make it tough on players like that, and see how much they want to battle and go from there.
Stoll, on playing the way the team wants to play on the road trip:
Yeah, I think so. Four lines, six D, both goaltenders so far, that high pressure game. No odd-man rushes, no turnovers for the most part, just getting pucks in deep, using our size and strength to our advantage on the forecheck and trying to keep pucks in the offensive zone. We've done a pretty good job of that. I know we can get better still, but a few wins, and hopefully get a third tonight.
Matt Greene, on what the team has done well to limit odd-man rushes:
I think we've been having a great F3. That always helps in the offensive zone, and kind of just picking your battles, to, and just realizing that if you have a good F3, it's a little bit easier to go down the wall and take chances, keep pucks in. But at the same time to, you always have numbers, and just play in a tandem with your forward units, which always helps. But the F3 – that's what stops everything. That's just good responsibility out of the forwards and stops odd-man rushes against.

Greene, on whether the third goal against Florida, which came on a quick counterstrike, represented the aggressiveness and puck moving that the team is looking to exhibit:
Yeah, get the puck moving the other way as fast as you can. Obviously you don't want to be too reckless with it, but at the same time, if you've got a chance to get the puck going up against – I know it's the hardest thing for a D-man to defend, if you're gapping up constantly and taking rushes against. Forwards, that's what they're paid to do, score goals. So give them puck to them and let them do what they do.
Mike Richards, on being familiar with the Tampa Bay Lightning:
Not recently, but I've played against them obviously a lot in the past. Obviously with Stamkos having that shot and finding the soft spots on the ice, we have to be aware of him and Marty's obviously a world class player that seems to find him a lot and for his size is probably the greatest player in the league.
Tampa Bay Projected Lines
Ryan Malone – Steven Stamkos – Martin St. Louis
Richard Panik – Valtteri Filppula – Alex Killorn
Ondrej Palat – Tyler Johnson – Teddy Purcell
B.J. Crombeen – Nate Thompson – Pierre-Cedric Labrie
Matthew Carle – Radko Gudas
Victor Hedman – Sami Salo
Eric Brewer – Andrej Sustr
Ben Bishop
Anders Lindback
Notes: Lines via Lonnie Herman of NHL.com. … Ben Bishop, who suffered a lower-body injury against Florida last Thursday, will draw the start. He hasn't faced the Kings since he was a member of the St. Louis Blues in the 2008-09 season. Bishop hasn't allowed more than two goals in his three starts. … Steven Stamkos recorded his sixth career hat trick on Thursday against Florida. … Martin St. Louis has a four-game point streak. His 919 points (342-57=919) rank 94th all-time. With a first period goal on Thursday, he surpassed Bobby Orr in total points. … The Lightning have scored a power play goal in four straight games, going 6-for-14 (42.9%) over that span. … Former King Teddy Purcell rides a four-game point streak into tonight's game. Purcell, who turned 28 in September, recorded 25 points (8-17=25) in 91 games with Los Angeles from 2007-09.
If you have a few moments, I encourage you to read this story by Deborah Lew of LAKings.com depicting the fight against brain tumors by several members of the Los Angeles Kings family.
Learn more about the Brain Tumor Walk, which will take place this Saturday at Exhibition Park.