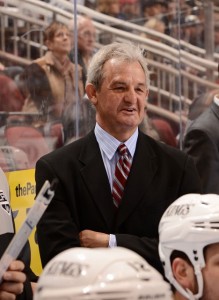 In sifting through Darryl Sutter's quotes from the 2012-13 season, I tried to find a mix of honest observation, humor, firm player analysis and recollections of events from his playing days and appreciation towards those he has played with and coached while generally leaving moments of head-butting with the media off the list. Though several of his quotes appear gruff – there is certainly some honest evaluation as he attempts to get the team to play to its collective ceiling – Sutter is always protective of his players and has their best interests in mind.
The first question asked of him in the post-game press conference on June 11, 2012 was what it felt like to win a Stanley Cup. His response was an illustration of his feelings towards the players he coaches. "It's pretty awesome," he answered. "Obviously when you have a three-or four-goal lead with five minutes left, you know what these guys are capable of doing. Then you start seeing it on the bench. It's the feeling of seeing them so happy, the work that you go through. The first thing you think about as a coach, these guys are all young enough, they've got to try it again."
I ranked the top-30 quotes of the season, followed by an additional "honorable mention" segment. It's possible that I've accidentally omitted one or two – if there are any quotes that may have been left out, please submit them in the comments.
Previously: The quotable Darryl Sutter, 2012
-a sticktap to Rich Hammond
THE TOP 30
30
February 23
On players referencing an early loss to Detroit as a pivotal moment:
"We played really well in Detroit. People sounded and looked at me kind of funny, but I thought we played really well there. It's not always whether you win or lose. It's whether you're winning or losing."
29
March 31 postgame
On Dustin Penner's performance in a 3-2 win at Dallas:
"He was good in his six-furlong stuff. As soon as he started to get into that seven-furlong stuff, then it was a little tougher."
28
March 21
On Jonathan Quick striving to find consistency:
"It's like, friggin' once around the league as a pitcher, right? Next time they're friggin' sitting on that, and pretty soon he's only thrown 15 pitches and they're walking out to see him. It's the very same. This guy hasn't done anything different than that. He's had one kick at the cat."
27
May 4
On trying to create more scoring opportunities:
"We have to find ways to get more at the net, because more is better. What's that commercial with that little girl? 'More. Can you get less of more? Does anybody want more?'"
26
February 25 postgame
On whether the win over Anaheim was a "measuring stick":
"There's no measuring stick. It's just every game is park and ride, right? Pay the toll. Get in the fast lane."
25
June 5
On whether he thought Jonathan Quick would be affected by Game 2:
"No. Obviously he'd love to have a couple of those goals back. But he parks and rides pretty easily."
-The first use of "park and ride" as a verb, to my knowledge.
24
February 26
On how to contain the league-leading Blackhawks:
"Well, they're not invincible. I mean, somebody's going to beat them. Somebody just did. So we'd like to try again. They're not on a different planet than us."
23
February 26
On how well he knows Mike Babcock:
"I know him pretty [well]. I know he wants to kick my ass, and I want to kick his."
22
March 7
On players not wearing helmets in warm-ups:
"That should be their 16 minutes [for] people to see that he's got blonde hair, or sideburns."
21
May 5
On purchasing Alec Martinez a sombrero at a liquor store at nine in the morning:
"Cinco de Mayo. Gotta honor him."
-I believe Sutter acknowledged visiting a liquor store on a Sunday morning to pick up a sombrero when all recording devices were turned off. I don't think there is any printed or digital account of that admission; otherwise, this would have been at the top of the list.
20
April 12
On Dustin Penner struggling to find rhythm in a first game back from injury:
"So when it's time for the Big Diesel to go, Big Diesel's a little slow, right?"
19
May 9
On Robyn Regehr taking a puck to the face:
"Yeah, he got hit in the nose again. It was broke, so he can't re-broke it."
18
February 23
On whether there's any truth to the "Stanley Cup hangover":
"Well, I know what a hangover is, and I didn't have one. What does that mean? The hangover for us was a lot of injured players, and guys are still injured. That's what it is."
17
February 10 postgame
On the 3-2 loss at Detroit:
"We played a hell of a game again. Disappointing. Remember, I hate to say 'I told you so,' but I told you so. Three-two."
16
February 17 postgame
On what the Blackhawks did well in the first period:
"I didn't like the Seabrook goal, being that our goaltender should've been allowed to have a stick. Pushed it away. It should've been a penalty. The shorter referee was standing right by our bench. The other guy couldn't see it, but the shorter one had the same view that I did. [He] should've made the call."
15
May 26
On losing Game 6 in San Jose:
"I found out during the press conference that we haven't played a Game 7 since 2002. I can't wait to get back there. It's big for me."
–This press conference could have been good for three or four quotes on this list.
14
May 18
On NHL arenas:
"Quite honest, most of the buildings are generic, just different colors."
13
May 16 postgame
Opening statement:
"It has not been a good day. I lost my glasses early this morning and I had to go buy a pair of 79 dollar reading glasses today. 79 bucks. You can literally get them at Costco, three-for-20."
12
March 8
On Miikka Kiprusoff being "a man of few words":
"Yeah. That's why we had such a good relationship."
11
March 19
On whether Drew Doughty should pick his spots on when attempting to use the impressive "one-man breakout" he used in the first period of a win over Phoenix:
"Well, if you do that all the time, you're not a very good player. You're Brian Campbell in Florida. You'll be minus-20 and we'll see you on the highlights. But you're on a bad team, and you're a high-minus player. So this is not a movie about a star, right?"
10
June 5
On how Jeff Carter's status a day after taking a stick to the face:
"Awesome. I wish I was Jeff Carter today."
9
March 21
On Jaromir Jagr's comment that he wanted to go back on the ice and play again:
"Good for him. They're not going to build a schedule for that, are they?"
8
February 14
On whether he's made a decision on who will replace Alec Martinez in the lineup:
"We'll put Muzzin in, for sure. We took Muzzin out, because he was horse. . . – road apples – in Anaheim. I talked to him about it yesterday. Most guys play like that one NHL game, they're doin' time again."
7
March 26
On proving that home ice advantage in the playoffs was "irrelevant" last year:
"Division titles don't mean zip. All they are is dirty flags, right?"
-Around this time of the year, references to division titles being "dirty banners" or "dirty flags" were fairly common.
6
March 21
On Jaromir Jagr:
"I never got to coach Jagr, but I've seen him enough that even though he's 41 or whatever the hell he is, he hasn't lost that desire to try and exploit the other team in certain situations. He's still fun to watch, except when you're coaching him."
5
May 17
On whether there's "any update on Sutter":
"He's fine. He's doing an interview right now. [Will he play in Game 3?] No, I won't be playing. I'm not available."
-A nervous representative of a network affiliate used "Sutter" instead of "Stoll" and accidentally created a top-5 quote of the year.
4
February 16
On practicing before traveling:
"It's not to the teams going west to east's advantage, for sure. I learned that as a young coach coaching in San Jose. There's no advantage out here at all, other than New York telling us what time you start in the east. We really like noon starts out here. Like, that's awesome. We always appreciate that."
3
May 26
On whether he thought the San Jose series had the potential to go seven games from the outset:
"Yep. Why not? I think every series has the chance to go seven. Somewhere between four and seven."
2
March 13
On players that need additional skill development:
"It's like you guys. You had a bad first game, too, right? [Points to broadcasters and members of the media] Didn't practice all summer. Very same. But you understand what I'm saying? These guys are the very same. You guys take two months off, you're not as sharp, either. These guys take two or three days off, their skill sets, the little things, eh? Skate, shoot, pass – all those things drop off. Same as me, right? I used to be able to write with both hands. Now I can't write with my left hand anymore because I don't practice it. It's true."
1
March 27
On what impressed him against Chicago in what wasn't a "technically sound" game:
"Most of them aren't the most technically sound from up top. I came to the [St. Louis] game last night. Jeez, it was easy…up there. I can see why everyone when they come down here knows so much. I forgot how easy it was from up there."
Honorable Mention
January 21
"I've heard all the stuff about 'bringing your own team back' and all that sexy rah-rah, kumbaya, all that stuff, but the problem is we're not the same team. We're a different team."
February 20
On Trevor Lewis' assertiveness:
"He's one of my favorites, so I want him to produce."
March 7 postgame
On whether playing three games in four nights was factored into a loss to Dallas:
"No, we had a day off yesterday. No excuse for it. I felt good. I'm almost 55. I felt awesome today."
March 8
On if he'll have a message for Kelly Hrudey's kids on Legends Night:
"Well, they're grown-up, beautiful girls now. They're not going to look at an old guy with grey hair and take any info from me."
April 3
On Davis Drewiske being traded to Montreal:
"Anybody that was on our championship team last year is a member of our family forever, so I want them to do well."
April 7 postgame
On whether he has revisited conceding the division to Anaheim:
"I went to school, and I graduated, and I can do the math. We've got a few games left. That's pretty much impossible."
April 9
On whether he expects a "desperate" Dallas Stars team:
"I'm not sure what the adverb is. 'Desperate' is when you get your heels on the cliff."
April 24 postgame
On Dustin Penner being a healthy scratch:
"Yeah. He was tired last night, so I was going to assume he'd be tired tonight."
May 3
On whether he gets the feeling that the team is starting to "bounce back":
"I don't think it's starting. Again, you're asking questions that are sort of end-of-the-world questions. It's really not that."
May 24
On how to change the pattern of the home team winning every game:
"By winning. That should be a good way of doing it. It's not that easy. I mean, 'how do you change that?' That's like fixing a hole in your boat. [Reporter: Actually, you can fix a hole in your boat.] So is it impossible to win on the road?"
May 30
On whether he enjoyed playing and coaching in Chicago:
"Yep. Young guy, old guy, single guy, married guy, with children. Lots of sports. Two baseball teams. Football team. A great basketball team. A really good hockey team. So I enjoyed it, yeah."
June 1 postgame
On how he reacted to the team leading 1-0 after one period despite being outshot 17-2:
"Fortunate. How do I react? Just like normal. You should say, 'How do you feel?' [Reporter: How did you feel after that?] Fortunate."
June 6
On Tyler Toffoli:
"I just want him to be good, shift-to-shift. If he doesn't, I'm not going to say, You're a bad boy. I'm just not going to play him. He's 20 years old. Maybe he's 21 now. Not sure."