-Last night's shutout was a strong step towards regaining consistency and building momentum for Jonathan Quick, and a very important start will be his next one – whether that's tonight versus Phoenix or Thursday night against Dallas. For those who have questioned Sutter's heavy usage of Quick, here is my interpretation of his reasoning: for this team to find postseason and long-term success, it is paramount for Jonathan Quick to work himself back towards the high level of play he demonstrated throughout last season and the playoffs. The more time he shares with Jonathan Bernier, the less time he'll have in a shortened season to find that rhythm. Having two quality goalies on the roster is a "problem" any team would love to have. There is no better example of the complete 180 degree turnaround in this franchise's goaltending fortunes than by reading responses to my Twitter reports when Quick leaves the ice first at the morning skate. "UGGH, THE REIGNING CONN SMYTHE TROPHY WINNER, AGAIN? BLECCH" is how I translate those replies. In the final night that the purple-and-black jerseys will be worn, let us all pour out a sip in remembrance of the Roman Cechmanek/Dan Cloutier/Yutaka Fukufuji era.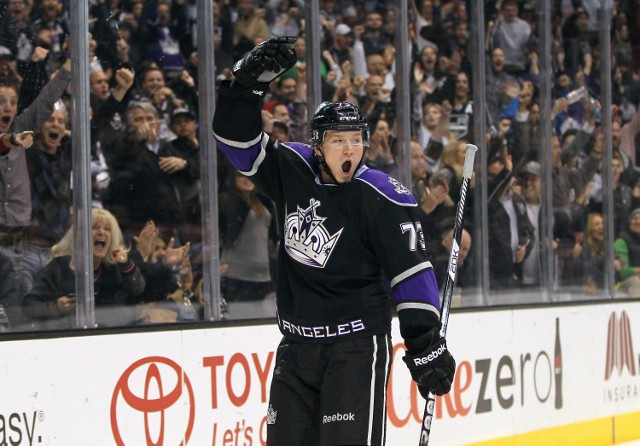 -One of the more telling statistics of the Kings' resurgence has been Drew Doughty's improved plus-minus rating over the last month despite maintaining his stratospheric time-on-ice. He's a plus-nine since the team returned from its Alberta swing and ranks fifth in the league in TOI. Other than Erik Karlsson, who appeared in 14 games before suffering a season-ending injury, Doughty has the best plus-minus out of any player who averages at least 26 minutes of ice time. It's fairly impressive, considering (as blog reader Shiny noted in the comments last night) Doughty ranks second in the league in even strength time-on-ice. As Darryl Sutter mentioned in discussing Anze Kopitar's attributes yesterday, plus-minus is a telling statistic when plus-players log heavy ice time and regularly see shifts against the opposition's top players. Kings fans can live with his lack of goals if Jake Muzzin continues to blast away and Doughty every once in a while utilizes his "one-man breakout" in which he receives pressure behind the net, skates his way out of harm, turns on the jets while gaining the neutral zone and enters the attacking zone with the puck. I'm not sure if he wants to make a habit of consistently relying on that one-man breakout, but boy, was that fun to watch live and in Technicolor (to borrow from Sutter) in the first period last night.
-So, Tyler Toffoli's first goal: kind of impressive for a rebound goal, eh? After Jeff Carter poked a contested puck into some open space, a well-positioned Toffoli appeared to get every last ounce of a bouncing puck to beat Mike Smith up high on his short side. He made a nice adjustment to wait for it as it rolled towards him, and when he made contact it appeared his head was almost straight down before coming up to finish off a textbook release. Also: good on the officials to understand the situation and allow for the Staples Center crowd to shower the rookie with some love in just his second NHL game.