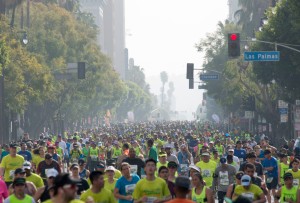 Daryl Evans completed the Los Angeles Marathon shortly before the time of this posting, marking the sixth time in the last 12 years that he has accomplished the 26.2-mile test of physical and mental endurance. In addition to Evans, assistant general manager Ron Hextall was a participant, and as Darryl Sutter informed us after last night's press conference, his wife, Wanda, also took part.
Prior to last night's game against San Jose, I chatted with Evans about the preparation and execution of running a marathon, as well as the recovery time necessary for such a grueling event.
LAKings Insider: How had you been preparing for the LA Marathon?
Daryl Evans: Not well enough. It's one of those things where I think if you take it really seriously, you've probably got to start realistically a good six months out or so. Ron Hextall and myself – my running partner, I'll call him – we've approached this one a little more seriously than we did last year, but nowhere near to what it needs to be. So we've been kind of ramping up our runs a little bit. We're feeling like we're in a better position than we were last year. At least I do, I know that.
LAKI: When was the very first LA Marathon you ran?
DE: The first one I did – let's see. It was probably about 10, no, about 12 years ago. I think it was when I had just turned 40. That was when I did my first one, and that was kind of just out of the blue. I had never really run any distance, and just thought it was a neat challenge and I really enjoyed the experience. There was something very gratifying at the end of it, to complete something like that and just to see what the process is, training for it, and what people go through during the race. But I haven't learned my lesson yet. I keep getting drawn back to it.
LAKI: What are the feelings when you're 20 miles, 22 miles deep into a marathon?
DE: It's a feeling you really don't know, and it's really tough to explain it. They call it a "hitting the wall" type of thing. At certain points you feel like you're doing pretty good, and then all of a sudden – it seems like it's that magical 20 mile marker – and yet in your mind, you're sitting there, saying roughly 'you've got about an hour left', but it seems like it's so far away when you realize what you have behind you. So I think that's where really the mental challenge comes in.
LAKI: Is your level of fitness on the same level as – or even better than – when you were a player?
DE: I think it's different, let's say. I think one thing, like when I played, and as a professional athlete, I think you do a lot more short sprints, bursts of speed, like power stuff. Unlike now, now it's kind of training for longevity. When I do a little bit of workout with the weights and things like that, I've maintained a pretty good amount of strength, but I don't have the bursts, the short bursts. That's kind of where the body, I feel, is broken down. But endurance-wise, yeah, I wouldn't be surprised if I was in as good of shape now as I was back in the day.
LAKI: What do you do to recover, and what will the next couple of days feel like? Will it be back to business as usual on Monday?
DE: What I've done in the past – like, one year I remember running it, and we played the next day in Columbus, and I ran seven miles the next day. You kind of get right back on the horse. You're going to feel a little bit stiff. There's no doubt about it. The one year here in L.A. it was like 90 degrees. That was not a good experience, the dehydration in that. That's where the body took a little bit more of a beating. I remember weighing myself in the morning going into that – I was just curious to kind of log how much fluid intake, and how much you're going to lose – and…on the way down to the race, I drank four bottles of water, ran the race, and proceeded to get liquid, just because of the amount of what was going on, at every mile marker. And then on the way back, I drank a six-pack of Propel. When I weighed myself back in, I was still 11 pounds light. The body goes through a lot. Fortunately enough, the last couple of years have been a little bit cooler. I think the cool temperature is a benefit. It allows you to stay hydrated. And also from having run a couple, you learn things. There's more stuff available – internet. Things like that [and] how these people train. So you kind of cheat a little bit, pick up on some of that kind of stuff – so be it that you only do it for a week or two, it still helps out.
LAKI: How would you describe the transformation of neighborhoods and the wonderful view of Los Angeles you're provided?
DE: I think that's one of the most unique things about running a marathon. You can live in a city, as I have here in Los Angeles for so long, and you travel on streets, but I think when you go by things on foot, you get to see them at a different pace. I think you really see the different cultures in each of the neighborhoods that you go through. It really is a neat experience. Now I can kind of relate to people that have run marathons in different parts of the world. That would be really cool. I think it would be great to be able to go do things like that. So I really do enjoy that. Like I said, it's a really good chance to see the city and where certain landmarks are, and I think that's what kind of keeps the engine going as you're running for anywhere from three to five, six, seven, eight hours for some people.