Reign game breakdown
In their highest scoring outburst of the season, the Reign toppled visiting San Jose on Saturday night 7-2 behind three power play goals and a four-goal third period to again claim the top spot in the Pacific Division. Up 2-1 after the first on an opening goal by Sam Herr (at 4:03), a power play mark by Paul LaDue (at 7:01) and an answer by San Jose's John McCarthy (at 13:05), the Reign lost their jump a bit in the second period. Marcus Sorensen's deflection of a long shot from the point (at 8:33) tied the game, a high redirect that goalie Jack Campbell, who was making his 20th straight start, had no chance of picking up. Jonny Brodzinski scored his first of two on the night from the right wing after a set-up feed from Adrian Kempe on the power play (at 13:47) for the eventual game-winner. Ontario was forced to play most of the later moments of the second without captain Vincent LoVerde, who appeared very shook up after a hard collision into the end boards. When he returned for the third, he and his teammates rattled off four straight goals: Teddy Purcell, LoVerde himself, Brodzinski for his second and Mike Amadio on the power play for good measure with just 58 seconds remaining.
Best quote
Head coach Mike Stothers, on the message he delivered after the second period, telling the team if they won they could take back first in the division: "I don't like it when the guys tell you what I said between periods, but yeah, we had already known the result of Tucson. They lost, it was a chance to regain first place. So, if that's a carrot that you've got to dangle in front of them — I don't know, sometimes I say things and it works, sometimes I say things and it doesn't work. I just say things."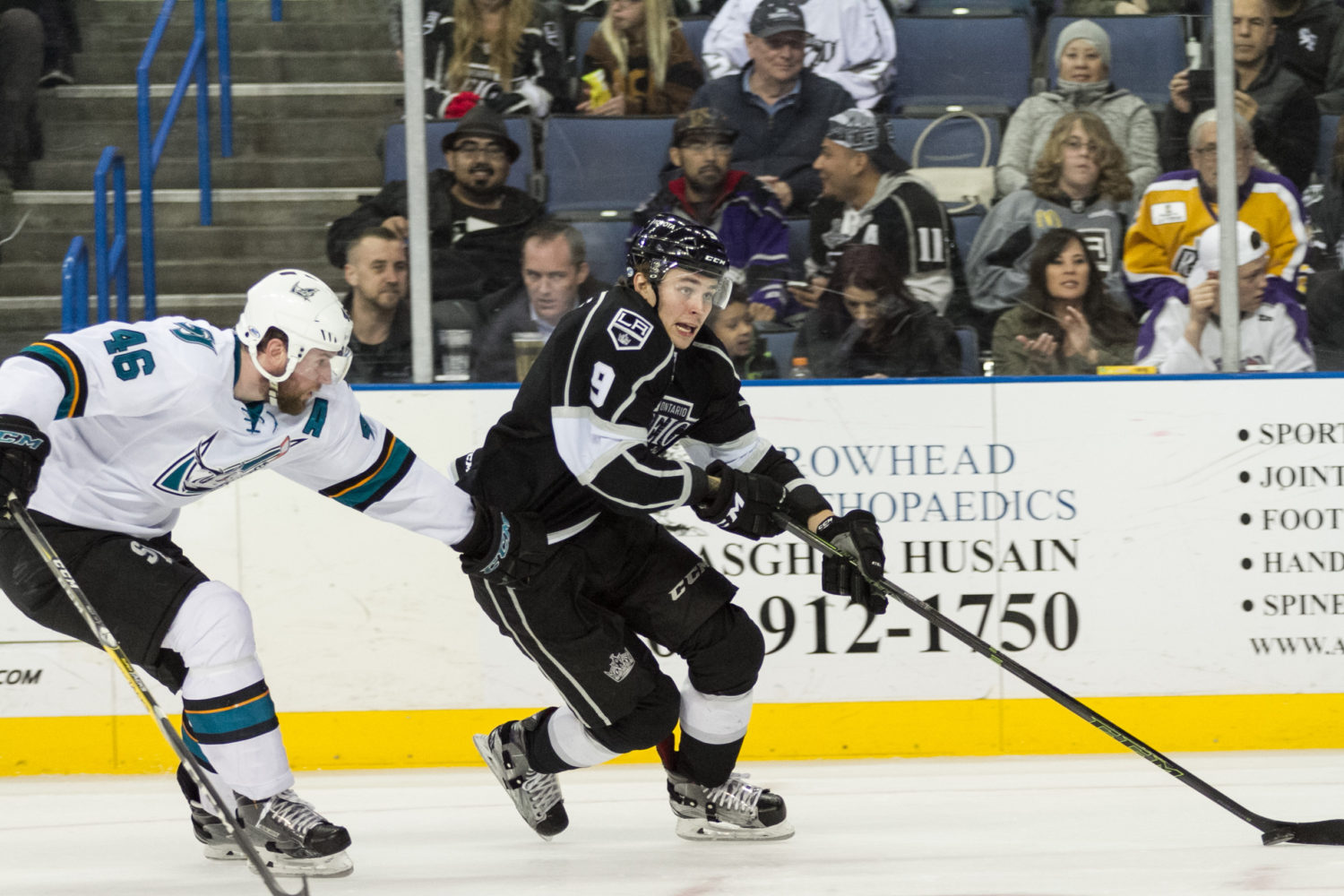 Three stars
–Jonny Brodzinski – The second year pro took over the team lead for goals with 12 with his two-goal performance, which was his first of the season and second of his career. He gave it a shot in the opening period, skating on the left wing, his off wing, with the top line of center T.J. Hensick and Teddy Purcell. But Brodzinski, who's skated almost all season on the right, scored both of his goals from that side. His first was from a near impossible angle off a rush with Kempe as he clearly outskated the San Jose player defending him in neutral. On the second mark, Brett Sutter fought off a pestering defender behind the net and set up Brodzinski for a slap shot that went through easy.
–Sam Herr – A Gordie Howe hat trick! Herr recorded a feat you don't see often in this day and age of hockey — a goal, a fight and an assist, in that order. Herr used a heads-up play to get the game's first goal, taking a shot from Alex Lintuniemi that went off the end boards and quickly stuffing it by San Jose goalie Mantis Armalis, who couldn't get back in position in time. His first period fight with former Kings property Jacob Middleton was one of the longer gloves off go-rounds we've seen in a Reign game this season. "What a dustup. That's classic. Good for him," Stothers said. He picked up the secondary assist on LoVerde's goal to finish off the deed.
–Reign special teams – Ranked second in the AHL the Reign's power play nearly went 4-for-7, considering the fact that Herr's goal came just one second after their first man advantage expired. That was followed by LaDue's goal, as he patiently waited at the top of the right circle and delivered a laser wrister that went blocker high on Armalis. Brodzinski then scored off the rush in the second period and Amadio found himself all alone in the slot on the final goal, made one deke and finished from in close. On the PK side, Ontario went 5-for-5 including a kill of a 5-on-3 for 1:42 in the third period that got a rousing response from the home fans.
Turning point
Late in the middle frame LoVerde went down on what Brodzinski called after the game a "dangerous play." LoVerde was chasing a San Jose dump-in and with Colin Blackwell on his back it appeared the Reign All-Star was pushed a bit by Blackwell resulting in him going down and awkwardly and hard into the end boards. It took LoVerde some time to get back on his feet and he had to be assisted by trainers to spend the rest of the period in the dressing room. Much to the surprise of Stothers, there was no penalty called on the play: "Well, we were just happy Vinny was able to come back. I'm not sure how that gets missed. … Vinny goes into the boards very awkwardly and right away you're concerned for his health and well being. At that point the game doesn't even matter, it's the health of your player, he's our captain. So the fact that Vinny can come back and play it just goes to show ya how valuable he is to our team. Vin's not missing a shift." LoVerde was on the ice for the opening faceoff of the third and with him back the team responded with the four goals. Even scoring one on his own, LoVerde came down the right side, noticed a San Jose player without a stick, deked around and charged the net. His initial shot didn't get to the net but instead to Daniel Ciampini, who sent the puck right back to LoVerde to score.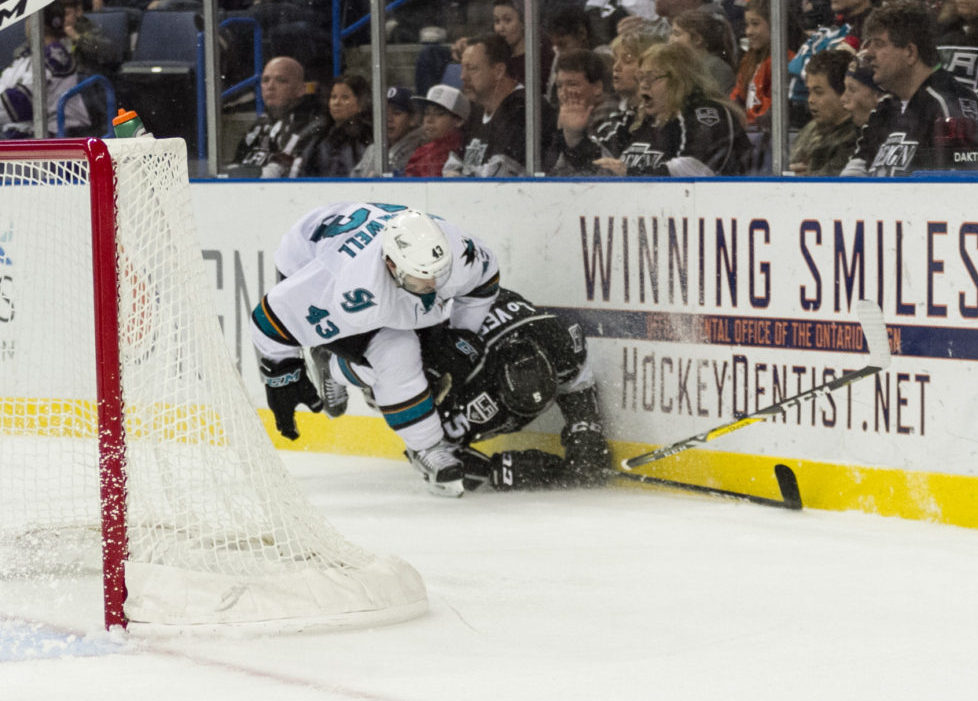 Stat fact
–500, 501 – Veteran T.J. Hensick became the 90th player in AHL history to record 500 points when he picked up the secondary assist on LaDue's first period power play goal and hit 501 later in the game when he set up Purcell for Ontario's fourth goal.
Congratulations to @TJHensick on career @TheAHL points 500 and 501 tonight. 90th player in league history to reach 500 club pic.twitter.com/Bsc4CGZ5sE

— Ontario Reign (@ontarioreign) January 22, 2017
Lineups and injuries
Just hours before the game, the Kings acquired defenseman Cam Schilling from the Blackhawks for forward Michael Latta. … More was learned on Saturday about the injury sustained by Michael Mersch and the recovery time top left winger is facing.
This and that off-ice
Brodzinski and his brother Michael, who was a healthy scratch for San Jose, flew their mom Kathy out from Minnesota as a surprise. When asked how it felt to score two goals with her in the building, Brodzinski said, "She got to come down and see both of us so that's all that really matters."
Next up
The Reign host the San Diego Gulls at 3 p.m. on Sunday, a team Pacific Division opponent they're 3-1-0-0 against this season.