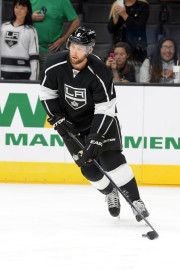 Jake Muzzin was outstanding in pushing play towards the attacking zone in 2013-14, finishing with a league-best 61.3% Corsi-for rating during the regular season. His progression continued into the postseason, when he was on the ice for only one goal against during the entire Kings-Sharks series en route to posting six goals, 12 points and a plus-six rating in 26 playoffs games.
After a short summer gave way to training camp, Muzzin reported back to the Kings – and in excellent shape, as one reporter had gathered. Was there any extra bench pressing over the offseason?
"I haven't bench pressed since high school," Muzzin answered. "I don't know the [training] results. No one came and talked to me, so I figured I was OK."
One of the interesting developments to watch on this preseason road trip – and into the start of the regular season – will be the ease with which he's able to reconnect with primary defensive partner Drew Doughty. Doughty, who hasn't played in any exhibition games after suffering an upper-body injury during off-season training, is expected to re-enter the lineup at some point during the road trip, perhaps as early as tonight's game in San Jose.
"Yeah, we'll look to get that chemistry going right where we left off," Muzzin said.
"It may take a game or two, but we'll see. Drew's kind of a guy who you throw him in whenever and he'll be fine, and I just kind of read off him."
Like Robyn Regehr and Jarret Stoll articulated yesterday, Muzzin described his preseason efforts, and how he'll prepare himself as best he can for the October 8 opener against the Sharks.
"Just getting into the games and getting into that game mode and mindset," he said. "You're going to have to hit someone, and you're going to get hit, and making quick plays, and making plays that are under stress and stuff like that, because out in practice, it's a little bit easy going and stuff like that. It's good to get your feet going, get your mind into the game and kind of get that mentality back."
Muzzin was also asked about his participation in the ALS Ice Bucket Challenge over the summer. The defenseman had been nominated by Marian Gaborik – who had an entire Zamboni's worth of ice dumped on him – in a video that made its rounds via social media.
"Well, you know my Twitter game is not very active," Muzzin said. "I did donate."
NOTES: Sunset Sip raised over $100,000 for The Guidance Center, a Long Beach-based community center for comprehensive mental health services aimed at families and younger children. … Missed during the preparation for Sunday's exhibition game in Anaheim was a post detailing an earlier round of roster cuts. Nick Ebert, Patrik Bartosak, Kevin Raine and Derek Forbort had been assigned to Manchester. It was announced on the LA Kings Insider Twitter page, but not actually LA Kings Insider. … The Kings moved up to fifth place amongst all franchises in the four major sports in ESPN the Magazine's annual franchise rankings. The Kings ranked in second place in fan relations, player effort/likeability and championships / championship expectations. Their lowest ranking came in affordability, as they finished 58th of the 122 teams listed. The San Antonio Spurs finished in first place, while the Toronto Maple Leafs ranked last at 122.