Chronologically, the Kings are midway through their preseason schedule. After three days of action last week (though one game day included a pair of split-squad games that each counted in the standings), they'll play three more games this week in an effort to best prepare themselves for the start of the season when the San Jose Sharks visit Staples Center on October 8.
But only 28 players remain – 27, if Andrew Bodnarchuk and his injured knee aren't counted. Gone are the surefire farmhands and those on (and vying for) American Hockey League contracts. With the exception of Jordan Weal and J.F. Berube, every player remaining has a legitimate expectation to open the season with a roster spot.
Darryl Sutter is looking "probably for the guys to elevate their games a little bit," as he told reporters at Toyota Sports Center earlier today.
"Probably some of us are ready. There are always guys who need more games, basically, game action."
And so with the roster pared down, the focus now lies on players doing what they need to do – emotionally, tactically, or in other areas – in order to feel as comfortable as they can after the team's second Stanley Cup banner drops on October 8.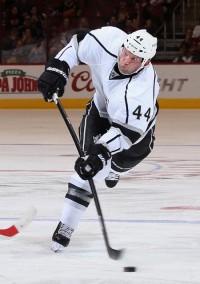 "Well, I think the focus is first of all on what you need to do as an individual to feel as good as possible, to get your game in order and be right there at the start of the season, the top of your game, so there's no easing into it," Robyn Regehr said. "So I think that's the individual focus, and then also team-wise, whether it's special teams, we'll always want to work on our power play, and penalty killing, make sure that they're top five in the league, and then within that, our schemes defensively, neutral zone, offensively. So we can break it down a little bit as a team, too, but you're always looking to hone things."
The special teams units aren't operating at mid-season form yet, though Los Angeles did kill all six Anaheim power plays in a 4-2 win at the Honda Center on Sunday evening. All but two players received shorthanded time in a game in which the Ducks' power play was held off the scoreboard despite spending two minutes and 13 seconds with five-on-three advantages.
"It was a pretty good job last night because we were facing a fairly potent power play with some very good personnel on there, and also I believe we faced two five-on-three advantages for them," Regehr said. "So those are any time you can kill those off, that's huge for the team and to build momentum, especially when we have the lead, too, you want to keep the lead, and that's a good way of doing it. I think there's still work to be done. I think it was a positive, but for us, we don't want to put ourselves in those positions, first of all, that often – especially not twice in a game. But if we do, we're getting the practice right now. It's exhibition, and we're getting the practice of killing it off, so it's good that way."
Jarret Stoll, who hasn't yet played a preseason game as he recovers from hip surgery but will once again factor into the team's penalty kill, was well aware of his teammates' efforts in the win at Anaheim. For Stoll, it's business as usual for a team that hasn't finished lower than 11th in the league in penalty killing percentage over the last four seasons.
"It's very similar to what we've been doing here the last three or four years," Stoll said. "Johnny Stevens does a great job of setting up the PK, and everybody can penalty kill, to be honest. Everyone's a smart player in this group, and like you saw last night – even last year – there's a lot of different guys on the penalty kill, even in the Stanley Cup Final. Everybody can do it. Whoever's playing well will be playing the minutes. It's a good thing to have. It's a very good thing to have if you're a coach, I'm sure."
The Kings also blocked 13 shots on Sunday. Are players ambivalent towards blocking shots in the preseason, when the games don't count but the bruises are clearly real?
"I think maybe the shots hurt a little bit more in the preseason because you might not have as much adrenaline going out there for the games," Regehr said. "But it's about really trying to get in those good habits again, because a lot of us are skating a little bit in the summertime, and you pick up bad habits, and you're turning instead of stopping, and you're just doing things like that. It's just little stuff that really you need to get back into and do as quickly as possible, and for us, we need to continue to work on that. And we've got the coaches here that will help. They always are looking for guys and trying to show them things that they can improve on, but I think we've got a fairly decent base. Now it's a matter of making sure all the little things are right bang on, because that's the very important thing out there, especially in a penalty kill. When you're at a disadvantage, you really need to just be able to read off one another and react, and not hesitate at all, and that way everything is done very quickly and precisely, and you can get a good penalty kill done."
Jarret Stoll, on the importance of the final three preseason games:
I think the battle, the system play. D-zone coverage is D-zone coverage. It's work, it's battle. Neutral zone is a lot of reads…so I think making sure that's there, where it needs to be. And then our forecheck, too. Neutral zone and forecheck are things that require a lot of read-and-react type of stuff, so those things are important because it's happening at a higher speed now, and it'll be even quicker and faster come the eighth.
Stoll, on whether he'll play Tuesday:
I'm not sure tomorrow. I don't know. We'll see. We'll talk about it, but I've been feeling pretty good the last three or four days, so getting close.
Stoll, on whether two preseason games would be enough to get him ready:
Yeah, but it's not 'what's enough, what's not enough.' It's how I'm feeling, and how the hip's feeling. I don't want to miss the season opener at all, but I've got to make sure it's feeling the right way, and I want to play as many games as possible and hopefully as many playoff games as possible.
Stoll, on whether players are hesitant to block shots in the preseason:
I don't think you're thinking that it's preseason or not. You're playing the game like you've got to get ready. If you block a shot, you block a shot, and hopefully nothing bad comes of that. That's almost another thing of getting ready to go. You've got to be in those shot lanes. You practice how you play, you play preseasons to get ready for the regular season, and those are all part of it.