-"This home stand's huge for us," Dustin Brown said after the Phoenix game. "You look at the standings, the Pacific Division, these next four games could be the biggest four games of the year." Los Angeles will get another crack at reversing its January slump on Saturday against the Philadelphia Flyers after falling behind early against the Pittburgh Penguins on Thursday. After a missed assignment on the second shift of the game and a two-minute five-on-three awarded to the league's best power play, the Kings trailed the Eastern Conference-leading Penguins 3-1 after nine shots on goal had been recorded between the two teams. A heavy Pittsburgh forecheck disrupted Los Angeles' attempts to carry the puck out of their zone and generate speed through the neutral zone, resulting in many pucks being dumped into the offensive zone and a lack of sustained offensive flow during five on five play. While former Kings farmhand Jeff Zatkoff wasn't faced with having to make a collection of acrobatic saves, he made a key pad save on Mike Richards during a Los Angeles power play late in the first period with Pittsburgh leading 3-1. A two-goal lead early in a game is a volatile lead that has influence on the game's direction. If the trailing team scores, they're down only one goal with plenty of hockey to play. Instead, Zatkoff made a key save at an important moment, allowing Tanner Glass to provide an important second period insurance goal on a backhand shot from the right faceoff dot against Martin Jones, who appeared to have been off his angle.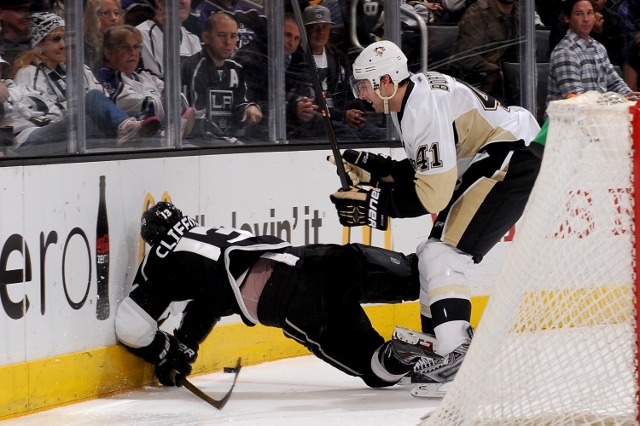 -It's not only the lack of primary and secondary offensive punch that is troubling the Kings right now, as there have also been hiccups in what until this point had been the most consistent defense in the league. Los Angeles still leads the league in goals against, though it's a number that has been falling back towards the pack after it had dropped to 1.96 goals against per game following the win in St. Louis on January 16. Though the team has allowed 2.86 goals per game over the last seven games, the bigger concern is with the larger picture as Matt Greene and Willie Mitchell's contracts expire after this season. The Kings will be faced with negotiating with a pair of players unlikely to be interested in a one-year contract and have crossed the threshold into becoming 30-year-old NHL defensemen. For Mitchell, who will turn 37 in April, that threshold was crossed well before he joined the Kings; Greene will turn 31 in May. There is a world-class core to build around in righthanded shooters in Drew Doughty and Slava Voynov despite the latter's inconsistencies this season, though the Kings will also need to be on the hunt for a lefthanded shooting defensemen in his prime years given that the stay-at-home portion of the blue line is aging. This will be a challenge, given that the team is also looking to add a left wing and reinforce its secondary scoring.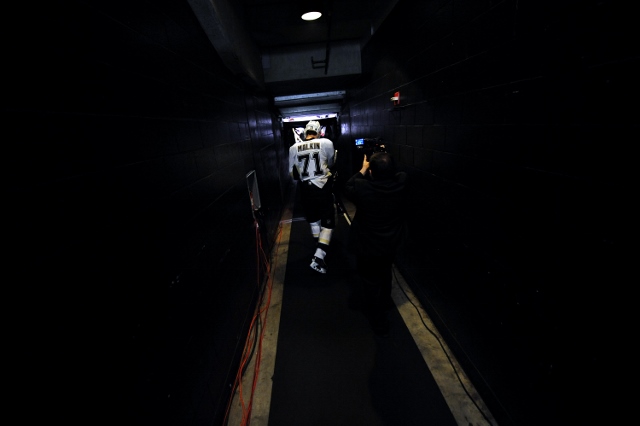 -Tyler Toffoli received a handful of late game shifts with Jeff Carter and Anze Kopitar, with Carter taking the majority of the faceoffs – even on his righthanded, strong side – while the three were grouped together. It's interesting to see Toffoli receive that type of opportunity, though more important than playing alongside Kopitar and Carter is that he is moved up from fourth line duty, where he won't be in a position to comprehensively maximize his skill set. I like the idea of Toffoli skating on a third line with Jarret Stoll in an effort to spark the secondary scoring, though who plays on the left side? Matt Frattin has been scratched recently and hasn't been productive despite his forechecking and north-south game (he's also more comfortable on the right side), and Trevor Lewis is more of a versatile shutdown type than someone who would help to catalyze Toffoli, one of the team's offensive wild cards. Kyle Clifford, maybe? Or is the third line left wing position a spot where the team would most benefit by adding a depth scoring option through a trade?