The American Hockey League continues towards the final month of the schedule, major junior hockey playoffs are underway and the NCAA tournament field has been announced. LA Kings Insider will continue to update statistics and achievements of players among the club's recent draft classes and will take a look this week at the players selected at the 2011 NHL Entry Draft in St. Paul, Minnesota.
Previously – Prospect Update: 2012 NHL Draft
SECOND ROUND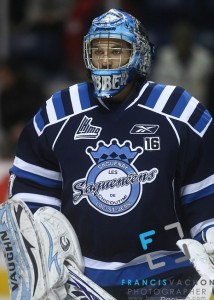 No. 49 — Christopher Gibson, G, Chicoutimi (QMJHL)
2012-13 stats, Chicoutimi Saguenéens: 41 GP, 2278 MP, 17-18-4, 3.08 GAA, .902 Sv%, 4 SHO
-The QMJHL playoffs have a March Madness feel to them. Instead of divisional or conference-based seedings, sixteen of the eighteen teams qualify, and the top seed plays the 16-seed, the second seed plays the 15-seed, and so on. Like many 12-seeds in the NCAA tournament, Les Saguenéens de Chicoutimi have upset on their mind and will bring a best-of-seven series tied at one game apiece against the fifth-seeded Quebec Remparts back to Saguenay for home games on Tuesday and Wednesday. It was an up-and-down season for the Finnish-born Gibson, who was an overager for the Saguenéens in 2012-13. He posted a 41-save shutout over Blainville-Boisbrand on January 6 as part of a performance that earned him a nod as the Vaughan CHL Goaltender of the Week. He posted three other shutouts this season, including a 25-save performance over Shawinigan on March 1 that ended a nine-game stretch in which he went 0-6-3 and stopped 273 of 312 shots (.875 Sv%). Gibson was a Black Ace during last year's playoff run and spoke last off-season of the adjustments he has made under the tutelage of Goaltending Coach Bill Ranford and Goaltender Development Kim Dillabaugh. "I changed my glove position now from lower to higher, because in the pros you can't give any space for those players. Lateral movement is a big issue right now, so that's a thing that even the pros work on, and of course I have to work on. The lateral movement and being ready for every single shot, that's the biggest [adjustment]." Gibson is yet to sign a contract with Los Angeles and is behind Martin Jones and J.F. Berube on the team's depth chart. With his junior eligibility expiring after the season, he could be a candidate to open next season in ECHL-Ontario if a contract is eventually signed.
THIRD ROUND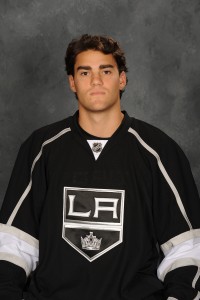 No. 80 – Andy Andreoff, C, Manchester (AHL)
2012-13 stats, Manchester Monarchs: 58 GP, 10 G, 11 A, 21 Pts, +3, 87 PIM
-Any evaluation of Andy Andreoff goes well beyond the statistics and into the intangible: his work ethic, his compete level and his character on and off the ice. There's plenty of sandpaper in Andreoff's game, and the 21-year-old will be a candidate for a fourth line and penalty killing role for Los Angeles perhaps as early as next season. The 6'1, 217 pound center has enjoyed a strong March, posting four goals and eight points in his last 11 games to keep Manchester afloat in the Eastern Conference playoff race despite injuries and Tyler Toffoli's call-up. He signed a three-year entry level contract with the Kings in October, 2011 and would return to the Monarchs next season if unable earn a spot on L.A.'s lineup.
No. 82 – Nick Shore, C, University of Denver (WCHA)
2012-13 stats, Denver Pioneers: 38 GP, 14 G, 19 A, 33 Pts, -4, 30 PIM

-It is a tradition in the Shore family to join the U.S. National Development Program and attend the University of Denver. Older brother Drew has 11 points over 30 games as a Florida Panthers rookie, and younger brother Quentin is finishing up his 18-year-old freshman season at DU. In his 20-year-old junior season, Shore led Denver in scoring and will travel to Manchester with the Pioneers to face New Hampshire in the first round of the NCAA tournament. In his freshman season two years ago, Shore saw time on a line with current former Los Angeles Jr. King Beau Bennett, who has eight points (2-6=8) in his first 17 NHL games with the Pittsburgh Penguins. Considering Drew Shore signed an NHL contract and joined the professional ranks after three seasons, Nick could be a candidate to do the same and potentially join Manchester for the final month of the AHL season. If he chooses not to sign a pro contract, he'll return to DU for his senior season.
FOURTH ROUND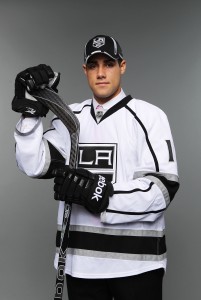 No. 110 – Michael Mersch, LW, University of Wisconsin (WCHA)
2012-13 stats, Wisconsin Badgers: 41 GP, 23 G, 13 A, 36 Pts, +19, 22 PIM
-The Badgers recovered from a difficult start in the absence of Anaheim second rounder Nic Kerdiles, who was suspended for the opening 10 games of the season due to NCAA amateurism concerns. The Badgers were 1-7-2 (W-L-T) in his absence before rebounding with a 21-5-5 resurrection that included a clean sweep through the WCHA Final Five to capture the program's first Broadmoor Trophy since 1998. Mersch led the Badgers in goals with 23 and scored six power play goals – three times as many as any other player on the roster. Mersch has increased his goal totals in each of the last two years and scored a beauty below, which was forwarded to LAKI along with an update by Kings News Daily. Wisconsin will face University Massachusetts-Lowell in the first round of the NCAA tournament.
FIFTH ROUND

No. 140 – Joel Lowry, LW, Cornell University (ECAC)
2012-13 stats, Cornell Big Red: 33 GP, 12 G, 11 A, 23 Pts, +6, 45 PIM
-Lowry, the son of former Calgary Flames assistant coach and 19-year NHL veteran Dave Lowry, recently completed his 21-year-old sophomore season with Cornell, a team that came within 64 seconds of upsetting top-seeded Quinnipiac before falling in double overtime in the decisive ECAC quarterfinal game in the 32nd longest game in NCAA history. Though he doubled his goal output, he finished with only one more point than his freshman season for a Big Red team that was challenged to score consistently and lost nine of its first 10 games in the 2013 calendar year. Joel's younger brother, Adam, is a Winnipeg Jets prospect who recorded 88 points and served as captain of the Swift Current Broncos in 2012-13.
SEVENTH ROUND
No. 200 – Michael Schumacher, LW, Sault Ste. Marie (OHL)
2012-13 stats, Soo Greyhounds: 65 GP, 20 G, 30 A, 50 Pts, -9, 50 PIM
-Schumacher has been an interesting case in development for a player selected 200th overall in the draft. Still a work in progress, the 6-foot-5, 210 pound Swede appeared well filled out at his first Kings training camp in 2011 and has been a promising forward option who does most of his damage from close range, where he's a difficult object to move away from the net. Though Sault Ste. Marie trails the Owen Sound Attack two games to none in the opening round of the OHL Playoffs, Schumacher scored in both games and leads the Greyhounds with three points through a small postseason sample size. His brother, Christofer, is a Mora IK forward who skated with Anze Kopitar during the NHL lockout.