As many junior and collegiate leagues are nearing the end of the regular season, LA Kings Insider will take a look at the performances of recent draft picks. This week, the players selected at the 2012 NHL Draft in Pittsburgh will be accounted for.
FIRST ROUND
No. 30 — Tanner Pearson, LW, Manchester (AHL)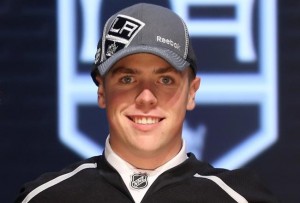 2012-13 stats, Manchester Monarchs: 52 GP, 13 G, 22 A, 35 Pts, +13, 10 PIM
-It's not always a smooth transition from junior hockey to the professional ranks as a 20 year old, but Tanner Pearson had found a niche on Manchester's top line before succumbing to an upper body injury on February 23 that is likely to keep the left wing out through early March. Skating with Linden Vey and Tyler Toffoli, the balanced Pearson has grown into the American Hockey League and had accounted for 10 goals and 31 points over the 39 games prior to his injury.
FOURTH ROUND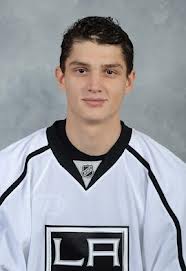 No. 121 — Nikolai Prokhorkin, LW, CSKA Moscow (KHL)
2012-13 stats, Manchester Monarchs: 8 GP, 0 G, 1 A, 1 Pts, +2, 6 PIM
2012-13 stats, CSKA Moscow: 14 GP, 2 G, 1 A, 3 Pts, +1, 10 PIM
2012-13 stats, THK Tver (VHL): 5 GP, 2 G, 2 A, 4 Pts, +1, 4 PIM
-Prokhorkin debuted as a 19-year old in the AHL before returning to Russia and splitting time between CSKA Moscow and its VHL affiliate, THK Tver. The left wing made CSKA's postseason roster and provided a valuable insurance goal in a 3-1 road win over seventh-seeded HC Lev Praha that gave second-seeded CSKA a three-games-to-none series lead. CSKA won the series in four games and will meet defending Gagarin Cup champion Dinamo Moscow in the second round. The goal was Prokhorkin's lone point thus far in the KHL playoffs, though he has played in all four playoff games.
FIFTH ROUND
No. 151 — Colin Miller, D, Sault Ste. Marie (OHL)
2012-13 stats, Soo Greyhounds: 49 GP, 18 G, 31 A, 49 Pts, +16, 70 PIM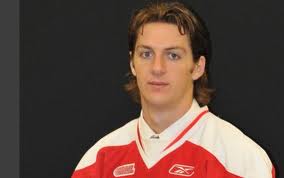 -A 20-year-old with a late birthday, Miller has blossomed as the overage team captain of the Soo Greyhounds, developing into a point-a-game player while leading Sault Ste. Marie to its first playoff berth in three years. Miller missed four weeks of the season in September and October while recovering from an inflamed and infected bursa sac in his left Achilles tendon. The strong skater has been playing some of his best hockey of the season as of late, accounting for four goals, 11 points and a plus-8 rating in his last nine games played.
SIXTH ROUND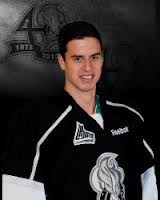 No. 171 — Tomas Hyka, RW, Gatineau (QMJHL)
2012-13 stats, Gatineau Olympiques: 47 GP, 19 G, 31 A, 50 Pts, +9, 24 PIM
-The Gatineau Olympiques have lost seven in a row in advance of Wednesday's game against Victoriaville and are soon expecting to regain the services of Hyka, who has been held out of action since February 19 due to injury. Hyka had been putting up some gaudy numbers prior to his injury, potting five goals and nine assists for 14 points along with a plus-6 rating over his last nine games before leaving the lineup. Hyka tied for second in team scoring on the Czech Republic team that finished in fifth place at the World Junior Championships. It was the second consecutive year Hyka represented the Czech Republic at World Juniors.
No. 181 — Paul LaDue, D, Lincoln (USHL)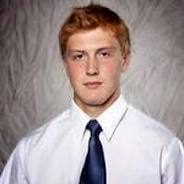 2012-13 stats, Lincoln Stars: 49 GP, 10 G, 27 A, 37 Pts, +16, 16 PIM
-A University of North Dakota commit for fall, 2013, the 6-foot-1 LaDue has broken out offensively for the Lincoln Stars this season and currently leads the USHL in defensive scoring. Last month the Grand Forks, N.D. native became the highest scoring defenseman in the history of the Lincoln program and took part in the first outdoor game in USHL history as the Stars fell 4-2 to the rival Omaha Lancers at T.D. Ameritrade Park in downtown Omaha.
SEVENTH ROUND
No. 211 — Nick Ebert, D, Windsor (OHL)

2012-13 stats, Windsor Spitfires: 63 GP, 10 G, 27 A, 37 Pts, -38, 54 PIM
-The multifaceted defenseman who won the hardest shot competition at last year's CHL Top Prospects Game is yet to replicate his 41-point 16-year-old OHL season, though his minus-38 rating is likely more of a reflection of playing a lot of minutes on an a sputtering Windsor Spitfires team. There's still the potential that the New Jersey native could play in the 2014 Memorial Cup, as Windsor was one of three finalists – along with Barrie and London, Ont. – though the rebuilding Spitfires may not yet be at the competitive level appropriate to host the tournament.