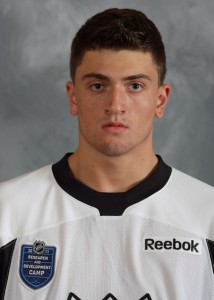 Los Angeles Kings prospect and New Jersey native Nick Ebert is getting his first taste of professional hockey with the Ontario Reign after his ECHL call-up earlier this week. The 18-year-old, selected with the last overall pick (seventh round / 211th overall) in the 2012 NHL Entry Draft, recently concluded his third season with the Windsor Spitfires, who failed to make the Ontario Hockey League playoffs for the first time since 2007.
Junior hockey is highly cyclical and even Windsor, a team that emerged as an OHL powerhouse with a pair of league championships and Memorial Cups in 2009 and 2010 and produced players such as Taylor Hall, Adam Henrique and Cam Fowler, was forced to rebuild with a younger roster in 2012-13. After averaging 40 points and finishing as a minus-2 in each of his first two junior seasons, Ebert logged heavy minutes as part of a very young Spitfires blue line and finished with 11 goals, 38 points and a minus-39 rating as he regularly drew difficult assignments.
The youngest Ontario skater by four years, Ebert made his debut in a 3-0 road loss to Idaho last night, taking two shots and finishing with a minus-one rating. As the Manchester Monarchs have summoned a pair of defensemen from Ontario in Vincent LoVerde and Chris Huxley, Ebert should be given minutes to further his development in Los Angeles' system as the Reign will look to build on a Pacific Division title with a long playoff run. After the season concludes, he'll return to the Spitfires as a 19-year-old OHL veteran in September.
Former King Warren Rychel is Windsor's general manager, and while discussing the 1992-93 Kings as part of our First Taste series, I asked him about Ebert's OHL development.
Warren Rychel on Nick Ebert:
"I think Mike Futa did a great job of picking Nick in the seventh round. He was highly touted, and in his last year he struggled a bit, but he's spent three years in Windsor for us. He's a two-way defenseman for all those fans who are wondering what kind of player he is. Two way defenseman, strong on his feet, originally from New Jersey. [Windsor head coach] Bob Boughner's working with him very diligently, and he's got a chance to be a good pro. [He's got] one more year of eligibility remaining, and we look to try to win a championship next year. Nick will be a big part of it. I think he'll be a good pro with some learning and some seasoning, probably in Manchester, but a real good kid and I think he's got a chance to be a pro."