Friday Evening Schedule Drop!
Yesterday, we learned that the Kings would face the Edmonton Oilers in Round 1 of the 2023 Stanley Cup Playoffs. We also discovered that the series would begin on Monday, April 17 in Edmonton, with Game 2 to follow on Wednesday, April 19, also at Rogers Place in Alberta.
Following the conclusion of the Colorado / Nashville game, which decided the matchups in the Central Division, we now have the remainder of the Round 1 schedule. The NHL, in conjunction with its playoff-bound clubs, released the entire, first-round schedule for all eight matchups around the league. The third-seeded Kings will take on the second-seeded Oilers in a best-of-seven series in the first round of the postseason.
The schedule for Round 1 is listed below –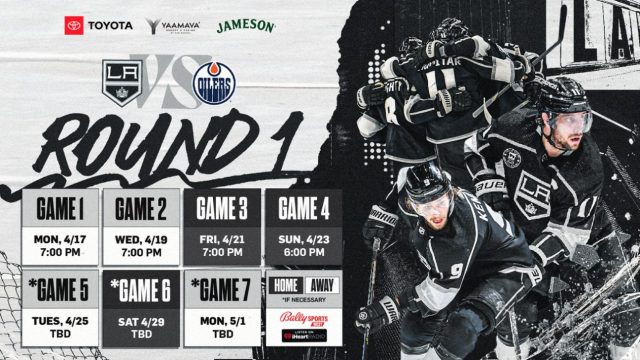 Game 1 – Monday, April 17 – Rogers Place, Edmonton
Game 2 – Wednesday, April 19 – Rogers Place, Edmonton
Game 3 – Friday, April 21 – Crypto.com Arena, Los Angeles
Game 4 – Sunday, April 23 – Crypto.com Arena, Los Angeles
Game 5* – Tuesday, April 25 – Rogers Place, Edmonton
Game 6* – Saturday, April 29 – Crypto.com Arena, Los Angeles
Game 7* – Monday, May 1 – Rogers Place, Edmonton
*If Necessary
A casual three days in between games, you say? That's the impact of the Kings, Lakers and Clippers all reaching the postseason and all being the lower seed in their series. The NBA playoff schedules were already announced, with basketball Game 6's coming on Thursday, April 27 and Friday, April 28. That left the Kings looking at either a back-to-back with travel for Games 5 and 6, which would obviously not happen, or a longer than usual gap in between games. The latter is what we'll have.
As was the case when these two teams met last season, we'll see different local start times for the games in each city. Games 1, 2 and 3 will be 7 PM Pacific start times, while Game 4 will start at 6 PM Pacific. Games 1 and 2 will be 8 PM starts locally in Edmonton, with the games being played in the Mountain Time Zone, while Game 3 will be at 7 PM in Los Angeles and Game 4 will begin at 6 PM. Start times for the currently *if necessary* Games 5, 6 and 7 are TBD at this time and will be announced at a later date, as is typically the case as it pertains to the if necessary games on the schedule.
Additionally, we've received some broadcast details for the first round, both on a local and national scale.
Locally, Games 1, 4 and 7 will be broadcast on Bally Sports West. Games 2 and 3 will be shown on Bally Sports So-Cal, while Game 5 will be broadcast on KCOP-TV/13. A broadcast schedule for a potential Game 6 is to be determined. On a national level, Games 1 and 2 will both be shown on ESPN. Game 3 will be broadcast on TNT, while Game 4 will be on TBS. National broadcast details for Games 5, 6 and 7 are to be determined, as all three games are still *if necessary*. In Canada, Games 1 – 4 will all be shown on Sportsnet, CBC and TVAS. The entire series, and the full postseason run, will also be broadcast on the LA Kings iHeart Audio Network.
Playoff Practice in the morning, Insiders, with the Kings scheduled to practice both tomorrow and Sunday before departing for Edmonton later in the day on Sunday. Full coverage from the weekend here on LAKI, including a look at Adrian Kempe's 40-goal season coming up tomorrow morning before the team takes the ice!