Happy practice day, Insiders!
The final practice of the regular season is upon us, before we get into playoff action starting on Friday. Three periods of hockey separate the LA Kings from the postseason and those three periods will come tomorrow evening against the Anaheim Ducks.
Today's practice was a bit longer than you might expect at this time of the season but coming off an off day yesterday, it's also not particularly surprising to get the group moving. Pace and tempo were themes of the day, which was expected coming off of a full-team day off yesterday.
"We had a tempo practice, but at this time of the year, we're doing drills that we know and that we are using just to sharpen the guys up, so we can go from drill to drill pretty quick," Todd McLellan said this morning. "Mistakes, there were some but we could fix them quickly without having to stop the whole thing, so there was pace to practice, which was good to see. We talked prior to the game against Vancouver about having the day off on Easter and feeling refreshed. They looked refreshed today."
This afternoon's alignment is as follows –
Byfield – Kopitar – Kempe
Moore – Danault – Arvidsson – Laferriere
Iafallo – Lizotte – Kaliyev
Grundstrom – Kupari – Anderson-Dolan – MacEwen
Anderson – Doughty
Gavrikov – Roy
Durzi – Walker
Edler (Red)
Copley / Korpisalo
Mikey Anderson checked back into the lineup against Vancouver on Monday and appears to be full systems go after playing nearly 24 minutes versus the Canucks. Not a bad way to make your return. Defenseman Alexander Edler was the next man back for the Kings, as he re-joined the team in a red, non-contact jersey here today. Good signs for #2, both by jersey number and in order of return.
Regarding the two other injured players, it's been reported that Gabriel Vilardi has skated independently of the group. Neither he nor forward Kevin Fiala skated with the full group this afternoon at Toyota Sports Performance Center. We're still looking at a minimum of five days until Game 1 of the postseason and as we know, a lot can change between now and that point.
"I don't know when Game 1 is going to be, so we're hoping that they're both going to be out there, obviously we have our fingers crossed," McLellan said of Vilardi and Fiala. "I don't know when game one is going to start, I don't know if they need extra days or if they're going to be good to go. That's just where we're at."
McLellan added that naturally, the more days available, the better for those players. A good thing to have that additional time to give both players, but we'll need to see how both progress here over the next few days.
Regardless of the status of others, those who are currently in the lineup need to be ready to go. McLellan likes the word "trusting" to describe a player and that goes twice for players who are less experienced and lower in the lineup. More on that below.
What Is A Trusting Player
As players have exited the lineup with injury, the opportunity has presented itself for others to step in
"There have been players that have been very anxious, even a little bit cranky, because they haven't been able to get in the lineup or maybe don't quite get the minutes that they'd like to have," Todd McLellan said a few days back. "Now that they're getting that opportunity, they have to justify that and prove that they can do it."
McLellan added that there are lineup regulars who need to contribute as well. He's not putting more of the burden on the group of guys who are either elevating in the lineup or elevating into the lineup, because he understands that the production hasn't been there throughout the lineup. However, when players are out, the spotlight naturally shines on those who are filling in.
McLellan uses the word "trusting" a lot to describe things he likes in players. His definition of trusting, in full below.
"You do something well and are you doing that on a nightly basis," McLellan said. "If it's not going real well on a nightly basis for what you bring, what your go-to trait is, how big can you expand your toolbox to be effective in the game? We can talk about turnovers, blocked shots and all that type of stuff, but that's part of that and that is a trusting player. If you have a single tool that you really rely on and you bring it every night, usually you're doing a pretty good job. If it goes away and you don't have a secondary game, you're probably not very trusting."
Several young players now are in the position that others who are now more established were once in. Adrian Kempe was once a player in the bottom six, struggling to find consistency on a night-to-night basis. So was Trevor Moore. Gabe Vilardi was in that position entering this season and even into this season, before he established his place. The examples are in place, because those who came before have shown the way forward.
Kempe in particular is perhaps the best example for some of the homegrown, younger players coming up. Kempe was a first-round pick. Kempe once struggled to find his position in the lineup, at center versus wing. Kempe also struggled to find that night-to-night consistency of showcasing his best. He's got it now, though, with back-to-back seasons of 35+ goals. He's got an established place in the lineup and has the ability to impact games, with or without a goal.
He spoke about the importance of finding that consistency for a younger player currently in the shoes he once filled.
"I feel like it's consistency and that's one of the hardest things, that took a long time for me too," Kempe said. "Just coming in every day, doing the same things, doing the simple things on the ice. I know it's hard because I do those same mistakes from time to time, but I feel like I minimize those small mistakes now. Managing the game I feel like is a huge thing, especially the way we play, and I know the way Todd wants to play. If you manage the puck well and do those things over and over again, you gain trust and I feel like that's something I figured out eventually. That's something that I think I got better at and gained more trust with."
McLellan wasn't here from the very start of Kempe's career, but his first season here was still two years before his eventual breakout in 2021-22. Kempe was once a healthy scratch in McLellan's first season and wasn't an established top-six player until a season ago.
Now he is those things. Now he's consistent and now he's established. McLellan spoke about that growth he's seen in Kempe over his time with the organization.
"That's called maturing and growing up in the league," McLellan said. "I can't speak for Kempe in the formative years when he was here, but I know in our four and a half years, whatever it's been, his evolution and development, I think he started in year one thinking well I'm going to score. Year one was a little rough at points, but as he began to understand what his go to trait was, which I think are his legs and his shot, and then he expanded his game now. Now he's physical, he's a checker, he's able to penalty kill. When he doesn't have his shot on a given night, he can be very effective, he's one of our most physical forwards and he's leading us in goals. He's a good marketing tool for us with other players."
Morning skate tomorrow, with thoughuts on the lineup against the Ducks to follow in the AM. The Kings only have so many options, so not expecting full-scale resting done at this time. We'll see how things look come morning skate.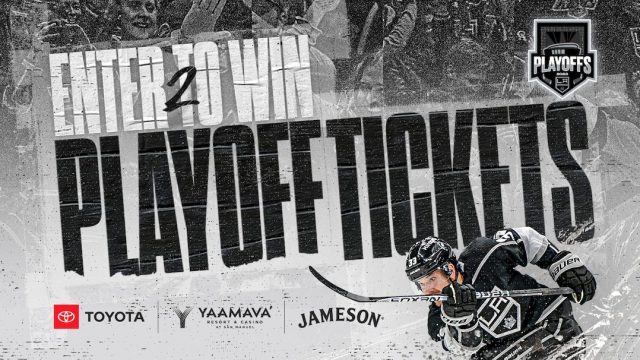 Kings fans – Win 2 tickets to game one of the playoffs at home. Enter the playoffs sweepstakes at lakings.com/playoffs. Don't miss this chance to be a part of Kings history!
Proudly presented by Destination Vancouver. Pacific-ER. North-ER. West-ER. Go Norther.