It was announced yesterday, Sunday morning, that Kings prospect Alex Laferriere signed a three-year, entry-level contract through the 2024-25 season. Worth an annual average of $875,000, Laferriere signs his ELC after he played four games with the Ontario Reign on an ATO, following the conclusion of his junior season at Harvard University. In just those four games with the Reign, the 21-year-old New Jersey native began on the fourth line but quickly moved to a first-line role alongside TJ Tynan and Lias Andersson.
As mentioned, Laferriere spent the 2022-23 season playing for the Harvard Crimson and accumulated 42 points (21-21-42) in 34 games, leading the team in goals (21), game-winning goals (5), power-play goals (7), and shots on goal (150), while ranking second in points and third in assists. His play throughout the regular season earned him Second Team All-ECAC honors. Laferriere's offense didn't stop there as the 6-1 winger added six points (5-1-6) in four ECAC tournament games and was named to the 2023 ECAC Hockey Men's All-Tournament Team.
In total, Laferriere recorded 73 points (35-38-73) across 69 career collegiate games with Harvard, also earning ECAC Rookie of the Year honors during his freshman season enroute to winning the ECAC Tournament.
Now past his collegiate career, Laferriere – the 83rd overall pick in the 2020 NHL Draft – is under contract with the Kings. Laferriere made his professional hockey debut with the Reign on March 31st against the Coachella Valley Firebirds and netted his first career goal and point on April 7th against the Abbotsford Canucks with a breakaway tally.
Just last week, Laferriere joined myself and Jesse Cohen on the All The Kings Men Podcast to talk about this next stage in his life, why he chose to leave Harvard now and much, much more. As Laferriere begins to make his way up the ranks in the Kings organization, here's your chance to get to know the promising prospect who you'll be hearing a lot of in the future.
As a highly-touted prospect going into college, Laferriere chose Harvard because of the lineage of his family. While none of his family have attended Harvard before, familiarity of the area and following the outstanding education was the right fit for him.
"Other than the fact that when you're choosing between schools, it's kind of hard to pass up Harvard, my dad played hockey at Princeton and ended up transferring to Boston College to play there," Laferriere said. "Growing up, Harvard seemed like both of those schools mixed into one. You've got the school of Princeton, but also the location and hockey level of BC with the Beanpot and traditions like that. Growing up, I felt I always wanted to be in Boston for college because I had both parents go to BC and it kind of felt like home."
With education playing a large factor for Laferriere, choosing to leave college after his junior season and pursue a professional hockey career was not an easy decision. With pressure from his mother to stay and complete his degree, Laferriere with the help of his coaching staff and academic resources concluded that now was the right time to move forward and head to the west coast.
"It was definitely a difficult decision," he said. "My mom was kind of hard on me with that, saying I have to get my degree. The good thing is, my coaches and school resources have done a great job helping me plan on how to get my degree. I'm currently able to take my classes right now online. I might have to fly back to take a final or two, but they've been super understanding in allowing me to do assignments in different ways since I'm not physically there."
Still, with credits to take before he can earn that coveted Harvard diploma, Laferriere explained why now was the right time to leave college. There were balances on both sides, but his progress on the ice pushed him towards his ultimate dream – playing professionally.
The Kings and Reign gave him the opportunity to do that this spring.
"Growing up, my dream was to play professional hockey," he said. "School aside, my goal is still to play pro hockey. My coaches were great at Harvard in talking through both options, to stay or to go. I just felt for me personally that now was the right time to take that step and push myself to get to that next level."
2 firsts are better than 1! 🙌

The first of many for @alaf_14 and @krygs18 last night. pic.twitter.com/YUGB65PulE

— X – Ontario Reign (@ontarioreign) April 8, 2023
Taking that next step, Laferriere has quickly adjusted to hockey at the next level. Describing the difference between NCAA hockey and the AHL, Laferriere elaborated on the podcast discussing what you usually hear. Bigger, stronger, faster.
"It's faster here in the AHL, the guys are bigger and stronger, so when you're in the corners, it's tougher to separate yourself from the defender," he explained. "I think the biggest thing for me so far is the touch and go. When you cycle the puck and try to get to the net, the defensemen tend to hold onto you a bit a make it tougher on you. The first game, it definitely took a couple of shifts to get used to the pace of the game. After that it was good."
One of the reasons that Laferriere feels he's been able to adapt to pro hockey so quickly is because of the style of play and the ages of college hockey players he constantly faced in the ECAC and in practice.
The ECAC is traditionally an older league to begin with, looking no further than Quinnipiac's national championship squad from just a few days prior. While it's not a league of fully grown men, as he saw in the AHL, it's perhaps more so than other conferences.
"Especially with COVID giving everybody an extra year of eligibility, I feel like that's definitely helped me because the competition was a bit older. Playing in the ECAC, it's a lot more physical [than some other conferences], so it's more of a professional style of hockey. Not just the games too, but our practices were really helpful. Almost half of our Harvard team have now signed pro contracts, so going against those guys day in and day out definitely pushed you to get better every single day. I feel well prepared."
Instead of describing what kind of player someone is, it's more meaningful to let them do the talking.
The player always knows their game better than anyone. Asking Laferriere what kind of player he is, he responded as follows –
"I try to be on the puck all the time. A lot of tenacity on the forecheck. I love to shoot the puck. You can't score without shooting. Shoot the puck, get to the net and high-dancer areas, things like that. I'm a 200-foot player who can score goals."
Laferriere has shown his elite offensive skills for two straight years at the collegiate level. No longer a college player, Laferriere looks to impress the eyes on him here in El Segundo. With just one week remaining in the regular season, Laferriere's goal for the remainder is clear,
"For me right now, it's just to prove myself. No matter what opportunity I get, wherever I am, I just want to prove myself and give the staff something to think about over the offseason."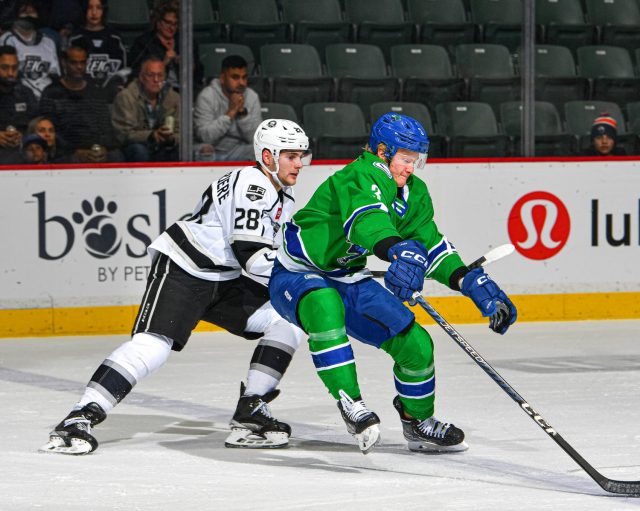 Laferriere is expected to address the media later on today, as the Kings prepare to host Vancouver this evening. Laferriere should be on the ice for his first morning skate with the NHL club in a couple hours time. More to follow!