When the Kings drafted Martin Chromiak in the fifth round of the 2020 NHL Draft, many experts and analysts pointed to that selection as being one of the steals of the draft. When selected, Chromiak was touted to be an offensive force, capable of outperforming his draft position.
847 days later, the consensus scouting report around Chromiak's skillset has lived up to the billing.
During the 2021-22 season, Chromiak played for the Kingston Frontenacs of the OHL. There, he exploded offensively, as he ranked fifth in the league in goals with 44 goals in 60 games and 86 points in total, good for 12th in the OHL. The breakout season had set up Chromiak with momentum and confidence going into the 2022 offseason…..but that is when the adversity and setbacks began.
His goals going into this past offseason were clear. Despite missing the revamped summer 2022 World Junions, in addition to LA Kings development camp, Chromiak was still focused on the transition from amateur hockey to the professional ranks.
"I knew it was going to be a huge jump from juniors to pro level hockey, so, I was just trying to get stronger and bigger in the offseason to be ready to handle the competition," he said. "Unfortunately, I had some issues during the summer, so I was off for a month and didn't get to fully workout as much as I wanted to. Despite the time I had to take off, I felt I was ready for the season to start. The most important thing I focused on was getting more muscle, and getting stronger and faster."
Overcoming the time that he was forced to be off the ice and away from the gym, Chromiak entered training camp in 2022 in good form. Throughout camp and in the preseason, Chromiak's game shined at times. With the offensive skills that the Slovakian forward possesses, it was just a matter of time before he found his groove at the next level, as he began the season with Ontario Reign.
Carrying that confidence of a good preseason, he was initially set to play in the Reign's season opener on October 14th, 2022. That was until he woke up and knew something was wrong.
"It was just really bad luck," Chromiak explained. "On the first day of the regular season, I woke up not feeling well and the team sent me to the hospital. Unfortunately, when I got to the emergency room, they told me I needed surgery on my appendix."
Chromiak's mindset going into the day went from preparing for a game to preparing for surgery. With appendicitis, Chromiak missed not only opening night, but he missed the first 11 games of the 2022-23 AHL season.
"I was out for about a month and lost some weight, so I had to work on getting back my muscle back when I was cleared," he added. "It definitely wasn't easy."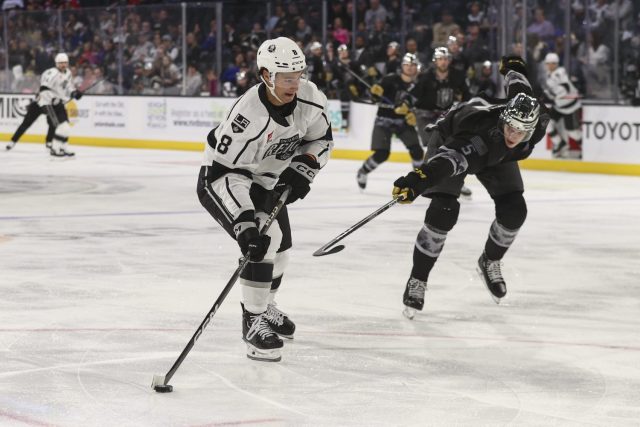 Away from the team most of that month, Chromiak used what he had learned from his mental coach back in Kingston last season to stay positive and focused.
Control what you can control and try to focus on the positives.
"I just knew that what happened to me would pass, it was bad luck, I didn't really think about my situation that much," he said. "I worked with a mental coach last season [when I was with the Kingston Frontenacs], so that helped me a lot. That experience helped me because I knew I needed to try to stay positive and get healthy."
Having gotten through the toughest part of his recovery and rehabilitation unscathed, Chomiak was able to re-take the ice and begin getting back into game shape.
Beginning with skating by himself, Chromiak eventually worked his way into a non-contact jersey and practiced with the Reign. After one week in that setting, Chromiak was cleared for full contact and was back as a full participant with the Reign in early November.
"After I started skating and working out it got better mentally," he said. "I had to work hard to get back to where I was physically before the appendectomy and I'm super thankful to our training staff. I'm back where I want to be."
Chromiak made his season debut 30 days after walking into the ER with a pain in his stomach, suiting up for the Reign on November 13th against the San Diego Gulls. While it was great for Chromiak to get back on the ice, the Slovakian forward went pointless in the loss – two things he wasn't used to.
Back in the lineup, Chromiak struggled out of the gates, notching just three assists in his first 13 games.
"The first couple of the games of the season were very hard for me," he explained. "I had to get used to how fast and strong the AHL level is. It took about 10-15 games to get used to everything and I had to change my game accordingly. It's not that easy compared to the OHL, so I had to change and work on some things in my game."
Understandably so, Chromiak needed time to adjust to a new league filled with bigger, stronger, faster and more skilled hockey players. Not to mention older.
Starting with that 14th game of his season, Chromiak pointed to the game on January 8th, 2023 against the Coachella Valley Firebirds as to when he felt completely comfortable with his game and the AHL style and pace. Beginning with that game, Chromiak went on a tear, putting together an eight-game point streak. During that streak, Chromiak totaled 13 points (7-6-13) including his first career AHL hat trick. Now 11 games deep since that night, the Slovakian rookie has notched 14 points (8-6-14) and ranks third on the Reign in offense during that span.
Going back to his first career hat trick, Chromiak notched three goals on four shots in a 5-4 overtime loss to Coachella Valley.
"It's a great feeling to score," he said. "I scored a lot of goals last season, but I know it's not as easy as it was in the OHL. Playing against men here, it's harder. You have less time and space for everything, so you really have to capitalize, because you only get a few real chances per game."
While he does credit himself for the hard work and dedication that he's put into his game this season, Chromiak was quick to deflect his success towards the coaching and development staff.
Chromiak explained how the staff has helped him find his groove, as he's translated his approach to the AHL.
"The coaches have really helped me with that, we watched film together and practiced some specific things that helped me find my way in this league," he added. "I just had to get used to this league and find my game……I'm now getting a lot more opportunities to be offensive with time on the power play. I've just got to continue working on shooting more pucks, scoring and work on and off the ice."
Chromiak and the Reign will suit up next with a pair of games on Friday and Saturday against the Tucson Roadrunners at Toyota Arena in Ontario. Both player and team are hopeful his form will continue.
FIRST PRO HAT TRICK @MatoChromiak8 #ReignTrain | @socalgas pic.twitter.com/ViAkw6gRVm

— Ontario Reign (@ontarioreign) January 22, 2023