Tis the season LAKI faithful!
It's a giving time of year and today we give you the preview of one of the best hockey tournaments of the year, the 2023 World Junior Championships. Consisting of the best players under 20 years old from around the world, the annual 10-team tournament will take place beginning today, December 26, 2022 through January 5, 2023. This season's tournament is being held in Halifax, Nova Scotia and Moncton, New Brunswick, Canada.
As always, the tournament is separated into two groups, Group A playing in Halifax and Group B in Moncton. Here are the divided groups:
Group A: Canada (Gold, 2022), Sweden (Bronze, 2022), Czechia, Germany, Austria
Group B: USA, Finland (Silver, 2022), Switzerland, Slovakia, Latvia
As for the LA Kings organization, odds are high that a Kings draft pick is going to come home with gold around their neck. Over the past five World Juniors, seven Kings draft picks have won gold (Kale Clague, Rasmus Kupari, Quinton Byfield, Aidan Dudas, Akil Thomas, Arthur Kaliyev, Alex Turcotte), while several others have come home with silver or bronze medals.
Looking to this year, three LAK prospects will be representing their countries – Brandt Clarke (Canada), Kenny Connors (USA) and Otto Salin (Finland). Headlined by Clarke, the organization's first-round selection in 2021, each Kings prospect is expected to play an important role for his respective team.
Brandt Clarke (Canada)
Beginning with Clarke, the 2021 eighth-overall draft pick and a native of Ottawa, he's an offensive standout on the blue line who will be leaned upon heavily to provide an offensive spark in all phases of the game. At 5-on-5 and especially on the man advantage, Clarke's puck skills and ability to create will be expected to be showcased, as they were with goals in back-to-back pre-tournament exhibition games.
To catch you up Clarke's season thus far, it's been a complicated one. Out of training camp, Clarke made the Kings opening night roster and played in nine of the team's first 12 games. There, he recorded his first two career NHL assists and averaged 13:39 in time on ice during those nine games. After his ninth NHL game, Clarke was scratched in five consecutive games and was sent to the AHL's Ontario Reign for a conditioning assignment. While in Ontario, Clarke picked up a goal and an assist in five games, with the goal being his first at the professional level. Recalled by the Kings on November 27th, Clarke spent a week and a half with the big club but did not feature in a game before he was loaned to Hockey Canada for the upcoming WJC on December 7th.
Clarke's most recent head coach to see him play, Marco Sturm was nothing but complimentary of the talented defenseman.
"He [was] great," Sturm said. "I think only in his first game, everything seemed new for him. Since then, he was outstanding. He gets involved, he's a special kid. Like I said, he's on the ice and then all of the sudden he shows up in front of the net and has a really good chance. Defensively he has to be more aware, but he wants to go [to the net], and it's good. I think that we don't have a player in this organization like him and I think he will be good for us in the future."
Canada's Group Play Schedule –
December 26th vs. Czechia
December 28th vs. Germany
December 29th vs. Austria
December 31st vs. Sweden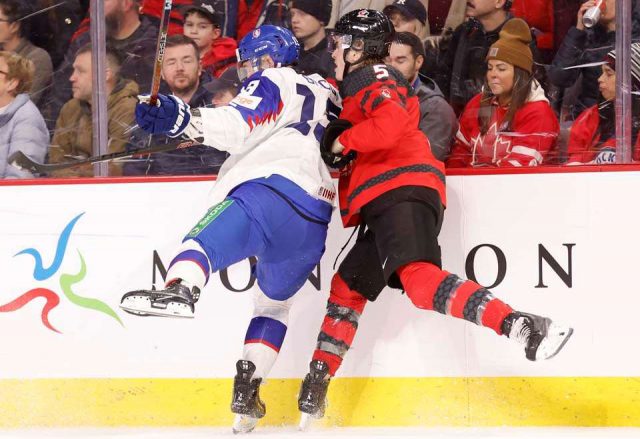 Kenny Connors (USA)
Moving alphabetically to Kenny Connors, the dynamic forward who can play both center and wing will bring a responsible and skillful 200-foot game to the American team. Connors, who plays mainly at center in college for UMass-Amherst, has been lining up on the wing in the two pre-tournament games. In both of those contests earlier this week, Connors has played on the left wing, alongside a pair of 2023 NHL Draft-eligible college players, Charlie Stramel (Wisconsin) and Gavin Brindley (Michigan). In the team's second warmup game against Team Sweden, Connors tallied one of his team's goals in a 5-1 victory.
Connors enters the World Juniors coming off of a remarkable first half to his freshman season with the Minutemen. 16 games deep, Connors leads his team in goals (7), assists (10) and points (17). Connors' play at the collegiate level has earned him multiple awards so far this season, most notably being honored as the Hockey East Rookie of the Month in October.
Following being drafted by the Kings in the fourth round (103rd overall) of the 2022 NHL Draft, Mark Yannetti, the Kings Director of Amateur Scouting had this to say about Connors –
"[Conners] played heavy this past year and his compete level really showed through. Most young players don't do well defensively in leagues like the USHL. Connors showed a pretty good defensive game. That said, you need to do more than just that to get drafted, there needed to be more offensive production and that's why we didn't take him the last year. Our scouts went into this year with [Connors] as a guy to watch because we liked some of the things about him……we felt that a lot of the offensive improvement was made from specific skillsets and learning the game."
United States Group Play Schedule –
December 26th vs. Latvia
December 28th vs. Slovakia
December 29th vs. Switzerland
December 31st vs. Finland
Otto Salin (Finland)
Hailing from Finland's capital, Helsinki, Salin enters the tournament having played his season in SM-Liiga, the top professional division in his native country. Playing for the HIFK Helsinki, a team currently on the inside of the playoff picture, the right-handed defenseman has totaled six points (1-5-6) in 22 games, playing day in and day out against men. Salin is one of the youngest players in the league and has been a regular for his squad.
Like Connors, Yannetti also commented on the drafting of Salin in the fifth round, saying –
"Salin's skating was the first thing that stood out. His skating is excellent. His skating allows him to get into situations and get out of them [both good and bad]. He has the ability to skate the puck up the ice and push the pace; that's a great thing. That's an ingredient you can't add later down the line and you can always pull a guy back. The fact that [Salin] can skate himself in and out of trouble at this stage of his career is a good thing… and he has the ability to play more of controlled game."
Currently lining up on Finland's second defensive pair during pre-tournament play, Salin will have plenty of ice time to use his skating to impact the game. Salin is the only one of the three participating Kings prospects with two remainins years. oftournament eligibility. He'll once again be eligible during the 2024 tournament, where one would assume he will be a key player for Team Finland.
Finland's Group Play Schedule –
December 26th vs. Switzerland
December 27th vs. Slovakia
December 29th vs. Latvia
December 31st vs. USA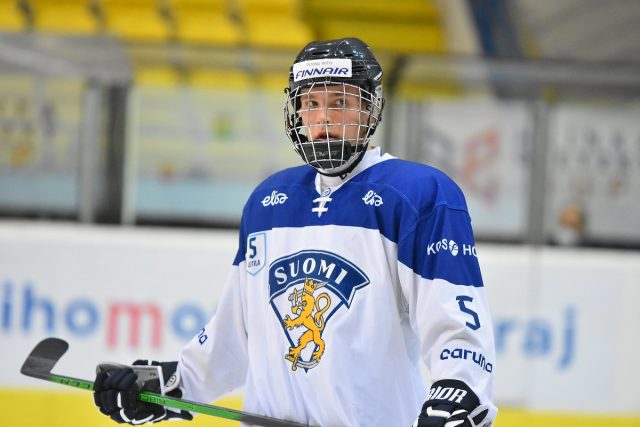 A full tournament schedule, including game time, venue and more is available HERE through the IIHF. Full coverage of the tournament in the United States is available on NHL Network, with a schedule available HERE. Here's to hoping for a strong output from the Young Kings and we'll follow up with tournament progress as things move forward!