The LA Kings announced today their 28-player roster for the 2022 Rookie Faceoff, to take place in San Jose from September 16 – 19.
The Kings roster features 17 forwards, nine defensemen and two goaltenders, including 11 players who were on last season's Rookie Faceoff roster.
Three players – Quinton Byfield, Jordan Spence and Alex Turcotte – played NHL games for the Kings last season, while all three plus 11 more played in games with the AHL's Ontario Reign. Forwards Samuel Helenius, Brett Kemp, Andre Lee, Tyler Madden, Akil Thomas and Taylor Ward, in addition to defensemen Helge Grans, Tyler Inamoto and Kim Nousiainen, as well as goaltenders David Hrenak and Jacob Ingham, all suited up for Ontario last season. Forward Martin Chromiak also has AHL experience with the Reign, during the 2020-21 campaign.
Listed below is the full roster for the 2022 Rookie Faceoff –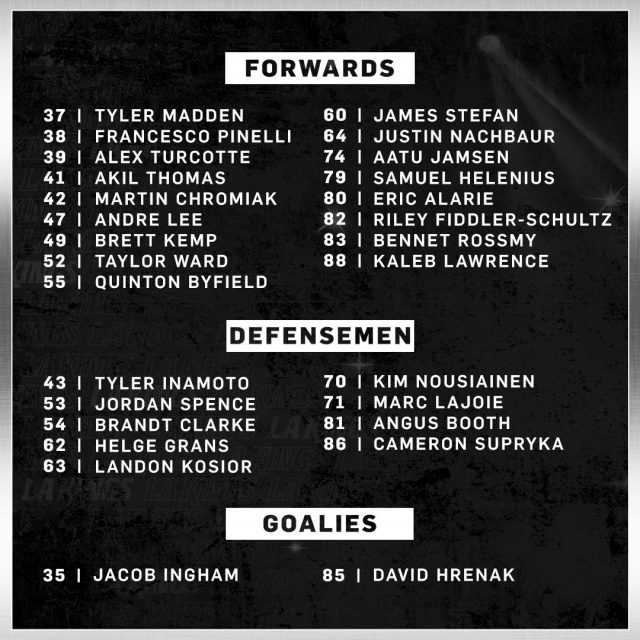 Forwards (17) – Eric Alarie, Quinton Byfield, Martin Chromiak, Riley Fiddler-Schultz, Samuel Helenius, Aatu Jamsen, Brett Kemp, Kaleb Lawrence, Andre Lee, Tyler Madden, Justin Nachbaur, Francesco Pinelli, Bennet Rossmy, James Stefan, Akil Thomas, Alex Turcotte, Taylor Ward
Defensemen (9) – Angus Booth, Brandt Clarke, Helge Grans, Tyler Inamoto, Landon Kosior, Marc Lajoie, Kim Nousiainen, Jordan Spence, Cameron Supryka
Goaltenders (2) David Hrenak, Jacob Ingham
The full roster with heights, weights, hometowns, the whole nine yards can be found HERE.
A full slate of rosters for the tournament can be found below –
ANAHEIM – ARIZONA – COLORADO – LOS ANGELES – SAN JOSE – VEGAS
As noted above, 11 players on this season's roster were on the roster for last season's tournament, which was held in Arizona. Included in that count are goaltender Jacob Ingham, defensemen Helge Grans, Landon Kosior, Jordan Spence and Cameron Supryka, as well as forwards Quinton Byfield, Martin Chromiak, Brett Kemp, Tyler Madden, Francesco Pinelli and Alex Turcotte. Forward Akil Thomas missed the event as he was recovering from offseason shoulder surgery, while defenseman Brandt Clarke missed the event due to a bout with mononucleosis.
Chromiak led the Kings in scoring during last season's tournament, as he tallied two goals and two assists. Byfield and Madden each had two points in last season's event, while Turcotte (goal) and Spence (assist) each had one point. Ingham played in one game during last season's event and made 32 saves on 33 shots in a 2-1 shootout victory over Arizona, a game in which Madden also tallied the shootout winner.
Brandt Clarke is looking to make his first appearance in the event, after he missed last season with illness, as noted above. Also expected to make their Rookie Faceoff debuts are Kings 2022 draft picks Angus Booth and Kaleb Lawrence, both of whom were selected in Montreal this past July. Additionally, 2020 seventh-round selection Aatu Jamsen, currently playing overseas in Finland, is slated to debut, in addition to Andre Lee and David Hrenak, who were ineligible for past tournaments during their respective NCAA careers. Both players signed entry-level contracts this past offseason. Samuel Helenius, Kim Nousiainen and Taylor Ward, who are all expected to play their first full professional seasons in North America, will also participate for the first time.
Last season's team posted a 2-1-0 record from the three-game showcase. The Kings defeated Colorado by a 4-0 margin in their tournament opener, with several of the organization's top prospects featuring together in that game. The Kings went on to defeat the host team, Arizona, 2-1 in a shootout in the second game, before they fell 3-2 against Vegas in the tournament finale.
Included on the roster are the team's two most recent first-round draft picks in Byfield and Clarke, as well as Turcotte, who was selected in the first round in 2019. Clarke will be participating in his first rookie faceoff, while Byfield will compete in his second. Also included are second-round selections Helge Grans, Samuel Helenius, Francesco Pinelli and Akil Thomas.
The Kings are slated to play three games in the tournament, squaring off against Colorado, San Jose and Vegas over the course of the four days.
Friday, September 16
Los Angeles vs. Colorado, 2:00 PM @ Tech CU Arena
Saturday, September 17
Los Angeles vs. Vegas, 2:00 PM @ Tech CU Arena
Monday, September 19
Los Angeles vs. San Jose, 3:00 PM @ Tech CU Arena
The team is scheduled to hold a practice at Toyota Sports Performance Center in El Segundo on Thursday, September 15 at 10:00 AM. In past seasons, the team has also practice on the off day of the tournament, which would be on Sunday, September 18 in San Jose, as well as the Wednesday after back in El Segundo, before main camp begins.
We'll have full coverage of rookie camp and the 2022 Rookie Faceoff here on LAKI, with notes, quotes and highlights throughout the course of the event.